How to open a health business? Practical options of tax optimization
Cost of services:
from 700 USD
Problem solvement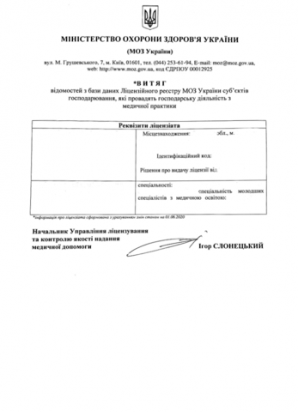 Reviews of our Clients
General director Skibinskiy V., Yokogawa Electric Ukraine Ltd.
Yokogawa Electric Ukraine Ltd. recommends Vladimir Gurlov and his team of lawyers as a reliable legal partner and advisor for foreign businesses in Ukraine...
Partner, Denis Y. Lysenko, Vasil Kisil & Partners
... we would like to express our respect and gratitude for the fruitful cooperation.
... our work on joint projects assured us of your high level of professionalism

L. Chervonyuk, LLC "Vitalux"
Vitalux company highly appreciates results of cooperation with Law firm "Pravova dopomoga", can characterize it as a reliable partner and based on personal experience is ready to recommend it to interested persons...
G. Zeynep Kucuk, SANOVEL ILAC SAN. ve TIC. A.S.
Helped with the liquidation of a foreign representative office in Ukraine
President Tedeev E.S., Ukrainian wrestling association
Ukrainian wrestling association would like to express its sincere appreciation to the team of Law firm "Pravova Dopomoga" for mutually beneficial cooperation
Chief ophthalmologist of Ukraine, Oksana Vitovska, All-Ukrainian alliance of ophthalmologists
We would like to express sincere gratitute to the team of Law firm "Pravova dopomoga" and personally to Volodymyr Gurlov for professionalism and purposefulness in your work.
General director I.Logvinenko , Bravo Airways
Bravo Airways company expresses its gratitude to law firm "Pravova Dopomoga" for high quality and timely provision of legal services.

General Manager Stashkevych I.Y., LLC "Trading company" Rud"
We would like to indicate that law firm "Pravova Dopomoga" has become a reliable partner for legal services provision and we can recommend it as a team of qualified professionals who are easy and pleasant to deal with
Providing a legal support for a significant number of healthcare clinics, centers and other facilities, which provide healthcare services, our lawyers help with any questions arising in the general conduct of business.
One of such issues relates to the choice of the most optimal system of taxation and optimization of tax burden for a healthcare business.
Today we will talk about our practical experience in finding the most optimal tax schemes for healthcare businesses.
Related article: Our Lawyers Helped To Reduce Tax Burden For A Dentistry Office And Obtained A New Medical License
The key question: How to create a healthcare business with an optimal tax scheme?
We were asked a similar question by a Client that contacted our law firm in the middle of summer 2019. He wanted to create a large network of healthcare service providers, which would not exceed the established tax limits and would be legally taxed at the lowest rate.
The Client had several ideas which he shared with our lawyers. The main idea was to register a certain number of individual entrepreneurs and LLCs and to divide the money between them.
We analyzed, improved on his suggestion and proposed several possible options to execute his request. Then we discussed the suggested options and started to study each of them by the agreement with the Client. In total, we had 4 options under consideration:
Establishment of LLCs and an individual entrepreneurs and distribution of services between them on a paid basis.
Registration of a large number of individual entrepreneurs under the simplified taxation system and distribution of profits.
Development of a multilateral agreement for joint activities.
General taxation system, but with possible optimization options.
Our specialists studied the litigation practice, talked to fellow lawyers, involved all possible options of consulting with the employees of the tax inspectorate, Ministry of Health of Ukraine and analyzed the possible risks of all four options for the Client.
As a result, we determined the following disadvantages and advantages of each of the options.
Related article: Structural Organization Of A Healthcare Business In Ukraine
Establishment of LLCs and individual entrepreneurs to provide healthcare services and to distribute profits between them
Creation of an LLC and individual entrepreneurship and distribution of service payments between them seems to be the simplest and best option in terms of implementation for us and administration for the Client.
However, when elaborating on the situation with the regulating authorities and central executive authorities, it turned out that such a scheme is unacceptable and violates the scope of applicable law. Since the provision of healthcare services in Ukraine has its own peculiarities, and therefore some aspects of the so-called "legal regulation" make it difficult for different options to execute.
We learnt that healthcare services shall be paid to the person who provides them, due to the nature of the healthcare services agreement, and therefore it is impossible to divide the services and profits between individual entrepreneurs and LLCs.
The regulatory authority makes reference to the fact that the person who provides healthcare services to patients must receive the payment for such services. In addition, it is also necessary to comply with other laws and regulations, for example, on the protection of personal data, patient rights, etc.
This option is not efficient, so we warn everybody against using it.
Registration of an individual entrepreneurship under the simplified taxation system
Such a plan seems even easier to execute, but it involves a so-called "ceiling" represented in the amount of limit established by tax authorities, depending on the selected group of taxpayers. This case does not require additional skills of administration or use of legislative nuances or gaps.
However, such approach didn't meet our objective, as the Client wanted to increase the limit without losing the individual entrepreneur's benefits due to the use of the simplified taxation system. But unfortunately, this was impossible in our case. That's why our lawyers continued searching and analyzing other options.
Related article and video: Preparing Documents For Obtaining A Medical License: Everything You Need To Know
Development of an agreement or scheme for joint activities in the field of healthcare services
This option of taxation is very often used by bars, cafes and restaurants, where several individual entrepreneurs work in one room and serve customers with different checks. This reduces the financial and tax burden.
However, the development and implementation of such a plan in practice is not an easy thing, especially when it comes to a healthcare business, which, as already mentioned, is "over-regulated".
This option involves the following stages:
Obtainment of a Medical License for each individual entrepreneur;
Development of the service payment control system, taking into account the significant number of individual entrepreneurs and their specialization specified in the license;
Accounting procedures set up.
This option involves quite a complex and extensive preparatory work, but it has many many advantages. It is flexible, because it allows to increase the profit limits within a year by amending a individual entrepreneur's license, or adding another individual entrepreneur.
This option has proven to be absolutely efficient, and its only drawback is the multistage preparatory work and required discipline in the future.
Related article: How To Advertise Healthcare Services: Are There Any Specific Requirements For Advertising?
Setting up all healthcare entities under the general taxation system
This is a quite standard approach for business organization. However, it was no good, as the Client did not have the necessary expenditure to cover income.
In addition, it involved a number of risks:
Questionable position of the tax inspectorate regarding the expenses;
Regular and significant expenses for legal and accounting services required for ensuring the safe operation of the business.
This option is also efficient, but more risky than the previous one.
Having analyzed all possible taxation options for the healthcare business, we provided the Client with written legal opinions and a detailed description of each of them, their shortcomings and advantages. The Client chose the option that best met his needs, taking into account our advice.
There are many other options and schemes that you can choose for your specific business.
If you need legal assistance in finding the best taxation scheme for your healthcare or other business, call us or use our Contact Us form!
We are ready to help you!
Contact us by mail [email protected] or by filling out the form: