Opening of a medical institution in Ukraine by a foreign doctor
Cost of services:
from 16 000 UAH
1-2 specialties
from 16 000 UAH
Alteration
from 24 000 UAH
More than 3 specialties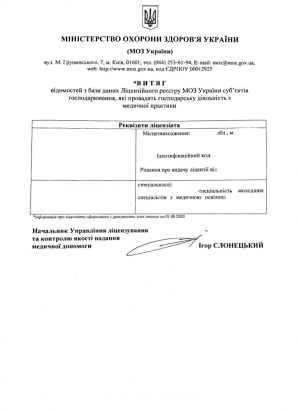 Reviews of our Clients
Director I. Garkusha, "Medyk" LLC
During provision of the services legal experts of the firm proved to be a professional team
Director L. Susenko, Medychni diagnostychi systemy LLC
We would like to express our appreciation to law firm "Pravova Dopomoga" for the provided services related to licensing of medical practice
I. Pruzhnyak , Sole trader I. Pruzhnyak
Despite complexity of licensing procedures, your lawyers got a positive decision about issuance of license for medical practice after the very first submission of documents...
Director S. Sokolova, LLC "Company"Nika-S"
Quick work of your lawyers allowed us to continue our medical practice without unnecessary breaks related to obtainment of the new license. Due to this we managed to avoid financial losses and continued providing high quality dental care services to our clients
Director A. Stelmakh, Private enterprise "ESTO"
We got consultations about organization of the medical center's work, formalization of labor relations with employees, legal regulations on use of different medical equipment...
N. Gorova, Sole trader N. Gorova
I want to recommend this firm to everyone, who wants to start his or her own medical practice...
S. Lyubynetskyi , Sole trader S. Lyubynetskyi
Without any recommendations I chose law firm "Pravova dopomoga" among all other companies on the market and not once did I regret my choice...
Director Mykhailo Bogdanovych Havrylyshyn, Kalush City Center of Primary Health Care
…we can confidently recommend the lawyers of Law firm «Pravova dopomoga» as reliable legal partners on the matters of medical practice licensing and other procedures related to the Ministry of Health of Ukraine.
Chief physician Romanyuk E.V., Municipal non-profit enterprise "Central district hospital of Busk"
... Having used the services of the Law Firm "Pravova dopomoga", we managed to solve our problems, as well as found a qualified and reliable partner.
In this article we will consider the issues of foreign doctors' activity in Ukraine in terms of starting their own medical business in the country.
It should be noted at once that the formal procedure of "admission" of a foreign doctor to medical practice in Ukraine is a lengthy multistage procedure.
An exception to this rule are doctors who wish to take part in providing medical assistance during the war, i.e. non-business activity. For this you need to apply directly to the Ministry of Health, which has created a special project for foreign doctors.
If we consider the purely business option, however, there are no exceptions or simplified procedures.
You may also like: How Can a Foreign Doctor Get a Job in a Ukrainian Clinic?
Algorithm of opening a doctor's office by a foreign doctor in Ukraine
Consequently, if a foreigner wants to work as a doctor in his/her own or jointly established healthcare institution, he/she must undergo the following procedures:
1. Setting up a business and obtaining a license.
2. Legalization of stay in Ukraine.
3. Nostrification of a diploma.
4. Admission to medical activity in Ukraine.
A business may be set up in the form of a legal entity (Limited Liability Company), or in the form of registration as an individual entrepreneur.
Obtaining the license during martial law is a must – according to the latest changes in legislation, medical practice can be carried out only on the basis of a license of the Ministry of Health of Ukraine.
Legalization of stay in Ukraine involves obtaining two documents:
Temporary Residence Permits for foreigners in Ukraine. The validity period of the permit is one year, it must be extended every year.
A Work Permit, that is a document certifying the legality of the grounds for employment of a foreigner. It should be noted that this permit is not required if a foreigner is registered as a sole proprietor, but in this case a foreigner must obtain a Temporary Residence Permit before registration.
Nostrification of a diploma is essentially recognition of the level of foreigner's education by the state. This procedure is carried out by the Ministry of Education and Science of Ukraine. The result is the issuance of a certificate, which gives the right to carry out professional activities on the basis of a diploma issued by a foreign educational institution.
Nostrification is not required for educational documents issued by the countries of the former Soviet Union, they are recognized on the basis of the Agreement on Cooperation in the field of education, ratified by Ukraine in 1992, which is currently in effect. However, today documents of citizens of Russia or the Republic of Belarus remain in question.
Admission to medical practice in Ukraine is conducted by the Ministry of Health. The admission procedure involves checking the qualification of a foreigner and his/her medical work experience for compliance with requirements of Ukrainian legislation.
In some cases at this stage the Ministry of Health has the right to require the foreigner to undergo an internship, specialization courses or thematic improvement.
Please note! The nostrification procedure takes up to 60 days, admission to medical activity can also take a similar period of time. But your medical business can be launched without waiting for the completion of procedures related to diploma confirmation and admission to medical activity – at the first stage it is enough to set up a company and hire domestic specialists.
We will tell you how to do it correctly, proceeding from your vision of business development in Ukraine, the nuances of your situation and desirable terms. All additional services such as obtaining a work permit for a foreigner or a residence permit can also be obtained from us.
We will help you with analysis of the premises for the future medical center, we will accompany you through all the formalities, from renting premises and nostrification of a diploma to opening of the institution, and we will consult you on any issues related to the medical activity.
We are ready to help you!
Contact us by mail [email protected] or by filling out the form: