Helped to get construction license after change of license commission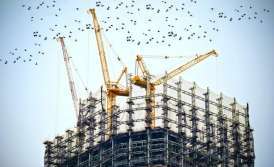 Obtain construction license with the commission changing
At the beginning of May 2015, a Client contacted our company with a request to get a construction license for the list of works that are normally referred to as "civil and erection works". The challenge of obtaining a construction licence for such a list of works was not complicated for our company, at that time we had already helped more than 60 companies to successfully obtain a construction license with a similar list of construction works. Therefore, we did not hesitate to proceed with this order.
First, the lawyers of the company, specializing in construction business licensing, requested the Client to provide all information about the documents, equipment, and specialists they had available. As this happens in most cases, it was difficult for the Client to immediately collect all the necessary documents for obtaining a license, and we provided the necessary legal assistance in finalizing the ones they lacked to put together a package of documents to be submitted to the licensing authority. At the same time, the specified extra work did not entail an increase in the cost of the order for our Client, since the rules of the company do not allow charging a Client with an extra fee, exceeding the amount previously agreed on.
Once we were ready to submit a package of documents to the commission for obtaining a construction license, we became aware that it was likely that the composition of the licensing commission will be changed in the near future. As we knew from experience, that would lead to the cancellation of the decision of the predecessors by the new commission, which in turn would lead to a significant delay in the obtainment of the license form by the Client.
That is why, we advised the Client to postpone the date of submission of documents so that they would be considered by the new composition of the licensing commission. We explained all the risks that would arise if the documents were submitted without delay, and the Client agreed to wait, as they also had an interest in getting a construction license as soon as possible and commencing works.
The information the specialists of our company obtained in a timely manner, their experience and professional work of the lawyers allowed our Client to obtain a license for construction activities in the shortest possible time.
That is exactly the kind of a result to be expected when you trust a law firm with this task. The cost of services includes not only the work of submitting documents, but also the correct filling out of the application and statements, control over the process of reviewing documents and making competent decisions to achieve the best possible result.
We are ready to help you!
Contact us by mail [email protected], by phone number +38 044 499 47 99or by filling out the form: