Invitation and entry of foreigners from risky migration countries to Ukraine for marriage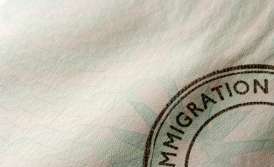 Countries at risk of migration (or migration risk countries) are defined according to many criteria, but the main purpose of classifying countries in this category is to prevent illegal migration to Ukraine. That is to prevent the arrival of foreigners living in our country without documents for residence or work.
Unfortunately, this also means difficulties for those foreigners from the above-mentioned countries who plan to enter Ukraine for their legitimate needs, for example, business or even marriage.
The natives of these countries used to pass a special visa procedure to enter Ukraine – a visa can be applied for only in the country of their citizenship or where they have documents for residence. Now this requirement is absent, but when applying for a visa, residence permits, immigration, etc., the state authorities conduct additional checks, examine documents more thoroughly and often conduct interviews.
Today, in Ukraine there are about 70 countries classified as risky migration countries: Afghanistan, Syria, Bangladesh, Egypt, Iraq, Iran, Libya, Morocco, Nigeria, Tunisia, Sudan, Mongolia, Vietnam, Uzbekistan, Kyrgyzstan, Tajikistan and many others.
In this regard, citizens of these countries are often rejected at the first stage, when applying for a visa to enter Ukraine. This was the case with our Client, who issued an invitation for her fiancé from Egypt, but a visa was refused. Using her example, we will tell you what to do in this case.
You may also like: How Can a Foreigner Get Married in Ukraine?
How can an Egyptian citizen enter Ukraine?
In the case of an attempt to enter Ukraine by citizens of risky migration countries, two aspects should be taken into account:
legal requirements of the country of departure (in this case – Egypt);
life circumstances of the foreigner, which may affect the possibility of entry into Ukraine.
Having studied the Client's situation, we prepared a new package of documents for the visa and helped prepare for the interview at the consulate.
First of all, we explained that in order to leave Egypt, the groom needs a certificate from the army (as an Egyptian cannot leave the airport without it). This is something similar to a certificate from the military registration office that he has completed military service. If the Egyptian was not in the army, this certificate may not be issued.
Also, if the man was not previously married, you need a certificate confirming this fact. It is made on the basis of the certificate of family composition obtained at the place of residence.
Thus, just an invitation from a natural person was not enough to enter the country.
A separate factor may also be a type of invitation the foreigner has. So, even if he has all the necessary certificates, but the person who issued the invitation will cause concern to the migration authorities, no visa will be granted.
When working with our Clients we offer not only checking and preparation of all documents of the Client, but also execution of legal entity invitations to Ukraine. Please check the benefits of this type of invitation here.
You may also like: Residence Permit Through Marriage
Legal advice on issuing a visa for citizens from migration risk countries
A short-term visa for citizens from risky migration countries is better to be applied for on the basis of:
an invitation of a legal entity registered in Ukraine;
a notarized invitation of a natural person – a citizen of Ukraine;
documents confirming the tourist nature of the trip;
an invitation from a healthcare facility;
a document confirming the foreign investment in accordance with the legislation on the regime of foreign investment on the territory of Ukraine;
a document confirming the foreigner's or stateless person's title to real estate on the territory of Ukraine;
a document confirming that the foreigner or stateless person is a husband, wife, father, mother or child of a citizen of Ukraine.
The ground you choose must be supported by supporting documents and can be more or less convincing to the Ukrainian consulate.
The following documents must be submitted:
a foreigner's passport, which must contain at least 2 free pages and be valid for at least 90 days from the specified date of departure from Ukraine;
a visa application form;
a 35 x 45 mm color photograph;
a valid health insurance policy with coverage of at least 30,000 Euros (or the equivalent in another currency);
documents confirming availability of sufficient financial security for the period of planned stay and for return to the state of origin or transit to the third country or possibility to get sufficient financial security in the territory of Ukraine respectively;
a document confirming the payment of the consular fee, unless otherwise provided by the legislation and international treaties of Ukraine.
Our lawyers selected the best option for the Client, provided recommendations on obtaining additional documents, and already this time her fiancé received a visa and entered Ukraine. Now we continue our cooperation with them in order to obtain Ukrainian residence permit on the basis of marriage with a Ukrainian woman.
Do you have questions to a migration lawyer in Ukraine? Don't hesitate to contact us! We will not only find you the best option, but also help to translate it into reality.
Didn't find an answer to your question?
Find the cost and conditions of invitations from a legal entity here.
Everything about obtaining a Residence Permit in Ukraine here.
We are ready to help you!
Contact us by mail [email protected], by phone number +38 044 499 47 99or by filling out the form: