Registration of an IT company in Ukraine for a foreign investor
Cost of services:
Negotiable
Legal support for an IT-company
from 26 000 UAH
Diia City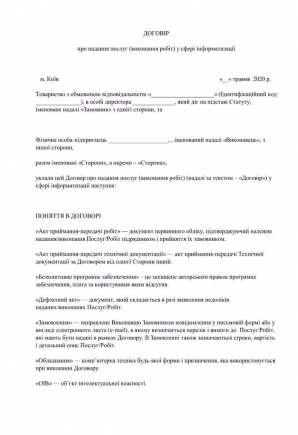 Reviews of our Clients
L. Chervonyuk, LLC "Vitalux"
Vitalux company highly appreciates results of cooperation with Law firm "Pravova dopomoga", can characterize it as a reliable partner and based on personal experience is ready to recommend it to interested persons...
G. Zeynep Kucuk, SANOVEL ILAC SAN. ve TIC. A.S.
Helped with the liquidation of a foreign representative office in Ukraine
Chief ophthalmologist of Ukraine, Oksana Vitovska, All-Ukrainian alliance of ophthalmologists
We would like to express sincere gratitute to the team of Law firm "Pravova dopomoga" and personally to Volodymyr Gurlov for professionalism and purposefulness in your work.
President Tedeev E.S., Ukrainian wrestling association
Ukrainian wrestling association would like to express its sincere appreciation to the team of Law firm "Pravova Dopomoga" for mutually beneficial cooperation
Partner, Denis Y. Lysenko, Vasil Kisil & Partners
... we would like to express our respect and gratitude for the fruitful cooperation.
... our work on joint projects assured us of your high level of professionalism

General director Skibinskiy V., Yokogawa Electric Ukraine Ltd.
Yokogawa Electric Ukraine Ltd. recommends Vladimir Gurlov and his team of lawyers as a reliable legal partner and advisor for foreign businesses in Ukraine...
General Manager Stashkevych I.Y., LLC "Trading company" Rud"
We would like to indicate that law firm "Pravova Dopomoga" has become a reliable partner for legal services provision and we can recommend it as a team of qualified professionals who are easy and pleasant to deal with
General director I.Logvinenko , Bravo Airways
Bravo Airways company expresses its gratitude to law firm "Pravova Dopomoga" for high quality and timely provision of legal services.

The IT industry is considered one of the most promising businesses in Ukraine, which is why both locals and foreigners are opening IT companies in the country, expanding their operations, and exploring new markets.
Broadly speaking, there are two types of IT businesses in Ukraine:
Local companies that develop and operate within the country but serve global markets.
Foreign companies that establish a legal entity or representative office in Ukraine to attract local talent for project work.
Both options are prevalent in the market and offer unique advantages. Today, we'll talk about the latter option, which is typically more complex and requires additional management and decision-making processes, particularly when involving foreign investors or founders.
You may also like: Individual Entrepreneur vs Gig Contracts in IT: Which One to Choose?
Structure of IT business with foreign founders
We recently assisted a foreign IT company that needed to set up a legal entity or representative office in Ukraine to carry out its operations.
We advised the company to register a Limited Liability Company (LLC) where the non-resident company would be the sole shareholder. Our legal experts provided guidance and successfully completed the registration process. During the consultation, we also concluded that it would be necessary to establish another LLC exclusively for the startup team to implement a small project.
Thus, we helped the client to register two separate legal entities – one that provides IT services to clients and another that is solely dedicated to financing the startup.
Additionally, we provided legal support for our client's business and assisted them with the following issues:
1. Contract negotiation to ensure the smooth operation of the company.
We developed and executed appropriate agreements with counterparts for:
Office rental
Premises renovation
Equipment procurement and supply of all necessary office materials
From time to time, we have to negotiate agreements that involve both office supplies and working with counterparts. Given our business approach and efficiency, we were able to issue agreements with modifications and recommendations within 1-2 working days.
2. Service contract agreements with clients.
We helped our client to sign agreements with their clients for services, in our case, it was a software development agreement.
3. Immigration matters.
We assisted with the relocation of foreign employees, obtained identification codes, work permits, and temporary residence permits. These services were also provided to one of the founders who was employed as the director of one of the LLCs.
4. Human resources matters.
We helped with employment and enabled remote work during the pandemic. We developed human resource documents and created a document management system. We also dealt with the work of the sole proprietor. We developed NDA and NCA agreements.
5. Corporate matters.
We helped to increase the authorized capital of the company and provided long-term loans to secure funding at the start. We helped several times with changing directors and addresses.
6. Intellectual property.
We created a system for working with intellectual property objects, whereby all rights to the code were transferred to the company. We developed relevant agreements to ensure the transfer (sale) of property rights to intellectual property objects or license agreements for the use of intellectual property objects.
7. Consultations.
From time to time, the client approached us for advice on the application of Ukrainian law. We advised the client on taxation, transitioning to Diia City, dismissal and appointment of employees, use of debt instruments, and other legal issues.
You may also like: IT Product Sales: Service, Royalty, or Subscription?
Problems encountered by our client in IT business in Ukraine
Here are some situations where we helped our clients:
1. Contract law issues.
We dealt with cases where there were questions about terminating a contract. For example, when our client changed offices for their employees, the landlord refused to return the security deposit. After negotiations, we managed to partially credit the security deposit for the last month's rent and return the rest. During the quarantine period, we helped document the transfer of equipment to employees and other personnel to facilitate remote work.
2. Taxation.
We work actively with auditors and accountants to resolve various taxation issues, including VAT.
3. Banking issues.
One of the well-known banks requested additional documentation from our client after a certain period of cooperation. We assisted our client in changing to a more customer-friendly bank.
4. Relocation of family members.
We helped our client obtain the necessary certificates for their employees and assisted with the relocation of their family members to Ukraine.
5. Importing equipment into Ukraine.
Based on the provided information, we developed the appropriate documents, found a broker, and organized the importation of necessary equipment for our client's work.
Currently, our client is planning to purchase a property and establish their own office. They are also considering obtaining residency in Diia City.
Unfortunately, due to technical reasons, our client's startup company was not successful. However, we were able to assist the client in recovering their funds by selling assets and equipment, and liquidating the company.
Our company provides assistance to IT companies in Ukraine, both large and startups. Our services include:
Developing a business structure in Ukraine tailored to the client's needs and requirements
Registering a company or group of companies to conduct IT activities in Ukraine
Opening accounts in Ukraine
Organizing and maintaining the accounting and personnel records of the company
Providing legal assistance in the process of conducting business such as contract negotiations and technical documentation development
Obtaining residency status in Diia City, Ukraine
Any other legal services for business
You can find the pricing for our services here.
Contact our specialists to create a personalized package of services. Get all the necessary help for starting and developing your business in one place!
We are ready to help you!
Contact us by mail [email protected] or by filling out the form: