Our lawyers helped an enterprise from Kiev to license its infirmary
Cost of services:
from 16 000 UAH
1-2 specialties
from 16 000 UAH
Alteration
from 24 000 UAH
More than 3 specialties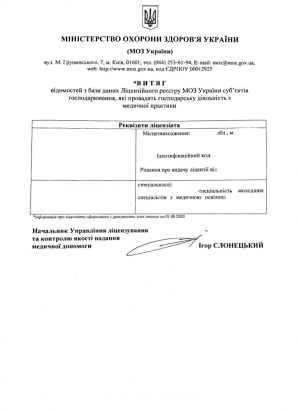 Reviews of our Clients
Director I. Garkusha, "Medyk" LLC
During provision of the services legal experts of the firm proved to be a professional team
Director L. Susenko, Medychni diagnostychi systemy LLC
We would like to express our appreciation to law firm "Pravova Dopomoga" for the provided services related to licensing of medical practice
I. Pruzhnyak , Sole trader I. Pruzhnyak
Despite complexity of licensing procedures, your lawyers got a positive decision about issuance of license for medical practice after the very first submission of documents...
Director S. Sokolova, LLC "Company"Nika-S"
Quick work of your lawyers allowed us to continue our medical practice without unnecessary breaks related to obtainment of the new license. Due to this we managed to avoid financial losses and continued providing high quality dental care services to our clients
Director A. Stelmakh, Private enterprise "ESTO"
We got consultations about organization of the medical center's work, formalization of labor relations with employees, legal regulations on use of different medical equipment...
N. Gorova, Sole trader N. Gorova
I want to recommend this firm to everyone, who wants to start his or her own medical practice...
S. Lyubynetskyi , Sole trader S. Lyubynetskyi
Without any recommendations I chose law firm "Pravova dopomoga" among all other companies on the market and not once did I regret my choice...
Director Mykhailo Bogdanovych Havrylyshyn, Kalush City Center of Primary Health Care
…we can confidently recommend the lawyers of Law firm «Pravova dopomoga» as reliable legal partners on the matters of medical practice licensing and other procedures related to the Ministry of Health of Ukraine.
Chief physician Romanyuk E.V., Municipal non-profit enterprise "Central district hospital of Busk"
... Having used the services of the Law Firm "Pravova dopomoga", we managed to solve our problems, as well as found a qualified and reliable partner.
Lawyers of our firm assisted a large enterprise from Kiev with licensing of its own infirmary.

This case was special in that medical services had been previously provided by a local hospital but the healthcare institution decided not to prolong the corresponding contract, which was going to expire shortly.

Thus, with a minimum of time for preparation, hundreds of employees at the enterprise were running a risk of being left without a licensed infirmary providing them with medical services.
First of all, our lawyers were given a task to choose the most optimum form of healthcare institution for the provision of medical care.
Since at the time of contacting our company the LLC staff consisted only of junior medical workers, we were immediately able to exclude the health center, since it requires medical personnel. The Client was offered two options, namely:
registration of one of the employees as a sole trader and provision of services by them on the basis of an agreement with the enterprise;
licensing of a medical office without creating a healthcare institution.
In the course of explaining the advantages and disadvantages of such options, the Client chose the second option, which was the most optimum. It should be noted that the possibility of creating such medical rooms at enterprises was presented only a year ago with the adoption of the new licensing conditions for medical practice.
As soon as a decision was made in regard to a form of an infirmary form of operation, our lawyers helped prepare for the sanitary-epidemiological examination of the premises, as a result of which the corresponding act was received.
In parallel with the receipt of the act, the lawyers of our company, practicing medical law, prepared a package of documents for submission to the Ministry of Health of Ukraine. Thus, by the time of receipt of the inspection certificate, the Client was ready to draft all the documents.
The submission of the application and statements to the Ministry of Health was carried out by proxy, which allowed to reduce the Client's involvement in the work of obtaining a license for a medical center to a minimum.
As a result, a positive decision was received at the very first licensing commission, which allowed launching the activities of the Client's own medical center as quickly as possible.
You can learn more about our licensing services for medical facilities, as well as healthcare institutions and private practitioners on our company's page of services for obtaining a license for a medical practice.
We are ready to help you!
Contact us by mail [email protected] or by filling out the form: