Charities with "all-Ukrainian" and "international" statuses
Cost of services:
from 9000 UAH
Charity Fund Registration Fee
32000 UAH
Foreign Charitable Fund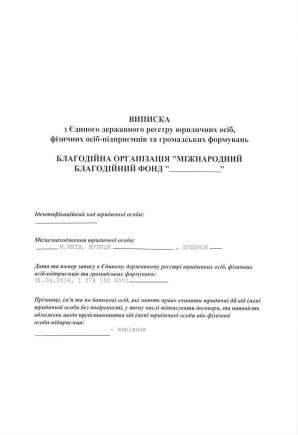 Reviews of our Clients
Palyonko O., Сaritable organization "International charitable fund"My native village"
I was convinced that the principle "We treat every client as a single one" indeed applies to this firm and is not just a loud motto...
The charity topic is very popular recently in Ukraine. It related to the laws' changes on the status and establishment of charitable organizations. People who deal with charity very often think over the possibility to establish organization and there are a lot of questions: how to do it? What changes had happened in the laws? How to do its activity internationally?

The new Law of Ukraine "On charity and charitable organizations" which has come into force since the first of January 2013 and has replaced the old law adopted in1997.

The new law has put a lot of novelties into activity of charitable organizations.

Previously international or all-Ukrainian organization can be established. It means that it must establish charters and representative offices abroad. But the new law doesn't have clauses about status of organizations and divides them into charitable institutions, funds, community. Each of these has its own characteristics.

The procedure of registration is simplified and there is a state body which provides this official service. All charitable organizations are registered by officials of the Ministry of Justice of Ukraine.

According to this law charitable organizations define sphere, type, place of its activity and beneficiaries by themselves. So there is no division of organizations according to the law by location.

Activity of charitable organization can be conducted abroad only if there are charters there.

If You want to establish a charitable organization you must submit required documents into the registration service:
- An application form;
- Decision of founders to establish an organization (a protocol);
- Two examples of incorporation documents (charter which includes all information about organization);
- Bank receipt (an official fee is 51 UAH).
In order to non-division of organizations by location it is better to use words "international" or "all-Ukrainian" in their names. In this case establisher will take care of his reputation earlier.

In conclusion we need to admit that the new law simplifies activity of charitable organizations, excluding the division by location and providing more characteristics of legal entity for organizations.
We are ready to help you!
Contact us by mail [email protected] or by filling out the form: