What is an investment agreement in Ukraine? How can a business securely attract investment?
Cost of services:
from 1600 USD
Legal support of investment activity in Ukraine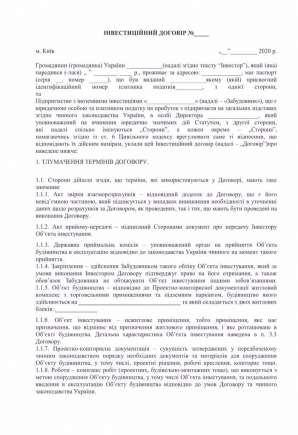 Reviews of our Clients
President Tedeev E.S., Ukrainian wrestling association
Ukrainian wrestling association would like to express its sincere appreciation to the team of Law firm "Pravova Dopomoga" for mutually beneficial cooperation
Chief ophthalmologist of Ukraine, Oksana Vitovska, All-Ukrainian alliance of ophthalmologists
We would like to express sincere gratitute to the team of Law firm "Pravova dopomoga" and personally to Volodymyr Gurlov for professionalism and purposefulness in your work.
L. Chervonyuk, LLC "Vitalux"
Vitalux company highly appreciates results of cooperation with Law firm "Pravova dopomoga", can characterize it as a reliable partner and based on personal experience is ready to recommend it to interested persons...
General director Skibinskiy V., Yokogawa Electric Ukraine Ltd.
Yokogawa Electric Ukraine Ltd. recommends Vladimir Gurlov and his team of lawyers as a reliable legal partner and advisor for foreign businesses in Ukraine...
Partner, Denis Y. Lysenko, Vasil Kisil & Partners
... we would like to express our respect and gratitude for the fruitful cooperation.
... our work on joint projects assured us of your high level of professionalism

General director I.Logvinenko , Bravo Airways
Bravo Airways company expresses its gratitude to law firm "Pravova Dopomoga" for high quality and timely provision of legal services.

General Manager Stashkevych I.Y., LLC "Trading company" Rud"
We would like to indicate that law firm "Pravova Dopomoga" has become a reliable partner for legal services provision and we can recommend it as a team of qualified professionals who are easy and pleasant to deal with
G. Zeynep Kucuk, SANOVEL ILAC SAN. ve TIC. A.S.
Helped with the liquidation of a foreign representative office in Ukraine
In our first article, we talked about the legalities of collective finance through instruments such as the loan agreement and the purchase of corporate rights. Now, we'll focus on other important things you should know when raising investments.
The phenomenon of the "investment" agreement in Ukraine
Using the lack of a clear definition of an "investment" agreement, the parties may regulate their relations as they see fit. Flexibility is its main advantage, the only condition being that the provisions of the agreement must not contradict the legislation.
Such a transaction is found in real estate (not to be confused with the purchase of property rights), and is also widely used in regulating the attraction of investments in other businesses. The main thing is not to confuse it with investment attraction agreements by specialized investment organizations (funds, joint investment institutions). For the avoidance of doubt, you can call it by any other name (e.g., a cooperation agreement).
"Investment" agreement may be used to agree, for example, financing by an investor of the opening of a retail outlet of your chain (if the conditions will be different from the classical contract of commercial concession). There can be only one investor under the agreement, or you can gather a pool if the project requires substantial capital investments. In this case, the agreement should clearly regulate the role of each of the participants in the project. For example, who will be the formal owner of the equipment that you will buy in a pool, what rights will other investors have?
What do we offer you? You know your business better than anyone and we know how to formalize your wishes and expectations in an investment agreement, which will be the key to a healthy relationship with investors.
We will organize the whole process of attracting investments from negotiations to the receipt of funds into your company's account.
You may also like: How to Invest Money in Ukraine? How to Transfer Money in Ukraine When Buying Real Estate?
Acquisition of non-current assets for your business by investors
Let's imagine that you have a business that you can expand by building a new production line. Under certain circumstances, you cannot lease or borrow the equipment. However, you can attract investors who will buy the equipment and give it to your company for management (with or without your subsequent buyout).
Under a similar scheme, you can expand the fleet of your business, the number of outlets network, the range of products. We know how to arrange it correctly.
The investor is the owner of fixed assets, which your company manages, you distribute profits or make fixed payments. It is similar to rent, lease and trust management combined. The main thing is to know the legal regulation and choose a flexible option that does not contradict the legislation.
Cooperation with investment clubs, crowdfunding platforms
The retail investment market is rapidly developing in Ukraine, as well as companies providing specialized services. The value of investment clubs and platforms may lie in the fact that they accumulate investors around your project (for a fee, of course). Cooperation with such organizations can be formalized by different types of agreements:
an agency agreement;
a service agreement;
an agreement for participation in the "club", etc.
Related services can also be offered by professional investment funds, which are legally authorized to provide financial services.
The format may vary: the organization independently collects investor funds and finances your business in one transaction, or sends you investors to sign separate agreements with each of them.
How do we help businesses with investment clubs?
We check the legal reliability of the organization (judicial disputes, beneficiaries, permits for certain activities);
We analyze the documents with which the organization works (agreements with club members, investment objects, internal rules, if any);
We check the history of investment activities (to avoid reputational risks);
We adapt the contract with such an organization to the needs of your business;
We advise on the best option for attracting investment.
How to choose an investment scheme?
It all depends on your intentions – if you do not want to get investors close to your business, it is better to look at crowdlending (loan agreements).
Do you need a pool of serious players who will be directly involved in the development of your project? You can think about equity partnerships.
Do you want to profit from managing other people's assets? Then it's better to offer investors to buy you everything you need. Atypical projects are better written out in investment agreements from scratch.
Finding the right legal way is our task, and we have experience in its implementation. We will find the best legal option for your unique case to attract investment.
You can sell a cool idea to an investor, but for the most part it is easier to attract funding into something real: a working business, real estate, a company with significant non-current assets. On the other hand, it is worth bearing in mind the protection of your assets, so as not to give partners room for the implementation of bad faith. That is, it is worth seeking a balance between the interest of investors and the institutional stability of your company.
How can we help secure investments?
For example, you can structure your business by distributing roles between different legal entities: you will have a company engaged in operating activities, a company that owns the main assets, and a special legal entity that attracts investments.
In addition to this, the value for the investor of this special company can be created, for example, through a number of contractual obligations between legal entities of the group (as in real estate investment - usually you don't pay money directly to the company, which actually builds you an apartment).
That is why we offer our Clients, who are preparing to attract investments, services of anti-raiding business structuring.
You can learn the legal support fee from our specialists.
Don't hesitate to contact us for professional support of attraction of foreign investments into Ukrainian business.
We are ready to help you!
Contact us by mail [email protected] or by filling out the form: