By what means can the authorized capital be formed when registering an LLC?
Cost of services:
from 9000 UAH
Cost for LLC's registration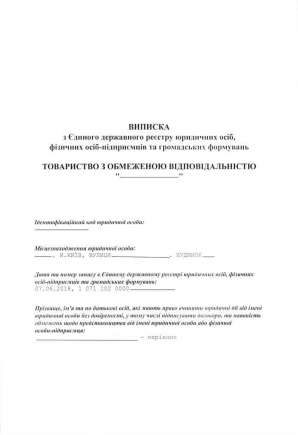 Reviews of our Clients
Founder and Chief Editor M. Aristov , "Geoprofil" magazine
We would like to recommend this firm which provides legal services professionally and in a timely manner
Director V. Kovernyk, LLC "Company "VNA"
We highly appreciate quality of your work in regard to minimization of legal risks for our business as well as your ability to deal with controversial situations arising from interaction with controlling authorities
Director S. Astashev, LLC "Company "Biznes proekt"
Our experience of work with you in the field of litigation, tax consultations, registration of legal entities and others showed that you can be entrusted not only with ordinary projects but also with those that require creativeness in protection of interests
Our clients frequently inquire about the best ways to boost their registered capital and the ideal timing for doing so—whether it's before or after establishing their company.
In our article, we will address the most common queries and provide valuable insights into how you can effectively augment and enhance the registered capital of your LLC through various strategies.
You may also like: Why is a Nominee Director Needed for Registering an LLC as a Foreigner in Ukraine?
Forming the registered capital of an LLC with funds in Ukraine
The size of the registered capital is determined during the initial general meeting, commonly known as the founders' meeting, although this term is not officially used for an LLC.
During this meeting, a decision is made regarding the total capital amount and the individual contributions from each founder. This process establishes the distribution of shares and their respective percentages. All these details are documented in a protocol, which, along with other necessary paperwork, is submitted to the state registrar. The registrar then updates the State Register with the authorized capital size based on the submitted application (filled out using the information from the meeting protocol).
Afterward, the founders have a 6-month window to replenish the registered capital. A dedicated business account is opened for the LLC, and participants deposit their respective amounts, clearly indicating the purpose of the payment as a capital contribution.
You may also like: Registering a Legal Entity: How to Register Your Business in Ukraine as a Foreigner?
How do founders contribute based on their identities?
If the founders are individual Ukrainian citizens. They can easily visit a bank and make a payment to the LLC's designated bank account, clearly indicating it as a capital contribution.
If the founders are legal entities (resident companies) in Ukraine. The payment is transferred from the bank account of the participating legal entity to the LLC's bank account, with the purpose of the payment clearly indicated as a capital contribution. Alternatively, the director of the founding company can personally contribute to the LLC's capital through a bank transaction. For larger amounts, electronic transfers between accounts are recommended.
If the founders are foreign individuals or legal entities (foreign companies).
If foreign individuals are physically present in Ukraine, the process for contributing capital is similar to that of Ukrainian citizens. However, if they are residing abroad, they will need to initiate a transfer in a foreign currency. Herein lies a significant challenge, particularly if the exact conversion to Ukrainian hryvnia needs to be precise. It can be cumbersome to calculate the precise amount required for the conversion.
In the event that the transferred amount falls slightly short, it can be easily rectified through additional contributions. However, if the amount exceeds expectations, it may lead to certain complexities. In such circumstances, the company will need to consider whether adjustments to the authorized capital and share redistribution are necessary, especially if there are multiple participants. Alternatively, the company's accountant may explore alternative solutions.
Hence, it is crucial, particularly when dealing with foreign participants, to include in the founding protocol a provision that specifies the authorized capital in a specific currency (such as dollars/euros) and its equivalent value in Ukrainian hryvnia. This ensures clarity when conducting transfers and accurately recording the contributions made towards the registered capital.
You may also like: Registration of LLC at Founder's Place of Residence in Ukraine
Formation of the authorized capital of an LLC through assets
The process involves transferring assets to the company's balance sheet for a specified value. A transfer of ownership document, outlining the list of assets, their distinguishing features, and respective prices, is prepared. There is a common misconception that including the asset formation in the minutes of the founding meeting is necessary, but that's not the case. It's not a mandatory requirement since, during the initial stage, the founders may not yet know which assets will be used to establish the capital. They have a six-month window to determine that.
Asset value and evaluation
In practice, small-scale asset evaluations are often skipped. Office furniture, stationery, and even office equipment are typically valued based on their purchase receipts. However, in cases where slightly used furniture is being transferred or when there are no receipts available, the market value is determined through mutual agreement.
For assets worth a few thousand or even tens of thousands of hryvnias, conducting an official evaluation by accredited experts is generally unnecessary.
However, there are certain types of assets, such as real estate, vehicles, or specialized equipment, where it's advisable not to take any risks. For an LLC without any government share, there is no obligatory requirement for an official asset evaluation. According to Article 115 of the Civil Code, when forming the authorized capital using non-monetary assets, the valuation is determined by the participants themselves. Therefore, if they agree on a specific value, it will be recorded accordingly.
Certain cases require the evaluation of assets by qualified experts in accordance with Article 7 of the Ukrainian Law on Property Valuation, Property Rights, and Professional Valuation Activities. These cases include:
Establishing a company based on state-owned assets.
Liquidating or declaring bankruptcy of a company with a state or communal share.
When a participant with a state or communal share joins or leaves the company.
Privatization scenarios.
Reassessing fixed assets for accounting purposes.
Hence, if there are no participants with state or communal shares involved, it is not mandatory to have any contributions evaluated by official appraisers. However, we still recommend undergoing the evaluation process to mitigate potential future complications.
You may also like: Corporate Relations Among Participants of LLC in Ukraine
Replenishing the authorized capital through the right to use assets
We have encountered such cases in our practice. So, what does this type of capital replenishment involve?
First, an assessment is made of the value of utilizing certain assets over a specific period. For instance, let's consider how much income can be generated by leasing a property for a year. This approach takes into account the time element, including the duration of asset usage or other activities. Once this period expires, the right to use the assets must be extended, replaced with different assets, or the authorized capital needs to be reduced.
What does this process look like in practice? A protocol is drafted to extend the duration of asset usage, such as a building. It includes details such as the address, the permissible duration for using the asset, and the associated cost.
Our team of experienced lawyers offers comprehensive business registration services in Ukraine, covering a wide range of business types and structures while ensuring full compliance with the law. Our services extend beyond business planning and establishment, providing ongoing support as well.
See the cost of establishing a foreign business here.
Check out the registration fees for an LLC here.
If you're ready to start your business in Ukraine, feel free to contact us! With our expertise, we will help you find the optimal registration option tailored to your specific needs.
We are ready to help you!
Contact us by mail [email protected] or by filling out the form: