"Small" operating rooms in health care facilities: peculiarities of surgery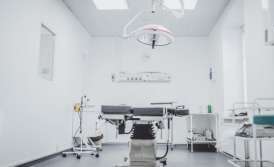 Some health care institutions, such as private clinics, want to have in their structure a "small" operating room for invasive interventions.
Any premises of a health care institution must be in line with the licensing requirements, otherwise, you will not be able to obtain the appropriate medical practice license.
We will talk about how the "one-day operating room" (small operating room) should be equipped and what requirements it must meet in order to be suitable for surgical operations.
Related article: Expansion of the medical license
How is the question of "small" operating rooms reflected in the law?
Current legislation does not directly differentiate between "large" and "small" operating rooms.
So, the legislation refers to one-day surgery departments (centers) (Order of the Ministry of Health No. 127 of 06/03/1993), which states that they can be a structural unit of a medical institution.
In the public and municipal sectors, they are set up as a structural unit of polyclinics or hospitals. In private healthcare institutions - as a separate structural unit of such an institution.
At the same time, the standards of DBN do not distinguish separate requirements for the placement of a "small operating room" in health facilities. And this means that they are subject to the general requirements of the Ukraine's National Building Code for operational suites:
they must be architecturally designed and laid out isolated from all other rooms in such a way as to have a convenient connection with preoperative rooms, anesthesiology (intensive care unit ) rooms, surgical wards and connection with the emergency room;
in one "small operating room" it is allowed to place no more than one surgical table;
the minimum area must be at least 36 sq.m.

What are the special requirements for one-day operating rooms?
Since one of the main principles of operation of a small operating room is strict adherence to aseptic rules, a prerequisite for its suitability is the separation of small operating rooms into the septic (purulent) and aseptic (clean) ones. That is why - to ensure aseptic conditions during surgeries in the operating suite (including small operating rooms), it is necessary to observe clear zoning with the following areas:
sterile;
strict;
restricted;
hospital-wide.
The next feature is the availability of the minimum required staff of of the operating team:
the surgeon, performing the surgery;
an anesthetist;
a surgical sister.
Based on the features of a small operating room, we conclude that such operating rooms are ideal for laparoscopic and minimally invasive interventions for therapeutic and diagnostic purposes.
Another feature of a small operating room is that the surgeries that are usually performed in it allow the patient to continue the recovery process outside of a hospital setting. The patient can sometimes continue treatment at home on the same day that the surgery was performed, under the supervision of relatives but with a mandatory visit in the following days to a health institution, so that the doctor has the opportunity to control the process of recovery.

Related article: Our lawyer provides comments regarding areas and structure of premises that are used for medical practice
Are there any special requirements for postoperative wards designed and located next to the "small" operating rooms?
Yes, of course. Such postoperative wards must:
be provided with convenient connection with small operating rooms;
have the number of beds called for by the norm - two beds per one operating room.
Important! Modern small operating rooms must be equipped with the latest equipment. Failure to comply with this requirement results in impossibility to perform surgeries at a high level. Note that even for a small operating room, the list of necessary equipment is quite long.
Our service: License for medical practice in Ukraine
Bottomline
A "small" operating room must, on the one hand, comply with the minimum requirements of the law on operating units as a whole, and on the other hand, be suitable for certain types of surgeries with the minimum necessary staff of the operating team and the minimum list of necessary equipment.
It is necessary to mention the saving of time and other resources, since performing surgeries and medical procedures in small operating rooms provides the patient with the possibility of a speedy recovery, and healthcare institutions do not have to spend significant funds on keeping the patient in a hospital. This is especially true for state and municipal institutions.
Our lawyers can provide qualified counsel on your premises specifically for medical practice and whether such premises are suitable for carrying out respective medical procedures.
You can also learn more about the process of obtaining a license in our new video material.

We are ready to help you!
Contact us by mail [email protected], by phone number +38 044 499 47 99or by filling out the form:
We are ready to help you!
Contact us by mail [email protected], by phone number +38 044 499 47 99or by filling out the form: