New rules for obtaining a Work Permit in Ukraine in 2023
Cost of services:
from 400 USD
When Client is elegible and has all the necessary documents
from 1300 USD
Premium (includes preparation of additional documents)
Negotiable
For large groups of foreign employees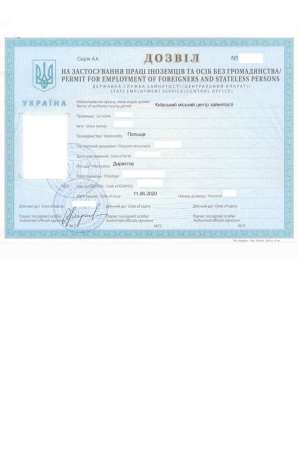 Reviews of our Clients
Daniel Holmes, Citizen of USA
Based on our positive experience of cooperation with Volodymyr Gurlov and his team we can recommend them as a reliable legal advisor on the matters of Ukrainian law...
Our company has helped many foreigners start their own business in Ukraine, open a company, or register a branch office. In many cases, this has also become the basis for obtaining a work permit and a residence permit.
For years, our refined algorithm has helped companies employ foreign workers based on their work permit quickly and with minimal involvement from our clients in the process.
However, life brings its own challenges: first, quarantine, and then the war. Because of this, many foreign citizens were forced to suspend their activities, send their workers on unpaid leave, switch to remote work or part-time work.
Our team of lawyers takes every case seriously, and even after the end of our collaboration, we maintain contact with our clients. For example, we try to inform them of any legislative changes that may affect their business, legal residence, etc. This happened in October 2022 when changes were introduced to legislative acts regulating the employment of foreigners in Ukrain.
In this article, we will briefly discuss the key points of the new procedure for obtaining a work permit.
You may also like: How to Obtain Residency Permits for Foreign Employees in Ukraine: A Guide for Employers
Major changes to obtaining Work Permits in Ukraine in 2023
The law now only allows six reasons for obtaining a work permit in Ukraine:
1) Employed workers;
2) Seconded employees;
3) Intra-corporate transferees;
4) Foreigners and stateless persons with status as refugees or persons in need of additional protection;
5) Persons whose status as stateless persons is being decided;
6) Arrival for the purpose of studying at a university and intention to work during/after studies.
In addition, the fee for obtaining/extending work permits for foreigners has been increased. While the package of documents remains largely unchanged, a new set of forms for submitting applications for obtaining, renewing, or amending permits has been approved.
Clear deadlines for extending permits have also been set: no earlier than 50 and no later than 20 calendar days before the expiration of the permit.
Despite the increase in the fee for obtaining a work permit, the validity period for foreign employees is now limited to two years instead of the previous three years.
On a positive note, a clear procedure for obtaining a duplicate permit in case of loss or damage has been established, and the provision establishing a mandatory minimum wage level for foreigners has been abolished.
You may also like: The Ultimate Guide to Hiring Foreign IT Specialists in Ukraine's Diia City Resident Company
New grounds for revoking work permits in Ukraine in 2023
Please note! Special attention is now being paid to the grounds for revoking a foreigner's work permit, namely the points that make it impossible to reapply for a permit within a year.
Among them are:
Identification of false information in the submitted documents;
Decision on forced return/deportation of a foreigner;
Employment of a foreigner under conditions other than those specified in the work permit, or by another employer (except for part-time employment);
Failure to appeal the decision on refusal to recognize a foreigner as a refugee, a person in need of additional protection, or a stateless person;
Final conviction of a foreigner for committing a crime;
Cancellation of the work permit by the National Police, Security Service of Ukraine, or another government agency, if the foreign worker's actions violate the legislation on the legal status of foreigners and contradict the interests of ensuring national security;
Failure of the employer to pay social security contributions within two months from the date of concluding an employment contract (agreement) with a foreigner, except in cases provided by law;
Receiving information from the university about the expulsion of a foreigner.
In addition, a provision has been added according to which the Employment Center notifies the migration service within three working days of the revocation of a work permit, which in turn is the basis for revoking the temporary residence permit.
After a detailed study of all the changes, our specialists have developed an action plan to prevent revocation or refusal to extend the validity of a work permit. We have informed our clients of the possible risks associated with changes in legislation, especially those that relate to the need to pay taxes on the foreign worker's wages.
We have developed a separate service package for companies that are at risk of having their Employment Permits cancelled, particularly due to business suspension.
The best option, of course, is to sign a contract for accounting and legal services with our company. Our accountants provide all necessary support, timely reporting, and payment of all taxes, while our lawyers handle personnel documents and contractual work.
In our company's practice, we have already successfully worked on cases such as:
Obtaining and extending permits for the employment of foreign workers in the context of updated legislation
Obtaining duplicates
Making changes to permits
Providing messages and explanations to the Employment Center, including appealing decisions to cancel permits.
Our specialists prioritize the standard of making every client feel maximally protected and informed, even amid the constant changes in legislative and regulatory acts.
If you need to extend your work permit in Ukraine or obtain work permits for your foreign employees, don't hesitate to reach out to us. We can also assist with obtaining new permits.
The cost of obtaining a work permit here.
The cost of obtaining a residency permit here.
For information on our company services, please contact our staff.
We're happy to help!
We are ready to help you!
Contact us by mail [email protected] or by filling out the form: