Coverage of rehabilitation centers for drug-addicted persons by medical personnel
Cost of services:
from 16 000 UAH
1-2 specialties
from 16 000 UAH
Alteration
from 24 000 UAH
More than 3 specialties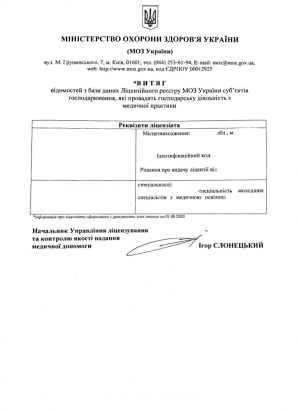 Reviews of our Clients
Director I. Garkusha, "Medyk" LLC
During provision of the services legal experts of the firm proved to be a professional team
Director L. Susenko, Medychni diagnostychi systemy LLC
We would like to express our appreciation to law firm "Pravova Dopomoga" for the provided services related to licensing of medical practice
I. Pruzhnyak , Sole trader I. Pruzhnyak
Despite complexity of licensing procedures, your lawyers got a positive decision about issuance of license for medical practice after the very first submission of documents...
Director S. Sokolova, LLC "Company"Nika-S"
Quick work of your lawyers allowed us to continue our medical practice without unnecessary breaks related to obtainment of the new license. Due to this we managed to avoid financial losses and continued providing high quality dental care services to our clients
Director A. Stelmakh, Private enterprise "ESTO"
We got consultations about organization of the medical center's work, formalization of labor relations with employees, legal regulations on use of different medical equipment...
N. Gorova, Sole trader N. Gorova
I want to recommend this firm to everyone, who wants to start his or her own medical practice...
S. Lyubynetskyi , Sole trader S. Lyubynetskyi
Without any recommendations I chose law firm "Pravova dopomoga" among all other companies on the market and not once did I regret my choice...
Director Mykhailo Bogdanovych Havrylyshyn, Kalush City Center of Primary Health Care
…we can confidently recommend the lawyers of Law firm «Pravova dopomoga» as reliable legal partners on the matters of medical practice licensing and other procedures related to the Ministry of Health of Ukraine.
Chief physician Romanyuk E.V., Municipal non-profit enterprise "Central district hospital of Busk"
... Having used the services of the Law Firm "Pravova dopomoga", we managed to solve our problems, as well as found a qualified and reliable partner.
As of today, the problem of rehabilitation assistance to people who are drug addicts is still relevant.
In Ukraine, rehabilitation centers for drug addicts - organizations engaged in the physical, psychological, social and moral and spiritual recovery of people (rehabilitants) suffering from mental and behavioral disorders associated with the use of narcotic substances, as well as various forms of non-chemical dependence (gambling, etc. d.) - continue to be set up.
As of this day, the issue of setting up such rehabilitation centers particularly of a private form of ownership still remains little regulated.
In this material, we will answer the questions of providing such institutions with medical workers (doctors and nurses) who should perform the functions of providing medical care to persons undergoing rehabilitation in such centers. You will be able to find out where you need a license and which one.

Related article: Restorative Medicine. Features of Licensing in the Field
Do I need a license?
This issue is relevant, because, among other things, people undergoing rehabilitation are helped to restore certain aspects of their health.
Rehabilitation is one of the methods of medical practice. This means that the rehabilitation center must obtain a license to carry out medical practice in the relevant specialties and medical personnel. In addition, addiction is considered a chronic disease, characterized by a pathological attraction to various psychoactive substances, a change in tolerance and the development of mental, drug addiction to them, as well as pronounced medical and social consequences. This indicates that this condition is considered a disease that needs to be treated.
We can make an unambiguous conclusion: for an institution such as a rehabilitation center, a license to practice medicine is mandatory.

What specialties should doctors and nurses in rehabilitation institutions work in?
Given the specifics of such an institution as a rehabilitation center, first of all, it is necessary to equip the institution with doctors that have the right to apply treatment methods, and most importantly the rehabilitation of people suffering from alcoholism, drug addiction or any other type of chemical or non-chemical dependence.
That is, first of all, you need to get a license in the specialty "narcology", and to hire a narcologist.

Related article and video: Preparation Of Documents For Obtaining A Medical Practice License: What Do You Need To Know?
The next specialty for which you need to obtain a license is psychiatry. Indeed, as a result of the use of narcotics or other psychoactive substances, individuals may suffer from certain diseases of a psychiatric spectrum, the treatment and rehabilitation of which is carried out by a psychiatrist.
Also, given that rehabilitation consists, in particular, in restoring a person's psycho-emotional state and influencing his behavior in the future, a prerequisite is the presence of a psychophysiologist in a rehabilitation institution who applies methods of psychocorrection and psychotherapy.
Therefore, the third specialty for which you need to obtain a license is psychophysiology.
As for the junior staff, at least you need to get a license for nursing, and employ a nurse in such an institution that will help doctors and conduct simple medical procedures under their supervision.
A rehabilitation center is an institution that should contain the appropriate medical staff, responsible for the health and well-being of patients. It is impossible to operate it with the nursing staff only.
Related article: Some requirements for personnel of health care institutions
Obtaining a license to practice medicine is just one of the steps to set up a rehabilitation center. However, without fulfilling the requirement of having a medical license and employing appropriate medical personnel, it is basically impossible to talk about the legitimate activities of the rehabilitation center.
The process of obtaining licenses requires specific knowledge and skills. Our company can get all the necessary licenses for your rehabilitation center and answer all related questions.
If you want to learn more about the medical licensing of the rehabilitation center and other conditions that must be met for its establishment and legal operation, you can get in touch with us in a way that is convenient for you.
We are ready to help you!
Contact us by mail

[email protected]

or by filling out the form:
We are ready to help you!
Contact us by mail [email protected] or by filling out the form: