Tax avoidance on income received from rental of real estate that is a part of charter capital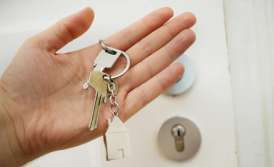 Our company's experience shows that matters on the putting real estate or rights on real estate to the shareholders' capital of legal entities have been very popular recently. In general this matter is interested for individuals who own a real estate and decide to lease it with a minimal taxation.
Previously the best option was leasing of a real estate by an entrepreneur who was on the simplified tax system. But a lot of people have started to look for alternative options after there were changes in the laws on limits for residential (100 square meters) and non-residential real estate (300 square meters) in 2012. So that's why transferring rights on a real estate or a real estate to shareholders' capital is one of the best options at the moment. This legal entity doesn't have any limits for squares and is on the simplified tax system. In this case the State Fiscal Service of Ukraine hasn't mind yet.
The main point is a possibility to withdraw profits from the account of a legal entity. It is not a secret that a lot of people are tempted to get profits for "services of entrepreneur". But very often these agreements "bother" officials and it causes additional problems for proving reality of agreements. There are other options for getting profits in clearer way. We mean options that which more profitable than 15 % of personal income tax for leasing a real estate.

1. Dividends.
According to the Article 14.1.49 of the Tax Code of Ukraine dividends are payments which are conducted by legal entities-issuers of corporative rights on welfare of legal entities which own these rights in order to divide parts of profit calculated according to the rules of accounting.
The Civil Code of Ukraine, the Commercial Code of Ukraine and the Law of Ukraine "On economic partnership" dated the 19 of September 1991 no. 1576-XII regulate the procedure of payment of dividends. Members have rights to take part into division of profit and get a part of it according to these laws. The right to get dividends is proportional to the part of every separated member.
The general meeting of LLC is able to deal with matters on division of profit, define terms and procedure of it. Periodicity of payments is not regulated by any legal acts.
According to the Article 4 of the Law no. 1576 the charter of LLC must be clause about the procedure of division of dividends. Usually payments are made once per a year.
According to the Article 170.5.3 of the Tax Code of Ukraine dividends, which are charged by issuers-resident of corporative rights, are taxed at a rate of 5 percent in order to the Article 167.2 of the Tax code of Ukraine. Tax agent, who is responsible for paying taxes, is a legal entity (LLC) which obliged to recalculate tax during payments of dividends and for their expense.
As follows if you get profits for leasing through the dividends then taxation will be conducted at a rate of 10 percent (5 percent is simplified tax and 5 other percent tax for dividends). It allows to save 5 percent of profit comparing to 15 percent of personal income tax.

2. Loan agreements/ financial assistance agreement.
For example, owner wants to get money urgently before payment of dividends. What does he have to do in this case?
According to the Article 14.1.257 of the Tax Code of Ukraine returned financial assistance is money which comes to a tax payer for using according to agreement which regulated charging of percent or getting other types of compensations for using this money and must be returned.
According to the Articles 1046-1053 of the Civil Code of Ukraine there is a loan agreement which correspond to abovementioned agreement. Interest-free loan is a returned financial assistance. Keep in mind that interest loan can be given only by subjects with a status of financial institutions according to the opinion of the State Fiscal Service of Ukraine. That's why we need to examine interest-free loan.
If loan is issued to a founder as entrepreneur then you have to consider these recommendations.
According to the Article 292.11 of the Tax Code of Ukraine profit of tax payer doesn't include returned financial assistance which is get and return during 12 months since the moment of getting it.
It means if assistance is not returned after this period of time then it includes to the profit of simplified tax payer. At the same time there are no reasons for income's adjustment in a case of future returning according to the Tax Code.
If returned financial assistance is given to a founder as individual then the term of its returning can be defined at its discretion. In other words this term may not come. According to the Article 165.1.31 of the Tax Code the main amount of assistance won't be included to the profits of individual for purpose to pay personal tax income. While giving financial assistance you have to take into account limits of cash accounts between legal entities or entrepreneurs for one day.
This material is written within the framework of corporative law practice and tax law practice.
We are ready to help you!
Contact us by mail [email protected], by phone number +38 044 499 47 99or by filling out the form: