Land use rights during the war in Ukraine: privatization, alienation, change of purpose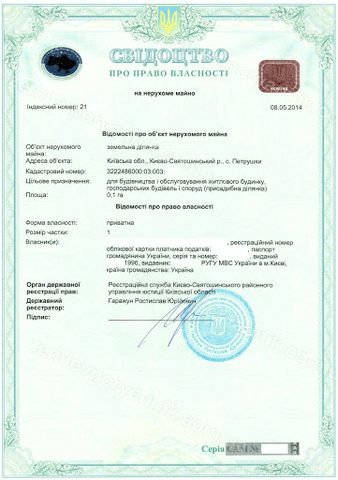 Reviews of our Clients
Director G. Smirnov, LLC "Olvita"
LLC "Olvita" expresses its gratitude to law firm "Pravova Dopomoga" for highly professional advices provided by your experts on legal issues
Despite the ongoing conflict, the land market is gradually recovering to its pre-February 24, 2022 state, albeit with some limitations.
Looking back at the period of registry closures, restrictions on property transfers by notaries, validity periods for powers of attorney, the ban on privatization, and the introduction of land ownership and land use registration books, we can confidently say that we are returning to normal procedures for land ownership and registration.
The most common questions we receive today can be broadly categorized as follows:
Who is eligible for free land privatization during the war? What should be done with Certificates of Land Ownership Rights (shares)?
Agricultural land during the war: Acquiring ownership rights for individuals and legal entities. What has changed?
Investing in agricultural land as an alternative to residential real estate: Benefits and prospects.
Changing the designated purpose of land plots during the war: Cases where such changes are not required.
We are here to provide answers to these questions, which may be valuable to you. However, if you have a specific inquiry about land use or acquisition in Ukraine during the war, don't hesitate to reach out to our team of specialists.
You may also like: How to Verify a Land Plot in Ukraine Before Purchase?
Land privatization in Ukraine today
The opportunity to acquire land plots for free ownership in Ukraine depends on the functioning of the state's electronic information resources in a specific area. Recent changes by the Ministry of Reintegration have established a list of territories affected by active hostilities where these electronic resources are operational. This means that residents of front-line territories now have the chance to obtain land ownership through privatization.
Currently, the free transfer of land plots into private ownership is allowed only for the following individuals:
Owners who have houses or other properties located on these land plots.
Owners of land plots granted according to the Decree of the Cabinet of Ministers of Ukraine dated December 26, 1992 (for citizens and their heirs).
Owners of land plots granted into ownership before 2004 (for citizens and their heirs).
Individuals who initiated privatization before 2013 but have not yet obtained a state act.
A real-life example: One of our clients received a construction passport for an individual residential house plot in 1998. As of 2023, no construction had commenced on the plot, and it remained vacant. Additionally, the plot had not been privatized, had no cadastral number, and was not owned by the applicant.
We delved into the archives to gather information on the decisions of the village council regarding this land plot. We developed land survey documentation, registered the plot in the State Land Cadastre, and successfully secured private ownership rights for our client. In essence, we assisted the client in privatizing the land plot during wartime, despite the absence of any structures owned by the client on the plot.
Regarding Certificates of Land Ownership Rights (shares), they remain valid until land shares are allocated to owners in kind (on-site). However, if by January 1, 2025, the owner of an undisbursed land share or their heir fails to register ownership rights for the land plot, it is considered a refusal to receive the land plot.
Therefore, now, with functional registries, it is both possible and advisable to prioritize the registration of ownership rights for land shares and the allocation of corresponding land plots in kind. We strongly recommend taking the necessary steps to secure your ownership rights.
You may also like: How to Register Agricultural Land Rights during Times of Martial Law?
Land transfer for gardening and horticulture during wartime: Buyer verification
Obtaining ownership rights for agricultural land plots today can be a challenging and time-consuming process. Notaries are required to conduct a thorough verification of the buyer's eligibility as a landowner, which adds to the overall time and cost involved.
A real-life example: A client approached us seeking legal assistance in acquiring a land plot designated for gardening, with plans to build a house on the property. To initiate the notarial verification process, we compiled a comprehensive set of supporting documents on behalf of the client, including:
Information about the client's involvement in a legal entity.
Confirmation of no sanctions or citizenship ties to countries recognized as aggressors or occupiers by Ukraine.
Verification of no affiliation with terrorist organizations or entities subjected to international sanctions.
Information certificates and documentation confirming the lawful origin of funds.
Confirmation of the client's ownership of other land plots.
We diligently validate all provided information by accessing registries, submitting inquiries to relevant government agencies, institutions, and archives.
Currently, this verification requirement applies to individual buyers for all agricultural land plots, with the exception of land acquisitions for agricultural purposes meeting specific size limits:
Gardening purposes: Plots not exceeding 0.25 hectares.
Personal peasant farming within settlements: Plots not exceeding 2 hectares.
You may also like: Land Lease for Legal Entities in Ukraine
Investing in agricultural land as an alternative to residential real estate
During times of conflict, investors are actively seeking secure investment opportunities to generate passive income. Currently, the agricultural land market is exclusively accessible to individual buyers. However, starting in 2024, legal entities will also have the opportunity to enter the market, potentially doubling the value of agricultural land. These existing restrictions present a unique opportunity to acquire prime land.
According to statistics from the Ministry of Agrarian Policy, the average price per hectare of agricultural land in March 2023 is 77,940 UAH, nearly double compared to the period from May to December 2022.
Investing in land offers distinct advantages compared to residential or commercial properties:
It has a lower entry threshold (land can be purchased starting from ,000,000).
It does not require additional expenses for repairs or maintenance.
It offers a different potential for rental income and capital appreciation.
Before making the decision to invest in land, it is crucial to carefully analyze specific aspects, including:
Ownership documents.
History of property ownership transfers.
Existing leases, emphyteusis, or servitudes.
Terms of existing lease agreements.
Interest rates.
Regulatory monetary valuation data, and more.
Our team of legal experts conducts comprehensive examinations of these factors and ensures that prospective buyers fully understand the potential risks and issues associated with the land. We provide our clients with a profitable and straightforward pathway to acquire the properties they are interested in.
You may also like: How to Buy a Land Plot in Ukraine with the Help of a Lawyer?
Changing the purpose of land plots during times of war
The procedural aspects of changing the purpose of land plots remain unchanged during and after periods of war.
A real-life example: One of our clients owned a garden house and a land plot designated for individual gardening. In order to register the place as their official residence, it was necessary to modify the status of the house from a garden house to a residential dwelling. However, this was only part of the process, as it was also essential to alter the purpose of the land plot to avoid future complications when selling or gifting the property.
We conducted a thorough analysis of the urban planning documentation, conducted a land survey, and subsequently developed land management documentation to modify the purpose of the land.
Currently, there are no restrictions on changing the purpose of land plots during times of war. In fact, there are additional opportunities where it is not necessary to modify the purpose to carry out certain intentions.
For instance, it is possible to temporarily establish living accommodations and support facilities for internally displaced individuals, along with the required infrastructure, without altering the purpose of land plots across all categories, except for lands designated as nature reserves, protected areas of historical and cultural significance, and forestry lands.
Changing the purpose of a land plot for such purposes is carried out in the following manner:
Without the need for land management documentation.
Without having to comply with the rules regarding the correlation between the type of land plot purpose and the type of functional territory, with a few exceptions.
Without the requirement to compensate for losses in forestry production, even when accommodating the production facilities of enterprises relocated from the combat zone, including those of strategic importance to the economy and national security.
In such cases, the decision to establish or change the purpose of a land plot is based on a motivated conclusion from the authorized urban planning and architecture authority. This conclusion specifies the feasibility of placing objects for the intended purposes.
These examples highlight how the situation affects the ability to acquire, sell, lease, or undertake other actions involving land plots of various purposes in Ukraine.
Our team of legal experts can provide you with answers to your questions and guide you through the necessary steps to meet your specific needs.
Don't hesitate to consult with our lawyers!
The cost of property verification services here.
Our real estate transaction support services here.
We are ready to help you!
Contact us by mail [email protected] or by filling out the form: