Reasons for canceling an employment permit. Impact on previously issued temporary residence permit
Cost of services:
from 400 USD
When Client is elegible and has all the necessary documents
from 1300 USD
Premium (includes preparation of additional documents)
Negotiable
For large groups of foreign employees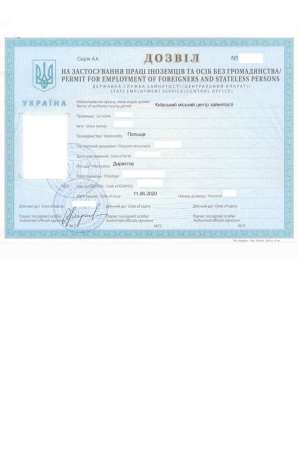 Reviews of our Clients
Daniel Holmes, Citizen of USA
Based on our positive experience of cooperation with Volodymyr Gurlov and his team we can recommend them as a reliable legal advisor on the matters of Ukrainian law...
Labor permit
The simplest way to get an employment authorization for a foreigner is to be a founder of an enterprise. There is a simplified, privileged procedure in the sphere of IT specialists.
Important: After getting an employment authorization, a foreigner has 30 days to sign a contract, and then 10 days to submit it to an Employment Center [1].
Cancelation of permission for using the labor of foreigners and persons without citizenship may happen in case an employer fails to submit, within the period provided by the law, a copy of labor agreement/contract that he/she concluded with a foreigner.
The procedure of getting a labor permit by means of founding a limited liability company is as follows:
Registration of an enterprise in Ukraine → appointing a nominal director → submission of application for getting an employment authorization → carrying out an exchange of a nominal director for a foreigner
Namely such a procedure is the most common and at the same time is the most suitable for non-residents.
Important: each of these stages has its particularities fixed at the legislative level, and therefore we advise you studying attentively the regulatory framework or to entrust those processes to professionals, in order to get confidence in their correct performance.
Salary accounting for a director
After assuming duties of a director, a foreign citizen should get salary according to the Code of Laws on Labor of Ukraine and to the labor agreement signed. But this happens not always at the first after opening a business. In this connection, there arises a question, too: is failure to fulfill provisions of a labor contract a reason for cancellation of an employment authorization?
In this case the answer is unambiguous – no, because there is a comprehensive list of reasons for cancelation of labor permit provided in the law, and there is no such a reason for cancelation there. [2]
However, failure to account salary is fraught with financial sanctions [3]: for enterprises – a penalty in amount 10 times as much of the minimum official salary set by the law upon the moment the breach was detected; an administrative penalty in amount from 30 to 100 tax-exempt minimum income of citizens (from 510 to 1 700 Hrn.) is imposed for official of an enterprise who committed such a breach [4].
Reasons for cancelation of residence permit
Temporary residence permit may be canceled in the following cases:
when foreigner's actions threaten the national safety of the state, the health of the third parties and also the public order;
in case a foreigner is condemned in Ukraine;
in case the information came from the National Police or the Security Service of Ukraine about the fact that the residence permit was issued based on false information, or based on expired or falsified documents;
in case there was a decision taken about compulsory deportation of the foreigner beyond the territory of Ukraine etc.
Cancelation of employment authorization is not a reason for cancelation of temporary residence permit by the State Migration Service. [5]
Prolongation of residence permit
To prolong the residence permit 15 days before its expiration, the same package of documents should be submitted as in case of its primary registration. Accordingly, with that package of document, an employment authorization is submitted whose period of validity can be prolonged, too. And a problem arises here: in case that permit was cancelled before – one should get it anew, and for that, one should leave the territory of Ukraine, register a type D visa, insurance etc. All those procedures and, accordingly, financial expenses can be avoided if one keeps with requirements of the law concerning getting an employment authorization about which we have written above.
Summary
Having analyzed the legislative framework and practical experience, one can single out the following key aspects which a foreigner should keep to, in case of opening the business in Ukraine, and namely:
cancelation of employment authorization shall not become a reason for cancelation of residence permit;
failure to sign a labor contract within 90 days after registration of an employment authorization will be a reason for cancelation of such authorization;
after a labor agreement is signed, it should be submitted within 10 days to an employment center;
failure to account salary according to the labor contract shall not become a reason for cancelation of labor permit, but it will be a reason for penalty sanctions imposing.
These simple rules will help you develop legally the business in Ukraine, but if you have any doubt concerning compliance of your actions with the law, we advise you applying for professional legal assistance.
Normative regulation:
[1] – Article 42-7 part 4 of the Law of Ukraine "About employment of population";
[2] – Article 42-10 of the Law of Ukraine "About employment of population";
[3] – Article 265 of the Code of Laws on Labor of Ukraine;
[4] – Article 41 of the Code of Ukraine about Administrative Offences;
[5] – Resolution of the Cabinet of Ministers number 322 dated April 25, 2018.
We are ready to help you!
Contact us by mail [email protected] or by filling out the form: