Creating an LLC in Ukraine with foreigner as a head
Cost of services:
from 9000 UAH
Cost for LLC's registration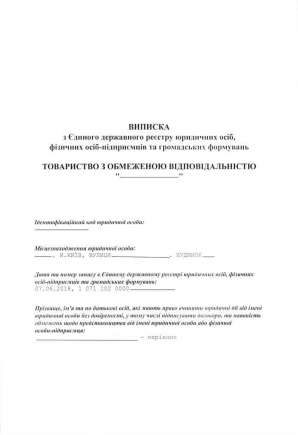 Reviews of our Clients
Founder and Chief Editor M. Aristov , "Geoprofil" magazine
We would like to recommend this firm which provides legal services professionally and in a timely manner
Director V. Kovernyk, LLC "Company "VNA"
We highly appreciate quality of your work in regard to minimization of legal risks for our business as well as your ability to deal with controversial situations arising from interaction with controlling authorities
Director S. Astashev, LLC "Company "Biznes proekt"
Our experience of work with you in the field of litigation, tax consultations, registration of legal entities and others showed that you can be entrusted not only with ordinary projects but also with those that require creativeness in protection of interests
Foreign Clients who use our services of legal support of entry into Ukrainian market often ask us the next question:

Is it possible to appoint a foreigner as a director in a new subsidiary in Ukraine?

First of all it's worth mentioning that a director of new legal entity should be chosen before its registration procedure starts.

Ukrainian legislation provides that for employment of a foreigner requires:
Tax ID obtainment usually takes up to 5 business days and doesn't require any documents other than passport of a foreigner. And the work permit obtainment can be obtained only for already existing legal entity. Thus, it's not possible to get a permit for work in an LLC that is only planned to be created, as it is not registered.

But if this means that it's impossible to create legal entity in Ukraine with foreigner as a director?

- No.

Any information about work permits is not submitted to state bodies when an LLC is created:

The legislation requires existence of work permitbut there is no procedure to check it.
Thereby there is a possibility to establish a company with foreigner as a head, even despite miss of permit. But the next question that arises is: what is the responsibility for breaking rules of foreigner employment?

Let us draw your attention to the next norm:
Part 5, Art. 53 Act "On Employment" (as amended on 11.08.2013) the penalty for the employment of a foreigner without a work permit – 20 minimum wages;
Art. 204 Code of Ukraine on Administrative Offences provides responsibility for violation of employment procedure in the form of a fine of 100 to 200 non-taxable minimum incomes of citizens.
So, registering a company in Ukraine with the foreigner as a head brings a risk of further fines.

How to act:
When the subsidiary is registered it's possible to appoint Ukrainian resident as a head, then obtain work permit for non-resident and replace the head.
But there are situations when this option is not acceptable (reluctance to appoint a resident of Ukraine head, additional time and others), in such cases it is possible to implement the second option.
Appoint foreigner as a head from the moment of registration and obtain permit after state registration, all documents should be drafted in the way that minimizes risk of fines
We've solved this and many other issues which are faced by foreigners entering Ukrainian marker, some of those are described in our Representative experience and Comments on legislation.

If you need legal support, feel free to contact us.
We are ready to help you!
Contact us by mail [email protected] or by filling out the form: