Frequently asked questions about registering a charitable foundation during the war in Ukraine
Cost of services:
from 9000 UAH
Charity Fund Registration Fee
32000 UAH
Foreign Charitable Fund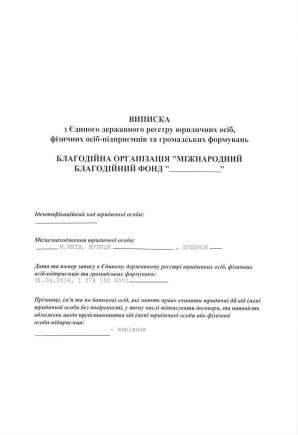 Reviews of our Clients
Palyonko O., Сaritable organization "International charitable fund"My native village"
I was convinced that the principle "We treat every client as a single one" indeed applies to this firm and is not just a loud motto...
In times of war, our company continues to receive requests to register charitable foundations. This means that there are many people in our society who care and are ready to support others in difficult times.
We are also approached by foreigners and organizations that are planning to bring humanitarian aid and transfer charitable funds to Ukraine and require official registration of such activities. Registration of a charitable organization in Ukraine might be a way out.
There are a lot of nuances in the process, so today we will give answers to the most frequently asked questions regarding the actual process of registration of foundations for the needs of wartime in Ukraine.
How fast can a charitable foundation be registered now - under martial law?
Let's start with the fact that now registration actions can be done not in every registrar organization, and not with every notary, as it used to be. There is now a list of registrars who will do certain registration actions. We talked about that before here.
Because of that, registration time now can be a bit delayed. However, on average - up to a week. The main thing is that we can register a charitable foundation even under martial law.
Interesting: International charitable foundation in Ukraine
What documents are needed and what will the procedure look like?
What documents you need from the founder depends on who he or she is and where he or she is physically located. This partly affects the procedure as well. Let's look at the most common options.
If the founder is a natural person, a citizen of Ukraine and physically located in Ukraine. There may be several such persons. A notarial power of attorney will be required from such founder(s).
Depending on the region where the Client is, we select a notary from the list of notaries working during the war, make an appointment. At the same time we prepare constituent documents and send them to the Client by e-mail or other electronic resource (for example, telegram).
The client notarizes the power of attorney, prints and signs the constituent documents, and then sends a package of documents by Nova Poshta (you can use Ukrposhta too) to the address specified by our staff.
If the founder is a Ukrainian or a foreigner located abroad. We send a draft of power of attorney to the country where the Client is, and it must be certified in accordance with the requirements of local legislation. But for Ukrainian citizens we have an opportunity to apply to our Consulate and certify power of attorney there without apostilization and legalization.
Since power of attorney will be with the right to sign constituent documents, there is no need to sign abroad and send them to Ukraine.
Attention! Citizens of Ukraine, whose passport is of old type, i.e. "booklet", not ID, also need to notarize or notarize at the consulate a copy of this passport.
If there are legal entities, including foreign ones, among the founders of the charitable foundation. It is a bit more complicated. In particular, foreign legal entities have to provide a duly certified document on the registration of such legal entities in the country of registration (extract from the commercial, court or other registry). In general the algorithm is almost the same.
Our lawyers develop an optimal algorithm for each situation and take care of all registration and preparatory procedures.
How do I know that the fund is registered in the conditions, while the Unified State Register is not working?
The Unified State Register may start working very soon. Probably, if you're reading this, it's already working. But right now, you can find out the information in the OpenData Bot.
Once the fund is listed in the registry, we will tell the Client its identification code, after which they can see for themselves that the fund exists. Of course, after some time the Client will receive an extract from the UGR in paper form by mail.
Interesting: Charity and taxes
What is faster and better: to register a charity from scratch or buy an old one?
What are the peculiarities? The old members have to notarize their withdrawal and the new members have to notarize a new charter and make other desired changes. For example, the location, their director, etc. But it makes sense only if you need a foundation "with a history" for some purposes. That is, that the date of registration was at least a few years ago. Otherwise, of course, faster and easier to create a fund from scratch with the Ukrainian participant.
Our company today offers not only the registration of a charitable foundation in wartime, but also support of the activity - advice on setting up and distribution of funds, organization of accounting for the foundation, etc.
The cost of foundation registration can be found here.
The cost of consulting and maintenance of the charity organizations can be found here.
Did not find an answer to your question?
All about registration of the charitable foundation in Ukraine here.
We are ready to help you!
Contact us by mail [email protected] or by filling out the form: