Where To Get A Construction License In Ukraine?
Cost of services:
17 000 UAH
CC 2 General construction + internal networks
21 000 UAH
CC 2 General construction + internal networks + external networks
Negotiated price
CC 3 or special clauses of Designation nomenclature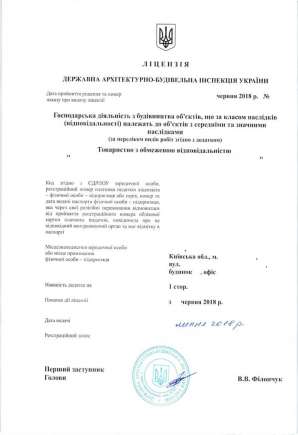 Reviews of our Clients
Director Danko Petro Pavlovych, Quick response forse "Tiger" LLC
Quick response forse "Tiger" LLC expresses gratitude to Law firm «Pravova dopomoga» for long-term cooperation, which brings only positive results.
Rector, Doctor of Law, Professor M. M. Kurko, Interregional Academy of Personnel Management
We wish to your firm continuous development and strengthening, new prospective and loyal clients!
A Construction License in Ukraine is issued by the State Architectural and Construction Inspectorate of Ukraine (SACI), which is located at: Lesya Ukrainka Blvd., 26, Kyiv, 01133.
The period of obtaining the Construction License is 1 month, but usually we do it faster.
You may also like: The Procedure For Obtaining A Construction License
Before starting the process of obtaining the license, the applicant should decide on the intended types of work. You can read more about the types of work and consequence classes CC1, CC2 and CC3 here.
To obtain the Construction License, the applicant shall submit the following documents:
A license application;
Information on the technical base, employees by qualification level prepared in the form of statements (which shall specify employees, premises and equipment);
A list of documents submitted.
As far as since 2020, the Construction License is no longer issued in paper form, the license is now confirmed by an entry in the electronic register on the official website of the State Architectural and Construction Inspection. Also, the result is the publication of the list of types of work for which the license is issued.
The SACI commission hold meetings once every two weeks. Our work is structured in such a way that we submit documents for each of these commissions.
Having a great experience in this sphere, we managed to obtain 2 licenses at the last commission, and we have 4 more licenses to be issued at the next commission. You can see examples of issued licenses on our service page in the "Our successful projects" section.
If you need legal assistance in obtaining the Construction License, don't hesitate to contact us!
Read also:
Our Practice Of Selling A Construction Company
We are ready to help you!
Contact us by mail [email protected] or by filling out the form: