How to open a construction company?
Cost of services:
17 000 UAH
CC 2 General construction + internal networks
21 000 UAH
CC 2 General construction + internal networks + external networks
Negotiated price
CC 3 or special clauses of Designation nomenclature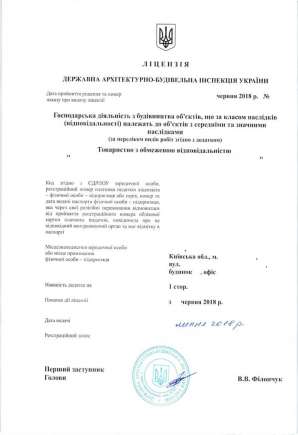 Reviews of our Clients
Director Danko Petro Pavlovych, Quick response forse "Tiger" LLC
Quick response forse "Tiger" LLC expresses gratitude to Law firm «Pravova dopomoga» for long-term cooperation, which brings only positive results.
Rector, Doctor of Law, Professor M. M. Kurko, Interregional Academy of Personnel Management
We wish to your firm continuous development and strengthening, new prospective and loyal clients!
Every business comes to the growth life-cycle stage, when it's time to increase personnel, to expand the customer base, to enter new markets, etc.
Our company provides legal support and consulting services to all businesses. We are always happy to meet Clients who want to expand their business, successfully grow it from small to medium, because it is a real challenge in which we are interested to participate.
Today we will talk about a case from our practice, demonstrating how the right algorithm of actions and legal support help the business enter a new stage of its development.
Related article: Law Firm Or In-House Lawyer? What Are The Advantages Of Legal Outsourcing?
Core of the subject: Why do you need a Construction License?
We were contacted by a Client whose company was at the stage of development, facing a sharp need in increasing his capabilities and resources. He provided construction services, offering only auxiliary and uncomplicated construction services such as foundation casting and one-storey buildings construction.
However, the Client's objective was:
To reach another, more serious level that would allow him to participate in various tenders, auctions;
To provide more complex and expensive services;
To sign appropriate Service Agreements and receive money to the accounts of his firm.
The Client said that he now performs general purpose works with the class of consequences CC 1 and builds only one-storey houses, which does not require a Construction License. However, with the development of the business, he has got more clients who want to order complex structures at a higher cost.
Related article: Construction License: Procedure For Obtaining, Problem Points, Practical Experience
Legal advice: Development of the construction business
First of all, we explained to the Client that he can't take responsibility for complex projects in the view of his current situation, as it is fraught with penalties and arrests imposed by law enforcement agencies.
The amount of penalties may vary from UAH 17,000 to UAH 182,430.
So, we offered the Client to apply for a Construction License with the consequence class CC3 that will allow him to expand the business.
Later, our actions were aimed at solving the Client's problems, which prevented him from obtaining a Construction License.
Lack of qualified personnel with appropriate work experience. Pursuant to the law of Ukraine, in order to obtain the license for the class of consequences CC 3, the applicant shall confirm its previous experience in the construction of facilities of the class of consequences CC2. However, the Client didn't have all the documents required, as well as his employees didn't have necessary experience. This is a problem very often encountered by the construction business, which has been growing too fast.
We helped the Client to ensure the availability of qualified personnel and to prepare the necessary documents.
Verifications and certification of equipment. Along with the human resources problem, the Client had also an equipment-related problem, since more serious work requires more equipment, which shall be also verified, certified and put into use. This requires an additional significant amount of time and money to buy and bring the equipment into conformity.
However, we have extensive experience in addressing such issues, so it hasn't caused any problems for us. We performed all the agreed works even without the Client's participation.
Compliance with tender requirements. The Client also understood that he had to meet certain tender requirements in order to sign service agreements with state institutions. This stage required him to undergo a significant amount of bureaucratic procedures and ensure compliance with a number of formal requirements that he did not properly understand.
We thoroughly advised the Client on tender requirements and put all his documents into shape.
Related article: VAT Refund: Who Has The Right To A VAT Refund In 2019?
As you see, when growing or expanding the network of the construction or any other business, one may face a number of system problems. And to solve such problems, you need to have an appropriate experience.
If you find yourself in a similar situation, think of a qualified advisor who will significantly reduce the time and money spent on the next step for your business development.
We are ready to help you!
Contact us by mail [email protected] or by filling out the form: