Where can you get a Medical License?
Cost of services:
from 16 000 UAH
1-2 specialties
from 16 000 UAH
Alteration
from 24 000 UAH
More than 3 specialties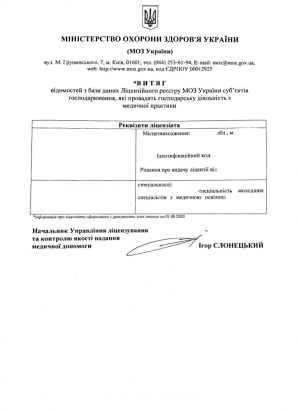 Reviews of our Clients
Director I. Garkusha, "Medyk" LLC
During provision of the services legal experts of the firm proved to be a professional team
Director L. Susenko, Medychni diagnostychi systemy LLC
We would like to express our appreciation to law firm "Pravova Dopomoga" for the provided services related to licensing of medical practice
I. Pruzhnyak , Sole trader I. Pruzhnyak
Despite complexity of licensing procedures, your lawyers got a positive decision about issuance of license for medical practice after the very first submission of documents...
Director S. Sokolova, LLC "Company"Nika-S"
Quick work of your lawyers allowed us to continue our medical practice without unnecessary breaks related to obtainment of the new license. Due to this we managed to avoid financial losses and continued providing high quality dental care services to our clients
Director A. Stelmakh, Private enterprise "ESTO"
We got consultations about organization of the medical center's work, formalization of labor relations with employees, legal regulations on use of different medical equipment...
N. Gorova, Sole trader N. Gorova
I want to recommend this firm to everyone, who wants to start his or her own medical practice...
S. Lyubynetskyi , Sole trader S. Lyubynetskyi
Without any recommendations I chose law firm "Pravova dopomoga" among all other companies on the market and not once did I regret my choice...
Director Mykhailo Bogdanovych Havrylyshyn, Kalush City Center of Primary Health Care
…we can confidently recommend the lawyers of Law firm «Pravova dopomoga» as reliable legal partners on the matters of medical practice licensing and other procedures related to the Ministry of Health of Ukraine.
Chief physician Romanyuk E.V., Municipal non-profit enterprise "Central district hospital of Busk"
... Having used the services of the Law Firm "Pravova dopomoga", we managed to solve our problems, as well as found a qualified and reliable partner.
Documents for obtaining a Medical License must be submitted through the Single Window of the Ministry of Health of Ukraine, which is located at: 10, Smolenska Str., Kyiv. Telephone: (044) 202 1700.
After a full package of documents (an application, statements on the condition of material and technical base, list of documents submitted and power of attorney) is gathered, the applicant submits them through the Single Window of the Ministry Of Health at the abovementioned address. The specialist who will accept the documents, grants a second copy of the list of documents submitted, puts the date and signs the copy.
You may also like: Reasons Why A Licence Is Rejected
The Ministry of Health holds a commission that reviews all applications every Thursday. Based on the results of the commission, the Ministry of Health publishes its decision to grant or reject a license on its official website. In practice, this procedure takes much more time as it may seem. On average, you can wait from 3 weeks to a month and a half for the result concerning the license.
If you want to know more about how to obtain a Medical License in practice, read our publications in the Useful Information section and on the relevant service page.
Video and guideline: Preparing Documents For A Medical License
Today, there is no paper form of a Medical License. So the fact confirming the obtainment of the license is a positive decision of the Ministry of Health to issue a license.
After the positive decision is published on the official website of the MOH, the licensee must pay a license fee in the amount of UAH 2,102 (as January 2020), within 10 days. After paying the fee, the licensee can immediately start providing medical services.
If you want to know more about the procedure for obtaining a Medical License or to get it with our assistance quickly and easily, don't hesitate to call us!

We are ready to help you!
Contact us by mail [email protected] or by filling out the form: