How to open an online pharmacy from 0 in Ukraine? Selling medicines on the Internet is allowed
Cost of services:
from 15 000 UAH
Drugstore license
from 30 000 UAH
License for a drugstore storage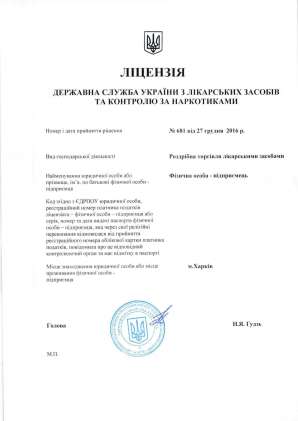 Reviews of our Clients
Savorona N., Sole trader Savorona N.
Lawyers of this firm answered all my questions and by doing so made me trust them. I didn't even need to be in Kyiv. I just had to provide a power of attorney...
O. Reshytnyak, Sole trader O. Reshytnyak
Your firm recommended itself as one of the best and reliable organizations...
L. Chervonyuk, LLC "Vitalux"
Vitalux company highly appreciates results of cooperation with Law firm "Pravova dopomoga", can characterize it as a reliable partner and based on personal experience is ready to recommend it to interested persons...
Previously, we have already written that delivery of drugs became possible during quarantine, which automatically made the previously prohibited activities of Internet pharmacies legal.
However, it was not known whether the authorization would be strengthened or lost after the end of quarantine.
Today we can already say for sure that it is quite realistic to start an Internet pharmacy in Ukraine. This is confirmed by the Draft Lawl No. 3615-1, adopted on September 17, 2020.
Let's elaborate on the opportunities provided by this law and how to start an online pharmacy in the current situation.
You may also like: Punishment For Selling of Medicines Without A License In 2021
What will you need to start an Internet pharmacy from scratch?
It is important to understand that the name "Internet pharmacy" does not imply that you just have a website and some warehouse for drugs. No.
Even if you are going to market your pharmacy primarily as an online service - you need to have premises and personnel that meet the requirements of laws and regulations on licensing of pharmacies in Ukraine.
You will also need a license to start an online pharmacy. That means you will need to meet all the requirements of the licensing authority - we wrote about them in detail here.
As for the new conditions, set forth by the law to start the Internet pharmacy, they are as follows:
The licensee will be included in the register of persons who are entitled to sell drugs online, which can be found on the website of the licensing authority. It will contain full information about the licensee, including the address of its website, the address of the actual location of the pharmacy, etc.;
In order to obtain a license, you will need to provide the licensing authority with the ready-made website, which shall meet clear requirements of the licensing authority. Failure to comply with these requirements will result in the rejection of a license;
Note: A similar situation with the requirement to provide a ready-made website currently exists in the field of energy licensing in Ukraine. Our lawyers take on the development of websites that fully meet the requirements of the licensing authority.
Internet pharmacy must have its own courier delivery service. At the same time, couriers must have equipment in order to safely deliver drugs without violating the conditions of their storage;
Delivery of medicines may only take place from the sale of points (pharmacies) specified in the license, as the place of business activity.


You may also like: Internet Drug Sales Accounting

Our lawyers are already advising on tax optimization of existing pharmacies that want to move to online commerce. If you want to start an internet pharmacy from scratch, we can provide you with a list of all requirements, as well as check your premises and documents.
We will also save you time with our experience in developing websites according to the licensing requirements.

What restrictions will be placed on the internet drug sale?
There are clear limitations on the types of drugs that cannot be delivered by courier delivery. They include:
drugs containing narcotic, psychotropic substances, precursors (in the absence of the necessary license);
drugs that must be prescribed by a doctor. An exception is the availability of an electronic prescription - but it's not yet clear how this will look in practice;
potent, venenous drugs, medicines with immunobiological or radioactive properties.
You should also consider that if you are going to sell narcotic drugs or precursors in your pharmacy, you will have to obtain a separate license to do so. We have already described this situation in more detail here.
Do you want to start an Internet pharmacy in Ukraine? Don't hesitate to contact us! With extensive experience in obtaining a Pharmacy License, we will help you start your online pharmacy business from scratch.
Didn't find an answer to your question?
Learn more about the peculiarities of obtaining a Pharmacy License here.
We are ready to help you!
Contact us by mail [email protected] or by filling out the form: