How to open dentistry in Ukraine?
Cost of services:
from 16 000 UAH
1-2 specialties
from 16 000 UAH
Alteration
from 24 000 UAH
More than 3 specialties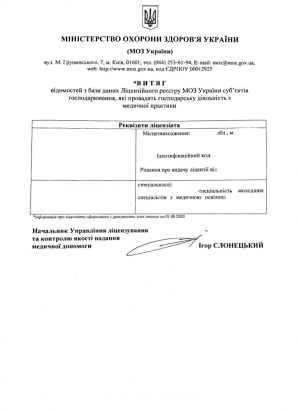 Reviews of our Clients
Director I. Garkusha, "Medyk" LLC
During provision of the services legal experts of the firm proved to be a professional team
Director L. Susenko, Medychni diagnostychi systemy LLC
We would like to express our appreciation to law firm "Pravova Dopomoga" for the provided services related to licensing of medical practice
I. Pruzhnyak , Sole trader I. Pruzhnyak
Despite complexity of licensing procedures, your lawyers got a positive decision about issuance of license for medical practice after the very first submission of documents...
Director S. Sokolova, LLC "Company"Nika-S"
Quick work of your lawyers allowed us to continue our medical practice without unnecessary breaks related to obtainment of the new license. Due to this we managed to avoid financial losses and continued providing high quality dental care services to our clients
Director A. Stelmakh, Private enterprise "ESTO"
We got consultations about organization of the medical center's work, formalization of labor relations with employees, legal regulations on use of different medical equipment...
N. Gorova, Sole trader N. Gorova
I want to recommend this firm to everyone, who wants to start his or her own medical practice...
S. Lyubynetskyi , Sole trader S. Lyubynetskyi
Without any recommendations I chose law firm "Pravova dopomoga" among all other companies on the market and not once did I regret my choice...
Director Mykhailo Bogdanovych Havrylyshyn, Kalush City Center of Primary Health Care
…we can confidently recommend the lawyers of Law firm «Pravova dopomoga» as reliable legal partners on the matters of medical practice licensing and other procedures related to the Ministry of Health of Ukraine.
Chief physician Romanyuk E.V., Municipal non-profit enterprise "Central district hospital of Busk"
... Having used the services of the Law Firm "Pravova dopomoga", we managed to solve our problems, as well as found a qualified and reliable partner.
Dentistry has always been, and will always be, a reliable investment and a promising line of business. Being a separate type of medical services in the minds of most people, dentistry can successfully operate as an independent clinic or even one dentist's office.
What is the right way to "catch the wave" and start a dental office in Ukraine?
In addition to the formation of startup capital, which you will have to spend on equipment, rent and the very promotion of the business, you will need to go through several stages of preparation, which we'll elaborate on in this article.
Please note! We talk here about the legal aspects of preparing to start a dental business. But our firm can also provide you with tax and accounting advice.
You may also like: Can A Dentist Work Without A License?
What do you need to do to start a dentistry in Ukraine?
Choose the right premises for a dental clinic.
The dental clinic premises shall meet basic requirements, including:
A dentist's office can only be located in a non-residential building. Why this is so, and how it affects the other requirements for the premises, we wrote here;

You must obtain a SES Certificate for the premises, confirming its compliance with hygienic requirements;

If the room is equipped with one chair - it is given 14 sq.m., but if the room is equipped with several chairs - each of the other chairs must be additionally given 10 sq.m.
There are also separate requirements, such as the installation of an X-ray apparatus. We wrote more about this requirement here.
If you contact us before choosing premises, you will get clear information about what premises you need, which will save you a lot of time and money.
If you contact us after choosing the premises - we can evaluate it for compliance with the requirements of the licensing authority, and help you, for example, with obtaining the SES Certificate for the premises of a dentistry.
Recruit staff that meets the dentist license requirements.
Your dental clinic must employ at least one dentist who meets the following requirements:
Availability of a diploma (both specialist and master), majoring in Medicine, Dentistry specialty;

Availability of a medical specialist certificate.
Of course, the doctor may be not the only specialist working in the clinic. The staff may also include nurses, doctors of other specialties, etc.
Please note! If you want to provide your services to both adults and children, you need a specialist with two diplomas: "Dentistry" and "Pediatric Dentistry", or two separate specialists with these credentials. This is just one example of the challenge of understanding which credentials are good for what purpose.
We can help you figure out which degrees are appropriate for your medical license and purpose. We will also tell you what the process will look like when additional specialists are hired, or new specialties are added to the medical practice after you are licensed.
Get a license for dentistry.
A license for dentistry is a Medical License. Our lawyers have been engaged in obtaining this type of license for more than 10 years.
The documents for obtaining a dentist license are as follows:
an application for a license;

statements on the material and technical base, and staff;

a list of documents submitted.
The most difficult document to draw up and prepare is the Statements listed under point 2. We have described in great detail how to fill out this document here.
Of course, if you contact our company, we will take care of filling out the Statements and preparing other documents.
Note: Not too long ago, we wrote about dentists downsizing and how dentists can keep their business. Read more here. By the way, two months ago the dentists' problem was partially solved, as they got an expanded functionality. Today, dentists are able to prevent, diagnose and treat dental caries and its complications in adults and children, as well as perform simple tooth extraction in case of limited inflammation.
The example of dentists demonstrates that even medical professionals are not immune to changes in the law, which can be difficult to adjust to in time.
We are a team of professional lawyers. Tracking changes in the law is our job, which means we can quickly and easily find a solution to keep your business running safely.
Do you want to start a dental practice and need assistance in obtaining a Medical License? Don't hesitate to contact us! Our lawyers will get the license on the first try and help solve technical issues with placement of doctors in the premises, etc.
Didn't find an answer to your question?
Learn more about the procedure for obtaining a Dentist License here.
We are ready to help you!
Contact us by mail [email protected] or by filling out the form: