Reduction of dentists of lower category in Ukraine: how to protect Your business
Cost of services:
from 16 000 UAH
1-2 specialties
from 16 000 UAH
Alteration
from 24 000 UAH
More than 3 specialties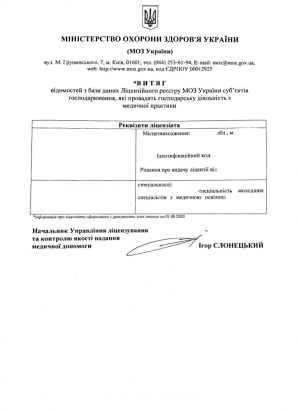 Reviews of our Clients
Director I. Garkusha, "Medyk" LLC
During provision of the services legal experts of the firm proved to be a professional team
Director L. Susenko, Medychni diagnostychi systemy LLC
We would like to express our appreciation to law firm "Pravova Dopomoga" for the provided services related to licensing of medical practice
I. Pruzhnyak , Sole trader I. Pruzhnyak
Despite complexity of licensing procedures, your lawyers got a positive decision about issuance of license for medical practice after the very first submission of documents...
Director S. Sokolova, LLC "Company"Nika-S"
Quick work of your lawyers allowed us to continue our medical practice without unnecessary breaks related to obtainment of the new license. Due to this we managed to avoid financial losses and continued providing high quality dental care services to our clients
Director A. Stelmakh, Private enterprise "ESTO"
We got consultations about organization of the medical center's work, formalization of labor relations with employees, legal regulations on use of different medical equipment...
N. Gorova, Sole trader N. Gorova
I want to recommend this firm to everyone, who wants to start his or her own medical practice...
S. Lyubynetskyi , Sole trader S. Lyubynetskyi
Without any recommendations I chose law firm "Pravova dopomoga" among all other companies on the market and not once did I regret my choice...
Director Mykhailo Bogdanovych Havrylyshyn, Kalush City Center of Primary Health Care
…we can confidently recommend the lawyers of Law firm «Pravova dopomoga» as reliable legal partners on the matters of medical practice licensing and other procedures related to the Ministry of Health of Ukraine.
Chief physician Romanyuk E.V., Municipal non-profit enterprise "Central district hospital of Busk"
... Having used the services of the Law Firm "Pravova dopomoga", we managed to solve our problems, as well as found a qualified and reliable partner.
Health care reform, launched in 2018, introduced a new financing principle, according to which "money follows the patient". In connection with the restructuring of the system, the following questions arose, What kind of specialists should be in the staff of the health care facility, and what is the actual number of them?
Unfortunately, this has already resulted in specialists such as dentists losing or risking to lose their jobs soon. Today, we'll talk about what it's all about and how dentists can keep hold of their jobs.
Read also: Where To Find A List Of Equipment Required For A Dentist's Office?
Why did dentists of lower category come under threat?
Although an ordinary citizen usually do not distinguish between the dentists and dentists of lower category. However, there is a fundamental difference between these dental practitioners in terms of their activities and, accordingly, their qualifications.
According to the qualification requirements to the profession approved by the Order No. 117 of the Ministry of Health of 29.03.2002, a dentist is a person with full higher education (they shall study 6 years in the university, and have at least a year of internship), who can provide a full range of dental services, in particular, to carry out prevention, treatment of diseases of the oral cavity, etc.
A dentist of lower category is a person with incomplete higher education who can perform simple dental procedures such as examining the oral cavity (without intervention), preparing mixtures for treatment, etc. By law and logic, these specialists can work in tandem where the dentist of lower category helps the dentist.
However, in the past, there were not enough professional dentists and most facilities were staffed by dentists of lower category who actually performed all procedures, even those not covered by the relevant job descriptions.
Today, there is a legion of dentists, so the question of relevance of such a separate specialty as a dentist of lower category has been raised. As a result, in recent years, there has been a long series of dismissal of dentists of lower category. Some dental practitioners were able to recover through a court appeal, but the downward trend continues to increase.
Read also: Can Two Doctors Work In A Single Room?
So what should a dentist of lower category who has been performing the actual functions of a dentist for many years do?
The only legal way and opportunity to extend your medical activity is to obtain a Medical License. And the sooner you do that, the better.
Of course, the licensing regulations require a certain diploma of education, equipment, a doctor's office and compliance with some requirements.
Getting a license without additional education, but with the dentist's experience, can at least help you:
Maintain medical experience;
Provide at least a minimum list of services under Order No. 117;
Get some protection.
Our lawyers can advise you on the theoretical range of services you can get a Medical License for, tell you what services can be provided by a dentist of lower category with experience in the oral cavity treatment. They can also advise you on the steps you need to take to license your practice.
Today, there is talk that some amendments will be introduced to the Order № 117, but it is impossible to say for sure whether dentists of lower category will be able to expand the list of provided services.
If you are a dentist of lower category and want to continue to provide services in the medical field, don't hesitate to call us.
We are ready to help you!
Contact us by mail [email protected] or by filling out the form: