How to register Sole proprietorship in Ukraine?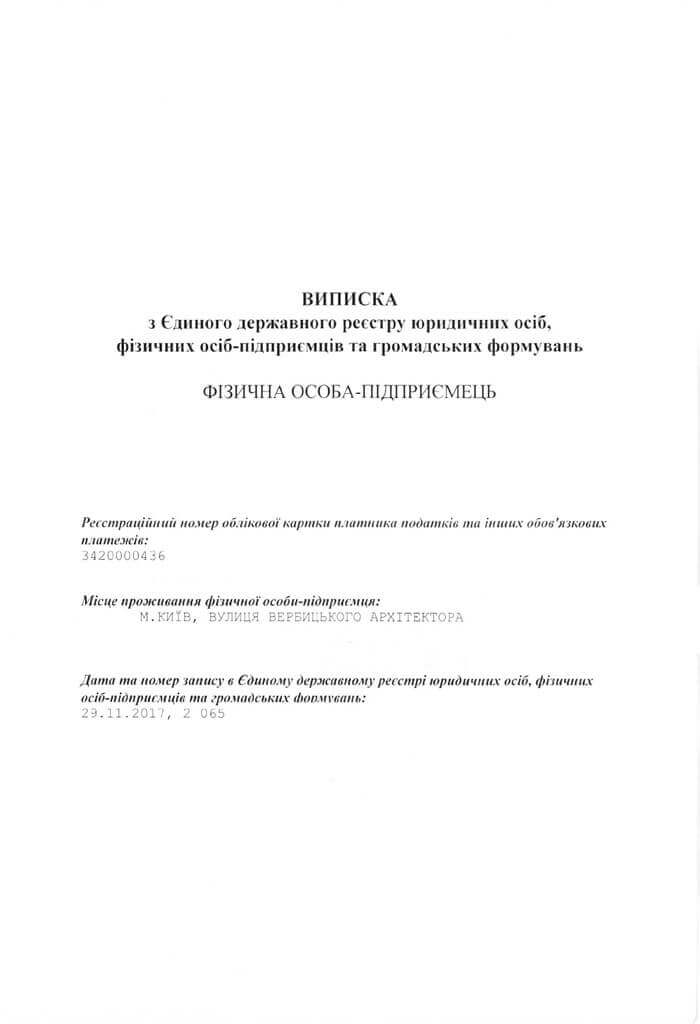 Reviews of our Clients
Chief ophthalmologist of Ukraine, Oksana Vitovska, All-Ukrainian alliance of ophthalmologists
We would like to express sincere gratitute to the team of Law firm "Pravova dopomoga" and personally to Volodymyr Gurlov for professionalism and purposefulness in your work.
General director Skibinskiy V., Yokogawa Electric Ukraine Ltd.
Yokogawa Electric Ukraine Ltd. recommends Vladimir Gurlov and his team of lawyers as a reliable legal partner and advisor for foreign businesses in Ukraine...
L. Chervonyuk, LLC "Vitalux"
Vitalux company highly appreciates results of cooperation with Law firm "Pravova dopomoga", can characterize it as a reliable partner and based on personal experience is ready to recommend it to interested persons...
G. Zeynep Kucuk, SANOVEL ILAC SAN. ve TIC. A.S.
Helped with the liquidation of a foreign representative office in Ukraine
General Manager Stashkevych I.Y., LLC "Trading company" Rud"
We would like to indicate that law firm "Pravova Dopomoga" has become a reliable partner for legal services provision and we can recommend it as a team of qualified professionals who are easy and pleasant to deal with
President Tedeev E.S., Ukrainian wrestling association
Ukrainian wrestling association would like to express its sincere appreciation to the team of Law firm "Pravova Dopomoga" for mutually beneficial cooperation
Partner, Denis Y. Lysenko, Vasil Kisil & Partners
... we would like to express our respect and gratitude for the fruitful cooperation.
... our work on joint projects assured us of your high level of professionalism

General director I.Logvinenko , Bravo Airways
Bravo Airways company expresses its gratitude to law firm "Pravova Dopomoga" for high quality and timely provision of legal services.

The business world is moving along a certain vector, and today more and more people are moving away from the notion of working "for someone" and come to the idea that it is worth working "for yourself". This makes the topic of developing your business and yourself, as an entrepreneur in particular, extremely popular.
We will talk about sole proprietorship as one of the main organizational and legal forms of business. More specifically, we'll elaborate on who will benefit from starting their own business as a sole proprietor and what should be remembered when registering sole proprietorship.
You may also like: TOP 5 Mistakes Of Sole Proprietors
What is meant by sole proprietorship?
Sole proprietorship is a form of direct participation of a person in the business activity, as well as the subject of such activity without having the status of a legal entity.
The main characteristics of this business form are as follows:
A sole proprietor is acting on its own behalf;
A sole proprietor is responsible for its obligations with all property, including personal property;
A sole proprietor manages its business in its sole discretion;
The sole proprietorship registration procedure has been greatly simplified, which we will now discuss in more detail.
Sole proprietorship as a form of doing business can be beneficial to those who provide services to the public, such as hairdressers, makeup artists, etc.
In tax terms, this option is also comfortable for IT specialists who have no sense and benefit to register an LLC or a private company at the initial stage of their activity.
Sole proprietorship will also be a convenient form of business for those who want to start their own small shop "in open view", which specializes, for example, in toys, flowers or other retail products.

The procedure of sole proprietorship registration
Today, there are several options to register sole proprietorship, including:
Online registration. To do this, you need to register or log in (if already registered) in the citizen's account on diia.gov.ua using your electronic signature. You can also register online using iGov, a public services portal.
It is definitely more convenient and less time consuming, especially if you are not a fan of paperwork, queues and unnecessary movements around the city. But before registering online you will need to get an electronic digital signature, without which you will not be able to register.
To register sole proprietorship personally. This option may take a little longer, but you will be assured of the result and will be able to monitor personally or through specialists that your registration was effective and successful. This way you can avoid mistakes with types of economic activity that fit your business personally. After all, at the very beginning of your business activity, it is important to avoid the following mistakes:
misinterpretation of its activities;
misunderstanding the difference between wholesale and retail;
failure to specify the correct type of economic activity under which the activity is planned to be carried out, etc.
If you decide to approach the registration process thoroughly, immediately take care of the optimal operation of your business - your choice should be personal registration. Of course, if you do not want to visit the registrars, this can be done by a lawyer, along with the organization of primary accounting of your business.

You may also like: Our Experience Of Accounting Support During The Market Entry
Algorithm of actions to personally register sole proprietorship
1. Fill in the registration card, i.e. application No. 10, where you will need to specify your full name, date of birth, ID code, passport details.
2. When filling out the application, you will need to pay attention to the types of economic activity. This is a classifier of types of economic activity of the entrepreneur. And if you specify these types of economic activity incorrectly, you will need to re-register, which is just a waste of time and delay the start of business.
3. Submit documents (application and passport copy) to the state registrar. If everything has been filled out correctly, within the next three days you will get an extract, which will be confirmation of registration and recording of the business entity at the statistics and tax authorities.
4. Submit an application for a single tax to operate under the simplified taxation system. Such an application can be submitted to the State Registrar at the time of sole proprietorship registration, or after the registration at the tax authorities.
Those wishing to register sole proprietorship of Group 1 or 2 shall submit application before the end of the month in which the registration was carried out.
Sole proprietors who have decided to become taxpayers of Group 3 shall submit the application within 10 business days following the registration date.
5. It is necessary to register the income ledger or the income and expenditure ledger with the territorial body of the State Tax Inspectorate of Ukraine. Such a ledge can be purchased in a stationery shop and registered with the tax office only at the place of residence. You can find out more about keeping a ledger of income here.
Read also: Accounting News For Sole Proprietors
If you want to know exactly which tax group to choose, which types of economic activity to specify, or just want to get ready-made documents on sole proprietorship without any extra effort, don't hesitate to call us.

We are ready to help you!
Contact us by mail

[email protected]

or by filling out the form:
We are ready to help you!
Contact us by mail [email protected] or by filling out the form: