Who is better to register a business in Ukraine: for yourself or for your foreign company?
Cost of services:
from 900 USD
Business registration in Ukraine
from 2300 USD
Foreign director
from 1400 USD/month
Basic support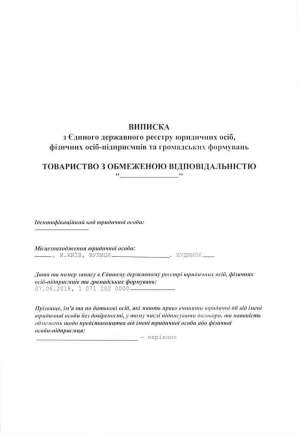 Reviews of our Clients
President Tedeev E.S., Ukrainian wrestling association
Ukrainian wrestling association would like to express its sincere appreciation to the team of Law firm "Pravova Dopomoga" for mutually beneficial cooperation
L. Chervonyuk, LLC "Vitalux"
Vitalux company highly appreciates results of cooperation with Law firm "Pravova dopomoga", can characterize it as a reliable partner and based on personal experience is ready to recommend it to interested persons...
Partner, Denis Y. Lysenko, Vasil Kisil & Partners
... we would like to express our respect and gratitude for the fruitful cooperation.
... our work on joint projects assured us of your high level of professionalism

General director I.Logvinenko , Bravo Airways
Bravo Airways company expresses its gratitude to law firm "Pravova Dopomoga" for high quality and timely provision of legal services.

General Manager Stashkevych I.Y., LLC "Trading company" Rud"
We would like to indicate that law firm "Pravova Dopomoga" has become a reliable partner for legal services provision and we can recommend it as a team of qualified professionals who are easy and pleasant to deal with
Chief ophthalmologist of Ukraine, Oksana Vitovska, All-Ukrainian alliance of ophthalmologists
We would like to express sincere gratitute to the team of Law firm "Pravova dopomoga" and personally to Volodymyr Gurlov for professionalism and purposefulness in your work.
G. Zeynep Kucuk, SANOVEL ILAC SAN. ve TIC. A.S.
Helped with the liquidation of a foreign representative office in Ukraine
General director Skibinskiy V., Yokogawa Electric Ukraine Ltd.
Yokogawa Electric Ukraine Ltd. recommends Vladimir Gurlov and his team of lawyers as a reliable legal partner and advisor for foreign businesses in Ukraine...
When planning to expand their business and enter the market of Ukraine, most entrepreneurs are faced with a choice: to set up a new company in Ukraine for themselves, as a natural person, or to make their functioning foreign company a shareholder/owner of the Ukrainian company?
Of course, the criteria of choice are business security, the best scheme of company management in Ukraine and the ease of profit withdrawal from Ukraine.
Today, we will consider both options and talk about the situation in which they are beneficial for running business in Ukraine.
You may also like: Human Resources Management in Ukraine
Advantages and procedure for registering a company in Ukraine in the name of a natural person
First of all, before making an informed choice, you need to have information. When choosing between a red apple and a green apple, we know for sure that the green one is healthier, but the red one is sweeter. So it is with any issue - knowledge determines the choice.
So what do we need to know in order to decide? The first thing is the differences in the registration actions.
We will say straight away that the procedure, where the founder of the company is a foreign natural person, is easier and faster. But it also has a number of general rules.
So, if the founder of the LLC is a foreign person, you can make the authorized share capital only in US dollars or euros, and only in non-cash form. You may use hryvnias only if this money has a "Ukrainian registration" - that is received from the legal economic activity of the person in our country.
For example, this may apply to those foreigners who already have a business in Ukraine and start a new legal entity. Then they can correctly withdraw, including the payment of appropriate taxes, the amounts received from the activities of the one company and contribute them to the authorized share capital of the other company. Or they may introduce both themselves and the originally created (first) company to the members.
In all other cases, the contribution of hryvnia by a foreign participant in the authorized capital is prohibited.
In addition to simplicity, another advantage of registering an LLC in the name of a physical person is the option of using the "simplified form" of taxation for a new legal entity. Thus, a single tax can be used for a company that is registered only by a foreign physical person.
Another "bonus" is the fact that making a contribution to the authorized share capital is an investment, which could help in obtaining a Permanent Residence Permit for a foreigner, if necessary, in Ukraine.
Registration takes place according to the established procedure - it is necessary to fill in the appropriate form, having previously drawn up a number of documents:
develop the Charter of the company to be registered, specifying all the slightest aspects of you business activity;
prepare a document confirming the decision on the company registration (depending on the number of shareholders, such a document has different names);
think in advance about the address of the registered company - to choose and rent or buy premises;
think about who will be the director of the company - all the documents of the director will also be needed for registration (passport, tax identification number).
A foreign person can also independently manage a company, appointing himself as director, but only after registering the company - because a foreign citizen must obtain the Work Permit. If you ignore this rule, you will face a fine of UAH 120,000 and more. For more details on how to become a director of your company in Ukraine click here.
However, employment issues have many nuances - you may already have a Temporary Residence Permit, allowing you to work for the Ukrainian company without losing the permit, etc. Each case must be considered individually.
You may also like: Business Taxes in Ukraine
Advantages and procedure of company registration in Ukraine for your foreign company
If you want to make a legal entity, a foreign company, the founder of a business in Ukraine, the list of necessary documents will be much wider. In addition to the above documents, you will also need:
Extract for the Foreign Company from the registry in the country of residence (so-called court or bank registry);
Its Articles of Association (memorandum of association);
Information on the ultimate beneficiary (copy of the passport);
Decision on establishment of the Ukrainian legal entity.
All these documents must be translated (and certified by a notary), apostilled or legalized.
Data regarding the address and director will be the same as for the first option.
Advantages of starting a company in Ukraine with a foreign legal entity as a founder:
It will help to relocate a team of foreign employees to Ukraine, to solve your work issues. They can be officially employed in Ukraine, in large numbers. Moreover, they will be able to obtain a Temporary Residence Permit in Ukraine for the required period.
If considerable funds are needed for business development they can be "brought" to the Ukrainian company as borrowed funds from the "parent" company, which will simplify the profit withdrawal from the Ukrainian company to the same "parent" company, and will save from paying tax on the withdrawal of dividends.
You may also like: How to Enshrine the Relationship of the Founders of the Business, if They Include Legal Entities?
Which option to choose?
This answer depends on many factors - for example, you are a foreigner, and you want to trade in bed linen online. Then it is more convenient for you to be on a single tax, and we have already given the answer to this question above.
But if you are a foreigner who wants to start a restaurant, this option will not suit you. The best option for you will be to set up several legal entities, since permits for, say, the sale of alcohol will be obtained for one company, and another legal entity will rent premises or buy equipment.
Or, for example, you are a representative of a business that has a relative fame, and it is important for you to demonstrate it, as such information will attract the customers and raise interest in your company - then it is more profitable to register a foreign legal entity, your brand.
Or you are a major investor and want to own a hotel and a restaurant in it, on the Black Sea in Odesa. It is very important to know the exact location of the desired hotel, because the land resource of the hotel's location also plays an important role in this issue. In such a case, it can happen that in order to start the business of your dreams, you will have to register five or more legal entities - taking into account certain restrictions in the law, as well as tax optimization and risk reduction. All this poses certain challenges to the lawyer, who will professionally help the Client to implement all the plans.
Therefore, working with each project, our team:
Analyzes Client's plans and needs and offers the best option for business registration in Ukraine;
Assists with tax optimization and the development of an accounting system in Ukraine;
Assists with organizational issues such as opening accounts, their maintenance and service;
Assists with employment of foreign or Ukrainian personnel, the organization of human resources management in the company;
Provides consulting services on any issues of interest to the Client.
Please see our service fees for starting a business in Ukraine here, or contact our specialists for a personal package of services.
Just tell us your dream and we will choose the option that fits you best.
Didn't find an answer to your question?
Everything about starting a foreign business in Ukraine here.
We are ready to help you!
Contact us by mail [email protected] or by filling out the form: