Now it will be lower in cost to open a representative office of a foreign company in Ukraine!
Cost of services:
from 18000 UAH
Registration of a representative office in Ukraine
from 2500 UAH
Consultation of a lawyer on registration of a representative office in Ukraine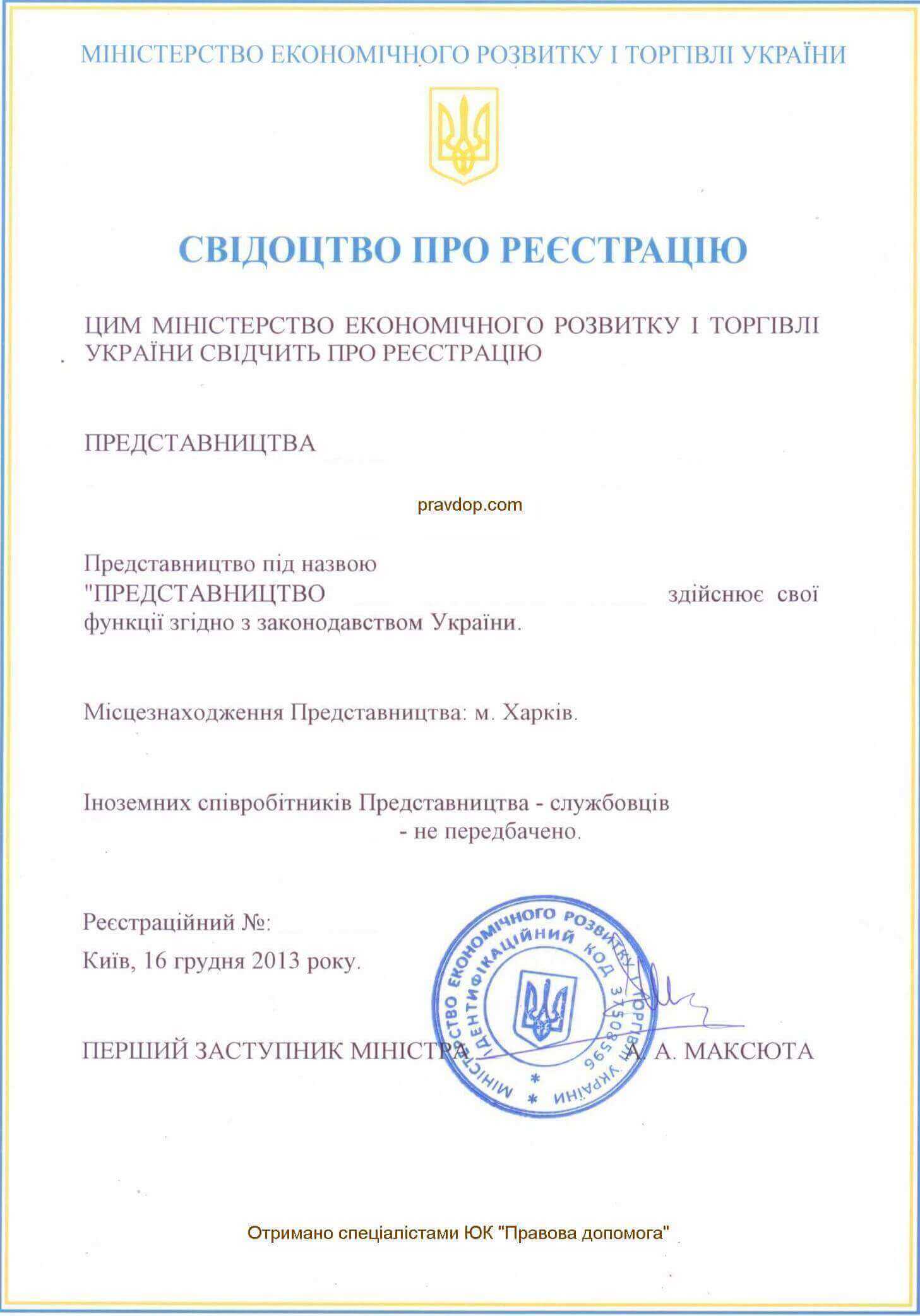 Reviews of our Clients
General Manager V. Abramov, PJSC "ORGREGIONPROEKT"
Upon requesting services of Law firm "Pravova Dopomoga" we received comprehensive information about representative office registration procedure, required resources and terms that helped us to assess the situation and finally reassure ourseves about the decision we made
In October 2019 the Cabinet of Ministers of Ukraine adopted a Decree "On Certain Issues of Registration of Representative Offices of Foreign Economic Entities in Ukraine", which significantly reduced the cost and time of opening a representative office in Ukraine.
Does this mean that registering a representative office has become even easier?
Related article: Typical mistakes of foreign companies while opening representative offices in Ukraine
Innovations:
A registration fee will be one minimum living wage for able-bodied persons;
the registration procedure itself will last 20 business days instead of 60 (calendar).
How to calculate the cost of state fees for opening a representative office?
The size of the minimum living wage by the end of 2019 will be 1921 UAH. From 01.01.2020, in accordance with the draft Law of Ukraine "On the state budget ...", it will amount to 2102 hryvnias, from 01.07.2020 .. - 2197 UAH, and from 01.12.2020 g. - 2270 UAH .
However, article 7 of the draft of the law in question has an interesting note, which indicates the Cabinet of Ministers order "to take decisive steps", which will bring closer the cost of living in 2020 to its realistic value - about 4251 UAH.
What is meant by decisive steps and whether they will be completed - the question is still open. But in any case, one living wage is much less than $ 2,500.
How have the terms of opening of the representative office changed?
The procedure for registering a representative office in the Ministry of Economic Development will last 20 business days - this is give or take one calendar month, instead of 60 calendar business days. Thus, the registration terms actually decreased by half, and not by three times, as it might seem at first glance.
Related article: What is the difference between non-permanent and permanent representative offices of foreign companies?
Has the procedure for registering a foreign representative office changed?
Innovations did not concern the list of documents to submitted for registration and the requirements for their execution. Information on the required documents can be found here.
What does it mean? It means that the whole procedure is getting faster, but by no means easier. The process of registering a representative office of a foreign company still needs clear preparation, proper execution and strict observance of the law.
Another "fly in the ointment": information on the adoption by the Cabinet of Ministers of the above resolution was announced on the website of the Ministry of Justice of Ukraine on October 24, 2019. But the text of this resolution has not yet been published and when it will enter into force is not known exactly.
Therefore, the specialists of our company decided to ask the staff of the corresponding department of the Ministry of Economic Development about when to expect the introduction of a new order in action. According to them, they don't know this either.
Attention! So far (as of October 30, 2019), the procedure for registering representative offices is in effect, according to which the registration fee is $ 2,500, and registration lasts 60 days.

Related article and video: What must know the owners of the foreign companies, which going to register the representation in Ukraine
We can assure you that we will follow the events and as soon as the new resolution comes into force, we will immediately inform you of this.
If you want to get more information on any aspects of registering a representative office of a foreign company or register your representative office quickly and reliably - contact us!
We are ready to help you!
Contact us by mail [email protected] or by filling out the form: