Purchase of an industrial complex by a foreign entity in Ukraine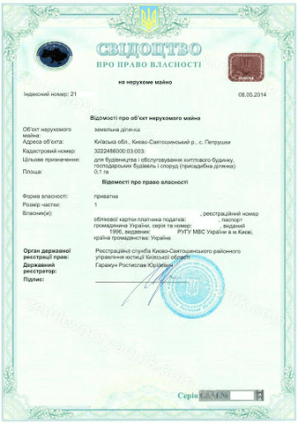 Reviews of our Clients
L. Chervonyuk, LLC "Vitalux"
Vitalux company highly appreciates results of cooperation with Law firm "Pravova dopomoga", can characterize it as a reliable partner and based on personal experience is ready to recommend it to interested persons...
Chief ophthalmologist of Ukraine, Oksana Vitovska, All-Ukrainian alliance of ophthalmologists
We would like to express sincere gratitute to the team of Law firm "Pravova dopomoga" and personally to Volodymyr Gurlov for professionalism and purposefulness in your work.
G. Zeynep Kucuk, SANOVEL ILAC SAN. ve TIC. A.S.
Helped with the liquidation of a foreign representative office in Ukraine
General director Skibinskiy V., Yokogawa Electric Ukraine Ltd.
Yokogawa Electric Ukraine Ltd. recommends Vladimir Gurlov and his team of lawyers as a reliable legal partner and advisor for foreign businesses in Ukraine...
President Tedeev E.S., Ukrainian wrestling association
Ukrainian wrestling association would like to express its sincere appreciation to the team of Law firm "Pravova Dopomoga" for mutually beneficial cooperation
Partner, Denis Y. Lysenko, Vasil Kisil & Partners
... we would like to express our respect and gratitude for the fruitful cooperation.
... our work on joint projects assured us of your high level of professionalism

General director I.Logvinenko , Bravo Airways
Bravo Airways company expresses its gratitude to law firm "Pravova Dopomoga" for high quality and timely provision of legal services.

General Manager Stashkevych I.Y., LLC "Trading company" Rud"
We would like to indicate that law firm "Pravova Dopomoga" has become a reliable partner for legal services provision and we can recommend it as a team of qualified professionals who are easy and pleasant to deal with
In recent years Ukraine has become an interesting investment platform for foreign business. For an entrepreneur who is engaged specifically in the production of goods rather than the provision of services, the "stumbling block" is the base for locating production facilities.
Purchase of a single property complex for economic activities is an option of obtaining the ownership of the complex of premises with all the necessary communications, suitable precisely for the location of production.
We are the local experts that understand the laws and rules of doing business. We'll advise how best to proceed in your specific situation with your specific goals and business principles, we'll check and analyze all the nuances of buying the complex and we'll follow through with your plan.
Today, we will answer the key questions in our publication, but if you need a solution for your specific case – please contact us for a personal consultation.
You may also like: Connecting Commercial Real Estate to Utilities
What industrial complex can you buy in Ukraine?
Let's start with the definition of the concept of "industrial complex". Legislation defines the concepts of "single property complex" (hereinafter - SPC), "integral property complex" (hereinafter - IPC). An enterprise is a single property complex used for economic activities.
A single property complex is considered to be a single property, which includes all types of property necessary for its operation, including land, buildings, equipment, raw materials, products, rights of claim, debts, trademark rights and other rights.
The following main characteristics of a SPC can be distinguished:
a set of interrelated property used for a corresponding purpose;
it is used for business activities;
it is subject to the regime of immovable property.
The purchase of the complex can be conducted in different ways, depending on what is being purchased according to the terms of the agreement.
For example, you can purchase:
single property complex;
corporate rights;
corporate property.
Let's consider each of these options in more detail.
If you want to buy a single property complex of an enterprise
The SPC purchase agreement must be concluded in writing and certified by a notary.
Taking into account the composition of the SPC, prior to the conclusion of the sale and purchase agreement we recommend performing an audit of the company: financial and legal.
As a result of the financial audit you should determine:
availability of property, which is part of a single property complex;
its condition and residual value;
settlements with creditors and debtors;
settlements with the budget.
As a result of the financial audit you should analyze and study all aspects of the company's activities:
proof of ownership/use of certain types of movable and immovable property;
status of contractual work at the enterprise;
status of claims and litigation work.
Please note! By purchasing the single property complex of an enterprise, the buyer also takes over all of its rights of claim and debt obligations, along with the legal aspects of their settlement.
Based on the results of the financial and legal audit, it is possible, for example, to adjust the price at which a single property complex is purchased for ownership. After all, it can happen that the company has much more debts than assets, and therefore the seller will be glad to sell such an enterprise "for a penny" or even to pay extra money to the buyer.
Given that the purchase of a single property complex does not mean the purchase of corporate rights, i.e. the purchase of the legal entity – ensure that the buyer correctly obtains the right of claim and assumes the seller's obligations regarding third parties. These rights and obligations are an integral part of a single property complex.
For this purpose, assignment of debt agreements, or other contracts for the replacement of the debtor and the creditor in the obligations, must be concluded.
You may also like: How Can a Foreign Person Buy an Office in Ukraine?
If you plan to buy corporate rights in Ukraine
This is another way of buying an enterprise. It is similar to the previous method, but it has its own features.
As with the previous option, first of all it is necessary to conduct a financial and legal audit. It will be necessary to check and take into account the aspects we have already mentioned above.
The difference of this method of purchase of the enterprise is that the owner of the single property complex, the legal entity, does not change. Accordingly, for the debtors and creditors, such a sale does not have any legal consequences, the obligations and their subjective component (creditor and debtor) do not change.
The second difference is that in this case, you acquire corporate rights or shares of the enterprise, so it is necessary to check the legality of the use and the basis of ownership of the seller or sellers. In case of several owners, do not forget about their priority right to purchase corporate rights and compliance with the procedure for waiver of such rights.
In addition, not 100% of corporate rights may be acquired, and therefore one should keep in mind the other owners of corporate rights, which, having an insignificant share in the authorized share capital, in the future may cause some rather significant inconvenience in the management of the purchased company.
The only less risky option is the purchase of 100% of corporate rights.
Please note! Foreigners are forbidden to buy corporate rights in the legal entities owning agricultural land.
If you plan to buy the property of an enterprise in Ukraine
This option is probably the most costly in terms of time and effort. However, it leads to the minimization of risks associated with third parties: creditors and debtors of the enterprise, other members of the enterprise or shareholders. All these issues are left to the company-seller.
As for the property, you should first make a list, agree with the seller on the price of the property as a single object, and check the property for:
encumbrances;
litigation against it or its owner;
disputes;
enforcement proceedings;
legality of the rights of ownership or use of the land on which the property complex is located;
restrictions on the use, etc.
Read more about the pre-sale property inspection here.
Pursuant to the current legislation of Ukraine, real estate, which constitutes a single property complex, may be purchased as a single object or a part of such a single object.
The property complex sale and purchase agreement must be executed in writing, certified by a notary, and the ownership of the new owner must be registered in the electronic register.
The depth of inspection, its subject matter, and as a consequence, the complexity and risk of the transaction will depend on what you want to buy, the scale of the transaction. We have cited basic rules for such purchases, but this is only the basis of the article, because one article can not cover all the options and situations.
If you are planning to do business in Ukraine, and you need a material and technical basis: factory, plant, industrial complex etc. – don't hesitate to contact us. We will remove the burden of doubt, we will take all possible steps for safety, ease and efficiency of your transaction.
Our services include:
Analysis of your needs, plans and recommendations of a lawyer regarding the purchase of real estate in Ukraine;
Inspection of commercial real estate;
Legal support of commercial real estate and corporate rights purchase transactions in Ukraine;
Legal assistance for business registration in Ukraine, etc.
You can find out the cost of legal support services for buying commercial real estate here.
We have a simple, clear solution to any legal problem.
Didn't find an answer to your question?
We are ready to help you!
Contact us by mail [email protected] or by filling out the form: