Purchase of land by a foreign entity in Ukraine in 2023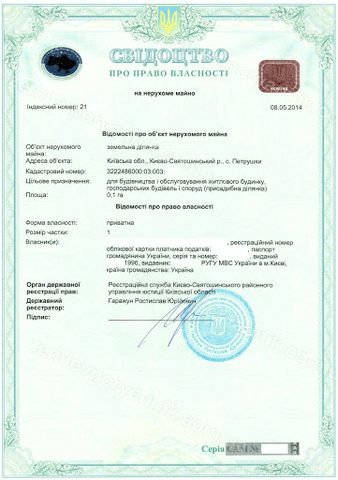 Reviews of our Clients
Director G. Smirnov, LLC "Olvita"
LLC "Olvita" expresses its gratitude to law firm "Pravova Dopomoga" for highly professional advices provided by your experts on legal issues
Natural resources such as land, despite price fluctuations and political instability, have always been and will always be the "smart" investment.
Ukraine, speaking of its European location, is a relatively cheap country, with a good climate, fertile land, rich water resources - it is enough to dig a shallow well - and here you have water.
These and many other factors make the Ukrainian land market interesting for investment.
But it isn't that easy.
Indeed, there is no way for a foreigner to acquire land shares in Ukraine, for example, for agricultural activity.
But to buy a house with a plot of land is very possible. Of course, you need to check the location of a house, land registration, and ownership rights to the house.
For example, buying a house in a dacha cooperative will be difficult - first, you need to convene a general meeting of the cooperative members, agree upon a decision that the owner of that particular house leaves the cooperative, and the new owner becomes a member of the cooperative. Then, if the new owner wants, the house and the land may be withdrawn from the ownership of the cooperative, and he/she may get the right of ownership to it. To put it bluntly, the way is feasible, but long and time-consuming.
We offer sale or purchase of real estate in Ukraine on a turnkey basis: a full range of services includes an action plan, an in-depth inspection of the object, selection of a notary, preparation of documents and even remote sale.

All additional services in one place:
registration of inheritance;
TIN and migration services for foreigners;
optimization of taxation;
optimization of taxes through the authorized capital of the LLC;
withdrawal of funds abroad, etc.
We will help solve problems with the real estate itself before the deal:
obtaining a technical passport, BTI permit, carrying out an expert assessment of real estate;
legalization of reconstruction, change of purpose;
working with the bank for non-cash settlement;
objects of cultural heritage;
we solve the issue of land, profitable territory;
redevelopment of buildings, legalization of self-build, construction amnesty, privatization, etc.
We will think about your risks in advance. If the purchase of real estate will be unprofitable or risky for you, we will honestly say so.

All types of real estate. All regions of Ukraine. We work with both individuals and legal entities. There is a solution to your problem, and we know it.
You may also like: How to Buy a Land in Ukraine for Construction?
Restrictions on the purchase of land in Ukraine in practice
When wishing to purchase land in Ukraine, a foreigner should understand that there are legal "frames". Foreigners can buy only land plots that belong to the urban limits, that is, those located in the city, and "outside" the city only if they buy the real estate located on such land plot.
So, foreign individuals can buy suburban houses, townhouses, etc. But it is important to remember that foreigners are not allowed to buy agricultural land, regardless of its territorial affiliation.
In this context, foreign legal entities need to consider that they can buy, for example, the whole plant, or part of it, livestock complex, or only the garage section of the complex, etc.
Let's take another example: a foreign legal entity, through its representative, contacted us with the request to purchase land for the construction of a hotel. There was a piece of land that met the Client's goals. There were partially the buildings of the abandoned sanatorium that went bankrupt and the property of which was taken over by the local executive authorities. There were also some private houses located on the land.
We established a legal entity that initiated an auction in order to sell part of the buildings of the sanatorium with the land underneath. Such an auction was held and we won it. The private houses were also purchased, but by a natural person - our representative, who later became one of the members of the organization, which obtained a Construction License and started the construction on one of the parts of the desired hotel.
Then we ensured the legal transfer of ownership and possession of both a part of the buildings and the land under them from the former sanatorium and the partially built hotel building with the right to engage in construction to one legal entity. This legal entity, by changing the composition of its members, was transferred to our Client, who completed the construction of the hotel, commissioned it and, thus, implemented his idea.
Another case of our company: a British citizen living in the Emirates came to us with a dream to build and run the largest and most "advanced", in terms of ecology and technology, quail farm.
To start such a big business we involved both technical and business marketing specialists, as well as many other narrow specialists. In developing this plan, we understood that our Client needed a large plot of land, with a specific distance, with clear characteristics, and of course, outside the city.
We implemented the Client's wish by establishing a legal entity, which acquired a large part of the former collective farm. Thus, several legal entities purchased land as parts of the complex, and another legal entity bought the inner filling of the farm (technical part). This allowed us not only to competently and legally acquire the land for the business, but also to properly organize the internal structure of the business.
As you can see from the above examples, professional legal assistance will help you not only to solve a problem, but to eliminate it at the stage of business planning.
We will definitely understand your wishes and do our best to make them come true legally and in the best possible way!
Didn't find an answer to your question?
We are ready to help you!
Contact us by mail [email protected] or by filling out the form: