Types Of Licenses For Pharmaceutical Organizations And Pharmacies In Ukraine
Cost of services:
from 15 000 UAH
Drugstore license
from 30 000 UAH
License for a drugstore storage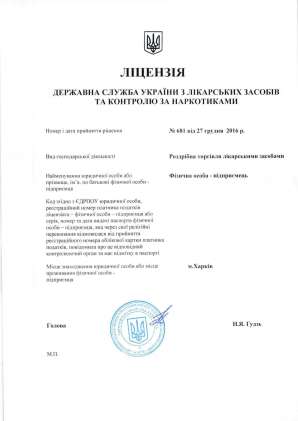 Reviews of our Clients
Savorona N., Sole trader Savorona N.
Lawyers of this firm answered all my questions and by doing so made me trust them. I didn't even need to be in Kyiv. I just had to provide a power of attorney...
O. Reshytnyak, Sole trader O. Reshytnyak
Your firm recommended itself as one of the best and reliable organizations...
L. Chervonyuk, LLC "Vitalux"
Vitalux company highly appreciates results of cooperation with Law firm "Pravova dopomoga", can characterize it as a reliable partner and based on personal experience is ready to recommend it to interested persons...
One of the most popular services of our company is legal assistance in obtaining the Pharmacy Licenses. Many of our Clients do not know that there are several types of these licenses when they contact us. Or they are simply not entirely sure which type of licence is better to choose for their intended activity.
Today we will elaborate on this issue.
Licenses in this area are divided into the following types:
A Drug Manufacturing License;
A Wholesale Drug License.
For each type of the license, there are different forms of documents and requirements for business activity stipulated by law.
Related article: A Call-Button For A Pharmacy
How to obtain a Retail Drug License
This type of activity is carried out through pharmacies and their structural units. If the trade is carried out in rural areas where there are no pharmacies, the business may be placed at nursing stations, rural, district hospitals and outpatient clinics.
To obtain this type of license, the licensee shall prepare the following documents:
An application;
Statements on the availability of material and technical base, personnel;
Information confirming each business location (declared in the statements);
Information on the lack of control over the activities of the licensee;
Two copies of the list of documents submitted.
In addition, the licensee must have a document confirming his/her rights of ownership or use of the premises, as well as the room data sheet. These documents should not be submitted when applying for a license, but the licensee shall have it.
All documents shall be submitted to the State Service of Ukraine on Medicines and Drugs Control. After the receipt of the documents, the inspector shall carry on the licensing inspection at the business place. Following the inspection, within 3 business days, they shall issue a Certificate, on the basis of which the licensing department grants or refuses the Pharmacy License.
Our company can prepare all the necessary documents and conduct preliminary consultation on the premises and staff of the pharmacy. It's worth remembering that these are the key factors affecting the decision of the licensing authority.
Of course, as in case of any other business activity subject to licensing, there are clear requirements. For example:
Medicines can be sold and placed in the pharmacy window without prescriptions only provided that they are included in the list of drugs allowed for use in Ukraine, and available without prescriptions.
Documents certifying the purchase, containing information about the supplier and details of its license shall be kept for at least three years.
Requirements for the minimum area of the pharmacy: in cities - not less than 50 square meters, in small towns - not less than 40 square meters, and in villages - not less than 30 square meters.
And others.

Wholesale Drug License
To obtain a Wholesale Drug License, a licensee must first meet the following requirements:
Medicines can be traded in pharmacy warehouses and depots. Such pharmacy warehouses are considered health care facilities.
Pharmacy warehouses belong to the premises where medicines are accepted, stored and kept. Pharmacy warehouses should not be used as walk-through rooms for staff working there.
Storage areas must be clean, dry and require temperature control. Additional areas (canteens, rest rooms and water closets) must be located separately from the warehouses where medicines are stored.
Pharmacy warehouses shall have loading and unloading platforms in close proximity.
The minimum area of a warehouse shall be 250 square meters.
The personnel entering the pharmacy warehouse must wear special protective clothing.
Documents to be submitted to the State Service of Ukraine on Medicines and Drugs Control for obtaining a Wholesale License differ from a Retail License only in the statements on the availability of material and technical base and personnel.
Related article: Requirements For A Pharmacy Wheelchair Ramp
Documents for Drug Import License in Ukraine
To obtain this type of the license, a licensee shall prepare the following documents:
An extract from the Unified State Register of Ukrainian Enterprises and Organizations (EDPROU);
A bank account;
DUNS number;
A passport and the identification tax number (for individual entrepreneurs), EDRPOU code (for legal entities);
Information about the place of business;
Information about the person responsible for drugs quality control;
Information on medicines to be imported.
This license may have its own peculiarities depending on the activity of each individual entrepreneur. Our lawyers will advise you on what other documents you may need if you are going to export and import medicines in Ukraine.
Please note! In order to obtain a Drug Import License, the importer must have a Wholesale Drug License.
Related article: Licensing Inspection Of Your Pharmacy
How to obtain a Drug Manufacturing License?
To manufacture medicines, you need to obtain a license. To apply for this type of permit, you need to prepare the following documents:
An application;
An extract from the Unified State Register;
A copy of the site master file.
The key difference of the manufacturing permit (license) is that it includes a number of inspections of the production site. We will make sure that all your documents are properly prepared to successfully undergo the inspection.
Types of Pharmacy Licenses can vary significantly from one another. For example, in terms of the nature of business activity or the premises in which it will be carried out.
We will help you to clearly define the required type of licence and ensure that it is obtained.
All the abovementioned licenses for the pharmacy are issued by the State Service of Ukraine on Medicines and Drugs Control, at: 120-A Peremohy avenue, Kyiv.
We are ready to help you!
Contact us by mail

[email protected]

or by filling out the form:
We are ready to help you!
Contact us by mail [email protected] or by filling out the form: