Business plan for a medical center in Ukraine
Cost of services:
from 700 USD
Problem solvement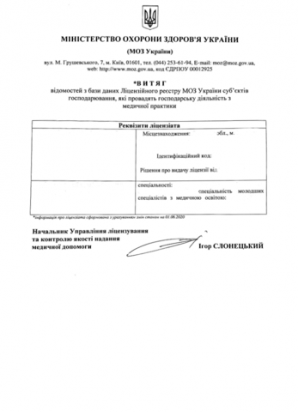 Reviews of our Clients
G. Zeynep Kucuk, SANOVEL ILAC SAN. ve TIC. A.S.
Helped with the liquidation of a foreign representative office in Ukraine
President Tedeev E.S., Ukrainian wrestling association
Ukrainian wrestling association would like to express its sincere appreciation to the team of Law firm "Pravova Dopomoga" for mutually beneficial cooperation
L. Chervonyuk, LLC "Vitalux"
Vitalux company highly appreciates results of cooperation with Law firm "Pravova dopomoga", can characterize it as a reliable partner and based on personal experience is ready to recommend it to interested persons...
General director Skibinskiy V., Yokogawa Electric Ukraine Ltd.
Yokogawa Electric Ukraine Ltd. recommends Vladimir Gurlov and his team of lawyers as a reliable legal partner and advisor for foreign businesses in Ukraine...
Chief ophthalmologist of Ukraine, Oksana Vitovska, All-Ukrainian alliance of ophthalmologists
We would like to express sincere gratitute to the team of Law firm "Pravova dopomoga" and personally to Volodymyr Gurlov for professionalism and purposefulness in your work.
Partner, Denis Y. Lysenko, Vasil Kisil & Partners
... we would like to express our respect and gratitude for the fruitful cooperation.
... our work on joint projects assured us of your high level of professionalism

General Manager Stashkevych I.Y., LLC "Trading company" Rud"
We would like to indicate that law firm "Pravova Dopomoga" has become a reliable partner for legal services provision and we can recommend it as a team of qualified professionals who are easy and pleasant to deal with
General director I.Logvinenko , Bravo Airways
Bravo Airways company expresses its gratitude to law firm "Pravova Dopomoga" for high quality and timely provision of legal services.

Even during times of war in our country, where the risk of power outages and lack of basic necessities is high, we continue to work tirelessly and prioritize the growth of our economy. Despite the challenges, both big and small businesses continue to flourish, providing crucial medical care, food, and other essentials to our cities and towns. This includes the healthcare industry, which is still thriving and expanding.
We are eager to support entrepreneurs who are interested in opening a medical business in Ukraine. Nowadays, this process requires careful planning and risk assessment to ensure success. By fully understanding all aspects of the venture, you can speed up the creation and launch process and mitigate the risk of losing funds to unscrupulous contractors.
Therefore, we suggest starting with a comprehensive business plan. This will help you identify and manage all the critical aspects of starting a medical center, from logistics to staffing and beyond. By doing so, you will be able to successfully navigate the challenges and complexities of opening a new business in the medical field.
The direction of medical business
When starting a medical business, it's important to have a clear understanding of what you want to do and how much you want to do it. You may decide to focus on a specific area of medicine, such as adult care, or compete with large private practices. The scope of your business will determine your next steps, including the type of premises you'll need, the doctors you'll hire, the number of offices and rooms required, and more.
It is essential to determine the category of patients you plan to work with. Remember that working with children and minors requires certain types of medical diplomas.
Usually, the direction of medical business is determined either when you have a specialist around whom you plan to start your practice or based on a financial calculation of the profitability of a particular type of medical service in the region where you plan to open your business.
You may also like: 2022 Tax Guide: What Taxes Should Medical Centers in Ukraine Pay?
Finding investors to start a medical center in Ukraine
Usually, opening a medical center with a wide range of specialties and services requires significant investments. Therefore, after visualizing the idea of creating a medical center, you need to either find investors or settle legal issues of cooperation, such as how you will receive and repay funds, and whether investors will participate in managing the business. Another possible option is to work with passive investors who provide funds for a certain period with interest for investment return.
When looking for investors, it's important not only to find them but also to convince them of the financial viability of your business. A ready-made business plan will be useful in this regard, as well as recording relationships with investors through cooperation agreements or investment contracts. These agreements will help you avoid any misunderstandings in the future. If investors are the ultimate beneficial owners together with you, we advise you to conclude a corporate agreement.
Registration of a legal entity for a medical center
After finalizing all the details regarding the scope and investors, the next step is to start the process of registering your legal entity or individual entrepreneur for your medical center with the state.
At this stage, our team of experts will assist you in preparing all the necessary founding documents required to register this particular business, in compliance with the current legislation. Then, we will help you prepare a package of documents that will be needed for your work once you obtain a medical practice license.
The choice of the form for registering your business is up to you. If you are opening a center with a wide range of specialties, then registering as a legal entity is usually the preferred option. We have discussed the question of choosing between an individual entrepreneur or a limited liability company in detail here. For each client, we select the most optimal option and provide justification for it.
Premises for a medical center in Ukraine
Finding the right location is one of the most important factors when opening a medical center in Ukraine, as it can make up to 50% of your business's success. You can invest heavily in repairs and advertising, but if you don't have a favorable location, it will be much harder to generate proper profits. Our advice for finding the best location is to consider a few key factors:
The location's geographical placement
The presence of other medical centers in the area and their specializations.
In addition, the premises must comply with the building standards for healthcare institutions. Architects and designers play a crucial role here, as they must take all these requirements into account when preparing the project. If their design does not meet licensing requirements and building standards, all your repairs and investments will go to waste.
At our company, we have experience not only in locating the right place but also in arranging the necessary lease agreements, rental agreements, and more.
Before starting the search for a location, we provide our clients with recommendations regarding the area and planning, evaluating existing properties and modifying their structure.
You may also like: Meeting Space and Structure Requirements for Doctor's Offices
Staff of the medical center
Along with conducting repairs, we would recommend starting to recruit staff and negotiating with medical and administrative personnel. After all, to obtain a license, you will need to indicate all the declared specialties for which your premises comply with legislative requirements.
You should also have a rough idea of how many actual employees you will have at the time of opening. Problems arise not only with finding medical workers but also with finding administrators who will meet high standards. We have discussed the further official employment of medical center staff here.
Today, most medical institutions in Ukraine, especially in its central and eastern regions, are faced with the problem of rapid staff turnover. A certain number of doctors and medical personnel have changed their place of residence. You should take this fact into account and make possible agreements with personnel in advance so as not to look for replacements during the process of obtaining a license for declared specialties.
At the start of work, it is not necessary to have a lawyer or accountant on staff - our company provides such services on outsourcing, forming and maintaining all documentation for you.
Equipment for a medical center
The choice of equipment for your medical center depends on the range of services you plan to offer. If you only provide basic therapeutic services, then you don't need complex and expensive equipment.
However, if you require specific equipment for your services, you need to plan and arrange for its procurement during the preparation and renovation phase. In today's logistics environment, it can take up to 6-9 months for some equipment to be manufactured and delivered, which coincides with the renovation period.
The equipment you choose must meet your needs and personal requirements, as well as the licensing requirements. All equipment, down to the last thermometer, must be specified in the documents at the stage of obtaining the Sanitary and Epidemiological Conclusion and subsequent license inspections. If you have already ordered the equipment, our specialists will check its compliance with licensing requirements and prepare the necessary documents for obtaining the medical license.
You may also like: Surviving the War: The Resilience of Medical Centers in Ukraine
Financial plan and profitability of a medical center
People will always get sick. Therefore, with the right approach, it can be a profitable business, but it also requires significant financial investments. With 10,000 hypothetical units, you could easily start a law firm, a micro-business in the food or clothing repair service industry. However, in healthcare, expenses are more substantial and have a sustainable nature. For example, an ultrasound machine can cost anywhere from 20,000 to 200,000 euros. And that's just one example of medical equipment and its cost.
Financial planning is based on the volume of services, the scale of the premises, and your capabilities. The main costs at the start include:
Project planning;
renovations;
Licensing;
Equipment procurement;
Promotion;
Payroll;
Rent.
The profitability of a medical center can range from 5% to 20%, depending on the type of services provided. For example, to prepare a patient for surgery, it can cost around 6,000 UAH (approximately 220 USD), and that was before the full-scale war.
Our team has extensive experience in creating successful medical businesses, from the initial idea to its full implementation. We provide comprehensive legal support.
Our services include:
Preparation of document packages for registration and obtaining a license to start work;
Support in the process of renting or purchasing a building;
Assistance in staff recruitment;
Assistance in preparing contracts for the acquisition of material and technical equipment;
Support of the economic activity of the medical center;
Crisis management solutions for your business in the realities of war.
We cooperate with both private and communal healthcare institutions. Today, our main assistance lies in the issue of staff recruitment and dismissal, as well as the survival of the business in the conditions of war.
Our clients faced new challenges, such as the acquisition and installation of batteries and generators for the normal operation of the medical center. Thanks to the efforts of our team, our clients avoided mass staff exodus and were able to maintain or even increase their patient flow.
Our legal support gave our clients confidence that even in the realities of war, a successful business can be conducted.
Interestingly, the flow of medical tourism has increased. Our medicine and doctors are the best, and we help medical centers avoid legal problems during their work and development.
You may also like: Dealing with Disgruntled Patients: A Step-by-Step Guide for Medical Professionals
Risks and downsides of the medical business in Ukraine
Business risks are ever-present, and the medical industry is no exception. The risks and downsides of the medical business are similar to any other business, including various crises, quarantines, and wars.
Specific risks related to the medical industry include:
conflicts between founders or investors;
inadequate management by the medical director of the healthcare facility;
patient outflow;
the improper provision of medical services resulting in severe consequences for the patient's health.
However, all of these risks can be prevented, and your business can be made as safe as possible. For instance, you can establish the roles and responsibilities of the medical director in the charter documents of your medical center, train your staff on how to deal with dissatisfied patients, ensure proper handling of patient data within the center, and so on.
We have provided you with a brief roadmap of the stages that a medical business founder should undergo. Our team is doing everything possible to make this process comfortable for business owners.
If you are planning to open a medical center and want to start with a business plan, or simply want to delegate all organizational issues to professionals, do not hesitate to contact us.
We are ready to help you!
Contact us by mail [email protected] or by filling out the form: