How to organize quickly a business in Ukraine for employment of workers abroad?
Cost of services:
starts at 50 000 UAH
Company with licence for brokering activities in foreign employment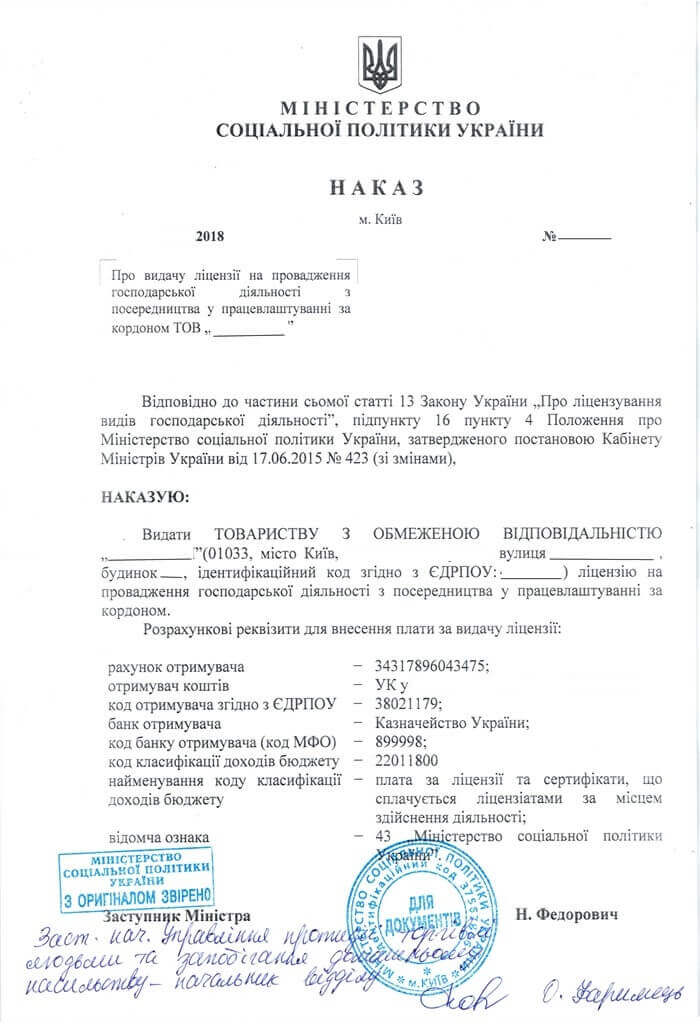 Reviews of our Clients
General director Skibinskiy V., Yokogawa Electric Ukraine Ltd.
Yokogawa Electric Ukraine Ltd. recommends Vladimir Gurlov and his team of lawyers as a reliable legal partner and advisor for foreign businesses in Ukraine...
Partner, Denis Y. Lysenko, Vasil Kisil & Partners
... we would like to express our respect and gratitude for the fruitful cooperation.
... our work on joint projects assured us of your high level of professionalism

General Manager Stashkevych I.Y., LLC "Trading company" Rud"
We would like to indicate that law firm "Pravova Dopomoga" has become a reliable partner for legal services provision and we can recommend it as a team of qualified professionals who are easy and pleasant to deal with
L. Chervonyuk, LLC "Vitalux"
Vitalux company highly appreciates results of cooperation with Law firm "Pravova dopomoga", can characterize it as a reliable partner and based on personal experience is ready to recommend it to interested persons...
Chief ophthalmologist of Ukraine, Oksana Vitovska, All-Ukrainian alliance of ophthalmologists
We would like to express sincere gratitute to the team of Law firm "Pravova dopomoga" and personally to Volodymyr Gurlov for professionalism and purposefulness in your work.
President Tedeev E.S., Ukrainian wrestling association
Ukrainian wrestling association would like to express its sincere appreciation to the team of Law firm "Pravova Dopomoga" for mutually beneficial cooperation
G. Zeynep Kucuk, SANOVEL ILAC SAN. ve TIC. A.S.
Helped with the liquidation of a foreign representative office in Ukraine
General director I.Logvinenko , Bravo Airways
Bravo Airways company expresses its gratitude to law firm "Pravova Dopomoga" for high quality and timely provision of legal services.

"What to do when it is necessary to quickly set up a business in Ukraine for the employment of workers abroad?" This is perhaps one of the most common questions clients have about licensing activities in the field of employment of our citizens abroad.
Well will try to clarify the situation by the showcase of one of our clients, whom we have helped to save time and money significantly.
So, in March 2019, we were approached by a Client that wanted to set up a business for mediation in employment abroad as soon as possible.
The Client was most interested in the following questions:
What is needed to carry out mediation in employment abroad?

How soon will they be able to start their activities?
Given their desire to first understand the ins and outs of the process, we agreed upon starting with legal advice on the topic in question.
During the consultation process, our specialists did not just answer the questions that were of interest to the Client, but also discussed the possible risks.
NB! It is important to understand that:
Mediation in employment abroad can only begin after receiving a decision to issue a license. Prior to receiving it, the activity is illegal. From the moment of submitting the documents until this decision is received, an average of one month passes.
To obtain a license for mediation in employment abroad, you must have a foreign partner, who will either hire directly or assist in employment of Ukrainian citizens (or other persons legally residents of Ukraine). It is with this foreign partner that you will have to to conclude a foreign economic contract, a copy of which isto be submitted to the licensing authority for obtainment of a license.
According to the Client, it became known that thay are negotiating with potential partners in several countries, but agreements have not been concluded with any of them and for this they need a certain amount of time. But it was important for them to start the project in a short time and in compliance with the temrs of Ukrainian legislation.
Therefore, taking into account all the data and understanding the ultimate goal, our experts offered the Client an optimum and quick solution: acquisition of a ready-made company with a license for mediation in employment abroad.
However, before making a decision to buy a company, they wanted to get an answer to a few questions:
Does the ready-made company have debts and loans?

How to work with a foreign partner that this company has already signed a cooperation agreement with?

Is it difficult to change its tittle and address in the future?
It is worth noting that these are very important questions that must be answered before signing any documents.
Evedence was was provided to the Client, proving that:
The offered company was just set up with the goal of its further sale.
The company had no debts, because it did not carry out any economic activities and did not even set up a bank account.
The Client caould start perfroming the respective activities now. This would be absolutely legal.
Relations with a foreign partner in Poland have been formalized. An agreement signed with him does not need to be terminated. This will not interfere with cooperation with contractors from other countries with which it will be necessary to conclude similar agreements.
The title and address of the company can be changed during re-registration process.
Practice shows that very often the procedure for registering changes can seem complicated, especially to foreigners. Therefore, it is worth securing the support of specialists who understand this.
Having weighed in all the pros and cons, the Client decided to purchase a ready-made company with a license for mediation in employment abroad. This did not just allow them to save time, but also presented advantages in the eyes of potential foreign partners. For at the moment the Client was registered as a full-fledged business entity with all the necessary documents and could immediately start their economic activity.
Therefore, if you want to operate a business and plan to carry out licensed activities, make much of your and your partners' time, and know that the best choice is to turn to professional lawyers who will provide their professional and quality assistance.
We are ready to help you!
Contact us by mail [email protected] or by filling out the form: