How to start building a house for sale in Ukraine?
Cost of services:
from 65 000 UAH
Support of construction with a building passport
from 54 000 UAH
Self-build legalization
from 150 000 UAH
CC1, CC2, CC3 project support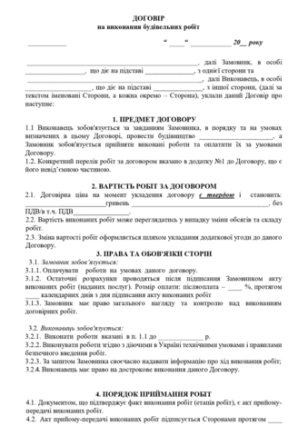 Reviews of our Clients
General director I.Logvinenko , Bravo Airways
Bravo Airways company expresses its gratitude to law firm "Pravova Dopomoga" for high quality and timely provision of legal services.

Partner, Denis Y. Lysenko, Vasil Kisil & Partners
... we would like to express our respect and gratitude for the fruitful cooperation.
... our work on joint projects assured us of your high level of professionalism

L. Chervonyuk, LLC "Vitalux"
Vitalux company highly appreciates results of cooperation with Law firm "Pravova dopomoga", can characterize it as a reliable partner and based on personal experience is ready to recommend it to interested persons...
G. Zeynep Kucuk, SANOVEL ILAC SAN. ve TIC. A.S.
Helped with the liquidation of a foreign representative office in Ukraine
General director Skibinskiy V., Yokogawa Electric Ukraine Ltd.
Yokogawa Electric Ukraine Ltd. recommends Vladimir Gurlov and his team of lawyers as a reliable legal partner and advisor for foreign businesses in Ukraine...
President Tedeev E.S., Ukrainian wrestling association
Ukrainian wrestling association would like to express its sincere appreciation to the team of Law firm "Pravova Dopomoga" for mutually beneficial cooperation
General Manager Stashkevych I.Y., LLC "Trading company" Rud"
We would like to indicate that law firm "Pravova Dopomoga" has become a reliable partner for legal services provision and we can recommend it as a team of qualified professionals who are easy and pleasant to deal with
Chief ophthalmologist of Ukraine, Oksana Vitovska, All-Ukrainian alliance of ophthalmologists
We would like to express sincere gratitute to the team of Law firm "Pravova dopomoga" and personally to Volodymyr Gurlov for professionalism and purposefulness in your work.
Depending on the size and intended use of a land plot, a variety of residential and commercial buildings can be constructed. If you're planning to build a house, cottage, townhouse, or vacation home, the first step is to carefully choose the location.
This involves considering factors such as:
accessibility to utilities like electricity, water, and sewage;
proximity to roads and public transportation;
environmental considerations, and other relevant factors.
Conducting thorough legal due diligence of the land plot before starting construction is crucial to determine its legal status and assess any potential risks. Let us illustrate the importance of this process with an example from one of our clients.
You may also like: Land Ownership Registration in Ukraine
Conducting a Legal Land Audit before Construction
A landowner approached us with plans to build residential complexes for sale on their land plot. We took care of all the necessary documentation, providing a comprehensive end-to-end service for construction support and property registration.
Our analysis of the documents started with:
Firstly, determining the legal status of the land plot, including its history and ownership rights.
This involved examining the basis of land acquisition, such as government deeds, contracts, certificates, and other relevant documents.
We also carefully reviewed the location, size, boundaries, and overlaps of the land plot in the cadastral map, as well as neighboring plots. Additionally, we conducted a thorough analysis of the archival layer in the cadaster, as this is important and informative, as some unscrupulous landowners may attempt to conceal a plot through division or consolidation to prevent its lawful reclamation by the rightful owner.
It's crucial to thoroughly investigate the history of the land plot. This step is vital to ensure that you don't end up in a legal battle that could potentially jeopardize your ownership rights in the future. A comprehensive analysis should cover all aspects, such as:
changes in ownership;
alterations in size or shape;
modifications in designated usage;
This will help you avoid any potential legal disputes down the line.
If you're considering purchasing a land plot, it's essential to conduct due diligence and check for any ongoing legal disputes or enforcement proceedings involving the land plot or its owner.
Improper registration of property rights or lack of proper permits for construction could result in any structures being deemed unauthorized, preventing you from obtaining necessary permits or ownership rights.
In addition to private ownership, the law allows for construction on land plots that are leased, granted for permanent use, held in trust, or subject to easements, superficies, or emphyteusis.
However, it's important to note that not all leased or granted land plots may be eligible for construction. This depends on factors such as the designated purpose of the land and the conditions specified in the lease or grant agreement, which outline the intended purpose and usage.
Therefore, it's crucial to thoroughly analyze all the documents pertaining to the land plot and the rights claimed by the applicant.
Secondly, during the assessment, it's crucial to pay close attention to the legal possibilities for laying utilities on the land plot. Even laying pipes through other land plots without proper lease rights or easements could result in the cancellation of construction permits or legal disputes.
At the same time, we thoroughly reviewed the urban planning documentation, including the detailed territory plan, to ensure that our construction plans align with the intended land use.
After extensive consultations with engineers and architects, we made the decision to change the land plot's designated use from agricultural to residential in order to proceed with our construction plans.
We prepared all the necessary documents in compliance with the current legislation to minimize the risk of rejection by local authorities when requesting a change in land use.
It's important to ensure that our construction plans are in line with both the functional purpose of the territory and the designated use of the land plot.
This raises the question of which takes precedence when determining the construction plans: the designated use of the land plot or the functional purpose of the territory? Let's explore this further.
You may also like: Legal Entity Land Lease in Ukraine
Land Plot Zoning and Territorial Functional Zoning Prior to Construction
In general, urban planning documentation takes precedence over land management documentation in Ukraine.
This means that if the intended development of a land plot does not align with the provisions of the relevant urban planning documentation, it may result in refusal to provide urban planning conditions and restrictions.
However, there is an exception. If the original purpose of a land plot allowed for construction, but it was later included in a functional zone that does not permit such use, Ukrainian law allows for construction on the plot based on its original purpose without changing it.
In other words, you have the legal right to build on a land plot, even if its current zoning may seem to prohibit it. This may seem like a debatable issue at first, but courts often support land users in such cases, as they emphasize that local government actions should not contradict the principles of legal certainty and proper governance. It is not acceptable for one decision to grant a land plot for construction, and then another decision to prohibit the very same construction.
You may also like: How Can Foreigners Acquire Land or Property in Ukraine?
How to change the designated use of a land plot for construction?
Since the client's plot did not have information on functional zones in the State Land Cadastre, we followed the traditional procedure of a land planning project to change the designated use.
As a general rule, the owner has the authority to change the designated use without obtaining prior approval from the relevant council for the development of such a project.
We prepared the necessary documents and developed a project that was approved by the local authorities, resulting in changes being made to the State Land Cadastre.
Despite the state of emergency, the number of real estate transactions has been on the rise, as per statistical data on certified real estate purchase and sale agreements for the year 2022.
In the first quarter of 2022, there were a total of 43,191 certified real estate transactions, and this number rose to 68,566 in the fourth quarter of the same year.
Many big property developers are going through tough times, which could open up opportunities for smaller-scale builders to enter the market and construct cottages and townhouses for future sales. Although western Ukraine is currently considered relatively safer for real estate investments, the capital city and its surrounding areas are still attracting interest. In fact, even the average rental prices have been on the rise since February 24th and have now reached pre-war levels.
If you own or lease land, embarking on house construction and sales could be a fantastic way to expand your business and boost your profits.
Our company offers a comprehensive range of services to help you achieve your goals quickly and seamlessly. These services includ :
conducting land audits and verifying ownership rights;
identifying any restrictions or encumbrances on the land such as easements, liens, or land use limitations;
conducting risk assessments related to construction on the land such as potential changes in land designation, ongoing legal disputes, or illegal land use;
determining the necessary permits and documents required for construction on the land;
checking for any prohibitions on construction in areas influenced by power lines, gas pipelines, oil pipelines, and the like.
You can find the detailed cost of our services here.
If you are planning to start construction and want to avoid any potential risks with your resources and timelines, feel free to reach out to us!
We are ready to help you!
Contact us by mail [email protected] or by filling out the form: