How to prepare a charitable foundation to receive donations from abroad?
Cost of services:
from 1400 USD/month
Legal support for a charitable organisation
from 850 USD
Documents to start activities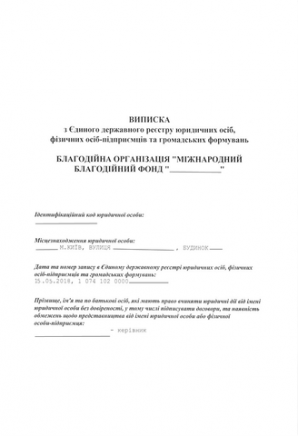 Reviews of our Clients
Vice President E. Nayshtetik , All-Ukrainian Council for Patients' Rights and Safety
We highly appreciate professionalism of your team as well as your personal qualities in the field of regulatory support of activities of charities, contractual formalization of relations, tax legislation
Amidst the ongoing war in Ukraine, there is a proactive effort to engage foreigners in aiding the country. It's worth noting here that the assistance received from abroad by charitable organizations is divided into two categories: financial support and the provision of assets.
In this piece, we won't delve into non-material assistance through advertising or lobbying the organization's interests. Our objective is to offer valuable practical advice to charitable organizations that aim to attract investors and secure philanthropic contributions from overseas.
If you are seeking legal experts with specific experience in working with charitable organizations, please don't hesitate to approach us with your inquiries.
You may also like: Understanding Beneficiaries of Charitable Foundations in Ukraine: Who to Include in the Structure?
How can your organization formalize assistance through the provision of assets?
The assets being transferred to the organization can vary. Usually, this includes movable property, household items, food products, and so on. When receiving assistance in the form of assets, we recommend the following steps:
Establish a relevant contract and ensure that a property transfer agreement is duly signed.
Depending on the type of assets, consider including them on the balance sheet.
When delivering assets to beneficiaries, also obtain documentary confirmation (such as an Act of Delivery and Acceptance).
However, the most significant complexity associated with receiving assets lies in the necessity of importing them onto Ukrainian customs territory and undergoing the customs clearance process. During the war, most charitable organizations bring assets into Ukraine without customs clearance and duty payment. Nevertheless, in any case, it would be prudent to review the customs clearance regulations before initiating the import process.
An alternative option is to import aid through an organization that is registered in the registry of humanitarian aid recipients and suppliers (unfortunately, gaining entry into this registry is currently not possible).
You may also like: Contract and Documentation: Validating the Receipt of Charitable Aid within Foundation Records
How to properly document the receipt of financial aid in a charitable foundation?
Financial assistance can be classified into two types:
Targeted. This is assistance meant for the execution of specific, defined projects and goals. The aims, results, and other criteria are established in an agreement signed with the donor. While the agreement's title may vary, its core purpose is for the donor to provide funds to the charitable organization.
Non-targeted. Monetary resources are granted for the organization's general needs, without specifying a particular purpose for their utilization. In such cases, the organization employs these funds according to its objectives and goals, as formulated and executed through its programs. These resources might be allocated by the organization to maintain its operations and cover administrative expenses.
You may also like: Conducting Currency Operations by a Non-Profit Organization Legally and Ethically
What grabs the attention of donors?
Donors frequently focus on various factors and markers that might influence their decision to engage with a charitable organization. Drawing from practical experience, there are several factors we can highlight that are not exceptions but rather commonly encountered.
Business Reputation. Yes, one of the foremost considerations is the business reputation of the organization. The absence of scandals or other elements that could affect a positive business image holds significant weight. Foreign entities tend to be especially attentive to this criterion. International donors thoroughly examine an organization's reputation and the competence of its management.
Transparent Governance Structure. Donors place significant importance on an organization's ability to use donations, contributions, or charitable funds effectively and responsibly, in line with specific objectives. To achieve this, establishing a transparent and efficient management structure is crucial. This framework ensures the organization's commitment to fulfilling its obligations. Consequently, the organization should comprise employees who perform their roles based on employment agreements. Additionally, it can involve volunteers who contribute their efforts without monetary compensation, as well as third-party entities that undertake specific functions. For instance, when utilizing a grant, an organization might engage employees responsible for program implementation and coordination, alongside volunteers who assist selflessly. Furthermore, legal and accounting professionals can extend their support to the organization on a contractual basis. This scenario is just one of the numerous common examples.
Accessible and Transparent Financial Reporting. Organizations are required by law to submit financial reports to regulatory bodies. However, organizations that value openness and transparency often take further steps. They frequently publish their financial reports on their websites and willingly provide this information upon donor request. Sharing financial reports increases the likelihood of receiving assistance. If an audit report on the organization's activities is required, our team is prepared to assist and collaborate with our partners, who are accomplished auditors.
Positive Project Implementation Experience. It's highly valuable for an organization to have prior experience in successfully executing projects. If you have previously carried out successful projects, it's advisable to present documents, photographs, and videos as evidence. Additionally, supplying copies of contracts, agreements, and other relevant documents used in project implementation can enhance your credibility. Our legal team is ready to assist in developing contracts, agreements, and other necessary documents.
Organizational Experience. Donors often pay attention to the establishment date and tenure of an organization. Certain programs may have specific eligibility criteria based on the organization's duration of operation, for instance, a requirement of at least 1 year, and so on. In such cases, the option of acquiring an already established organization can be explored.
Pre-existing Program Development. When submitting an application to a specific donor for a particular program that necessitates resources, having a pre-developed program or at least a roadmap can greatly facilitate the application review and approval process.
Presence of Staff. The majority of donors will focus on how the provided resources or assets will be utilized. As a result, an organization should have more than just a leader; it should also have additional personnel responsible for program implementation. This could encompass roles such as managers, legal experts, logistics coordinators, and others.
Opportunity for Involvement. On occasion, though infrequently, donors might request to engage their representative in the organization's operations, either as a volunteer or as a member of the supervisory board for oversight purposes. If this situation arises and the individual is a foreigner, it's essential to obtain the appropriate documents for their stay in Ukraine. This may involve acquiring a visa and temporary residence permit, securing a work permit, and obtaining an identification code if employment is part of the arrangement.
You may also like: Establishing Relations Between Charitable Foundation, Employees, and Volunteers
Establishing Effective Operations for a Charitable Organization
One of our clients has successfully passed the initial review for receiving a grant from an international organization. During the grant recipient selection phase, the granting institution requested an auditor's evaluation, financial statements, and organizational documents pertaining to the organization's activities and previous project implementations. After discussions with the organization's director, it became evident that their document management system was not properly configured, and their accounting practices presented challenges. Furthermore, there were no annual reports from the executive body available. Given these circumstances, the auditor's assessment would likely have been highly unfavorable.
To ensure grant eligibility, our team of legal and accounting experts collaborated with the client's documentation, leading to the following achievements:
Streamlined document workflow, ensured the signing of all documents, identified responsible individuals, conducted orientations, drafted guidelines for operational procedures and document retention.
Prepared and approved the organization's reports.
Reorganized accounting practices.
Handled personnel and volunteer matters.
Consequently, the organization received a favorable audit conclusion and secured the grant for its operations. Further information about grants for nonprofit organizations can be found here.
If your organization requires the establishment of a transparent and open structure or preparation for receiving assistance, our legal and accounting professionals are delighted to provide assistance in this regard.
We offer not only consultations and solutions for specific foundation concerns but also comprehensive accounting and legal support for your organization.
Details about service costs can be found here.
You may also like:
Financial and Other Reporting for Charitable Foundations in Ukraine
Acceptance and Registration of Humanitarian and Charitable Aid by Charitable Foundations
We are ready to help you!
Contact us by mail [email protected] or by filling out the form: