Formation of relations between the charitable foundation, employees and volunteers
Cost of services:
from 1400 USD/month
Legal support for a charitable organisation
from 850 USD
Documents to start activities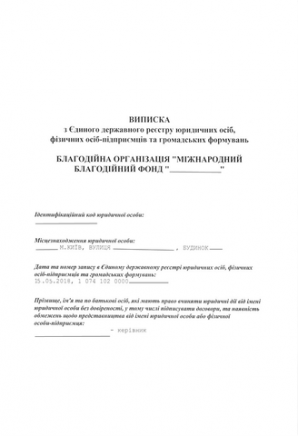 Reviews of our Clients
Vice President E. Nayshtetik , All-Ukrainian Council for Patients' Rights and Safety
We highly appreciate professionalism of your team as well as your personal qualities in the field of regulatory support of activities of charities, contractual formalization of relations, tax legislation
When starting a charitable organization in Ukraine, it's crucial to not only consider the process of receiving and distributing charitable aid, but also to think about how your organization will work with both paid employees and volunteers.
It's important to understand that there's a distinction between employees who receive wages and volunteers. Both groups must be properly documented, and any collaboration must adhere to the norms outlined by Ukrainian legislation.
Today, we'll explore how employment relationships are established in a charitable foundation and provide guidance on how to avoid common mistakes that could lead to issues with regulatory authorities in Ukraine
You may also like: Is It Possible to Open a Charitable Foundation During Wartime?
Can multiple employees be covered by a single employment contract in a charitable foundation?
Some charitable foundations opt to use a single employment contract for multiple employees at the beginning of their operations in an effort to simplify and expedite the hiring process.
Firstly, let's define what an employment contract is. According to the Labor Code's Article 21, an employment contract is an agreement between an employee and an employer. In accordance with Article 626 of the Civil Code of Ukraine, a contract is an agreement between two or more parties.
Although the law does not explicitly forbid such contracts, in practice, it may create more difficulties than it resolves.
Instead, using a standardized contract template for each new employee is a more practical approach that will help you avoid issues with employment contract termination or any disagreements that may arise with employees.
Why isn't a collective agreement a cure-all solution for a charitable foundation?
Well, according to Article 12 of the Labor Code, a collective agreement can only be established between an employer and the primary trade union operating within the enterprise (in this case, the foundation). The employer is not able to initiate the creation of such a union; only the workers themselves can do so in order to protect their own interests.
This means that if the foundation does not have a trade union, the employer cannot simply publish a collective agreement and assume that all employees who have joined the organization automatically agree to it.
You may also like: Untangling the Knots of Funding a Charitable Foundation
How to properly employ workers in a charitable foundation: full-time, part-time, and more
When it comes to employment relationships between a charitable foundation and its employees, the same rules apply as they do for other organizations with their workers.
However, there may be exceptions for the foundation's director or members of its governing body, who could work on a voluntary basis if the charter allows it. Nevertheless, this issue is often debated and can be exploited by some business entities.
It's important to note that other employees cannot work on a voluntary basis since it is a direct violation of their rights. Employees of a charitable foundation can work either full-time or part-time.
According to Article 24 of the Labor Code, there is a list of cases where a written employment agreement is required. These cases include:
work in conditions that pose an increased risk to life and health;
remote and/or overtime work;
employment of minors.
If any employee who does not fall into the above categories insists on a written employment contract, the employer has no right to refuse. It is important to note that this article discusses cases in which a written employment contract is mandatory, not cases in which an employment contract itself is mandatory. This means that all employment relationships are regulated by employment contracts, but from time to time such agreements can be made orally.
Therefore, when hiring an employee for a charity fund, you should:
choose a comfortable working system for both of you (full-time, part-time, remote, etc.);
comply with the requirements of the labor legislation regarding the form of the employment agreement.
You may also like: Receiving Charitable Assistance in the Charitable Foundation Account
Are there any specific features to consider when taking over a charity fund that previously had different owners?
The change of ownership and employment relationships are two separate matters. However, if some employees refuse to agree with the new owners and for various reasons are not suitable for them (even if it's just because everyone wants to have their own people), some particularities may still arise.
According to Article 36 of the Labor Code, if the owner of an enterprise changes, the employee's employment contract remains valid. Termination of such a contract can only occur in case of staff reduction.
Thus, according to the legislation, new owners cannot simply replace the entire staff.
What are the options:
Acquire a clean fund without any activity and employees.
Inquire in advance if there are any formal employees at the fund. If so, agree with the previous participants and the fund's management so that they take everything with them, which means passing on a clean fund.
If you already have a situation with "extra" employees, you will have to organize the procedure of reducing staff if it is impossible to part with mutual agreement. To do this, you will need legal and accounting support because disgruntled employees may try to sue you.
In our company, you have the opportunity to acquire a charity foundation that is ready to operate and has no hired employees, and no activities have been carried out yet. You can find more details and pricing information here.
Can employees also be volunteers?
The Labour Code of Ukraine does not recognize the term "volunteer," as it is a completely different concept from that of an employed worker and is regulated by different laws. However, in the context of charitable foundations, the two concepts often overlap or even replace each other.
We are often asked whether an accountant can work as an accountant while also volunteering. We have already addressed the issue of such work being unacceptable in section 2 of this article. However, if an accountant who works part-time wishes to leave work and volunteer on behalf of the same foundation after work, our lawyers do not see any legal issues with this.
A person signs two contracts that are of completely different natures: a labor contract and a contract for voluntary activities (by the way, a written contract is not always required for volunteering, but it is still recommended to prevent any misunderstandings).
Therefore, a person who has completed their work duties as per their employment contract can utilize their free time at their discretion to engage in voluntary work, even if it is within the foundation where they are employed.
However, it is crucial to carefully document the process to avoid any objections from regulatory authorities.
You may also like: Managing the Books of a Charitable Foundation
How to properly formalize a foundation's relationship with volunteers?
We've covered some aspects of collaborating with volunteers in this article.
While a volunteer agreement is not a mandatory requirement for engaging volunteers, there are certain exceptions. An agreement must be signed in the following cases:
providing assistance in the aftermath of man-made or natural disasters;
providing assistance to the Armed Forces of Ukraine and other military formations, law enforcement agencies, and government bodies during special periods, legal regimes of emergency or martial law;
when engaging foreign volunteers.
If you need to register a charitable foundation and continue to support its activities, we're here to help. We can register your charitable foundation and take care of all the legal, accounting, and labor relations with employees, volunteers, and other legal issues.
Today, we can assist you with:
Registering a charitable organization – cost of services
We are ready to help you!
Contact us by mail [email protected] or by filling out the form: