Is it possible to open a pharmacy at a filling station in Ukraine?
Cost of services:
from 15 000 UAH
Drugstore license
from 30 000 UAH
License for a drugstore storage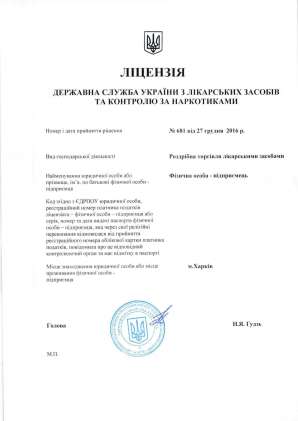 Reviews of our Clients
Savorona N., Sole trader Savorona N.
Lawyers of this firm answered all my questions and by doing so made me trust them. I didn't even need to be in Kyiv. I just had to provide a power of attorney...
O. Reshytnyak, Sole trader O. Reshytnyak
Your firm recommended itself as one of the best and reliable organizations...
L. Chervonyuk, LLC "Vitalux"
Vitalux company highly appreciates results of cooperation with Law firm "Pravova dopomoga", can characterize it as a reliable partner and based on personal experience is ready to recommend it to interested persons...
We were approached by a Client, the owner of a network of filling stations, with a very complex and at the same time interesting practical task - to open a pharmacy on the territory of the existing network of filling stations.
We faced an ambitious challenge: to find an opportunity to obtain a Pharmacy License, meeting all the licensing regulations for the location of pharmacies on the existing network of filling stations, which is not the case in Ukraine.
Of course, we faced understandable difficulties:
Firstly, a pharmacy can be located on the premises of health care facilities, health resorts, hotels, airports, railway stations and shopping malls, provided that sanitary and hygienic requirements established for pharmacies are met, which contradicts its placement on the territory of a filling station.

Secondly, the total minimum area of drugstores located in the city must be not less than 50 square meters, and the area of the sales area - not less than 18 square meters, and this is usually too large for a drugstore located on the territory of a filling station - the standard sales area of a filling station is about 100 sq. m.
In addition to room requirements, there are certain requirements for:
the qualifications of the pharmacy staff;

the presence of necessary conditions for free access to the premises for persons with disabilities and other groups of people with low mobility;

the availability of logistics and other aspects of the operation of the pharmacy, which is difficult to ensure in the territory of the filling station.
Our Client had previously consulted other lawyers whose verdict was unequivocal: this task is impossible.
Despite everything, we were ready for the challenge and understood that a solution could be found. However, the solution had to be absolutely legal and economically advantageous.
Having thoroughly studied the regulatory framework governing activities in this area, secured confirmations from the relevant state authorities, and determined the economic and marketing benefits, we found the best solution - to open a pharmacy branch in the territory of a filling station.
What it is and how it differs from a pharmacy - read below.
You may also like: Why Can a Pharmacy License Be Denied?
Why have we chosen a pharmacy branch, and how to open one?
The pharmacy branch could be the best option, because in theory:
A pharmacy branch is a structural subdivision of a pharmacy, which can also sell medicines;

The Client didn't need a license for a pharmacy branch, but could enter into a partnership with an existing pharmacy business, or open a pharmacy in a separate room on the territory of the filling station, as it happens in many shopping malls;

The area of the pharmacy branch can be from 18 square meters, and premises for staff from 8 square meters, and it can be placed on the territory of the filling station.
In addition, the presence of a medical office with a qualified doctor, a specialized professional (in our case, a therapist), and a pharmacy on the territory of the filling station in the current quarantine is a good marketing decision.
Of course, wishful thinking of opening a pharmacy at the filling station simply won't do. As in any case of a unique business project, where the entrepreneur acts as a pioneer, you will have to conduct long negotiations with the state authorities. In addition, you will need to solve certain organizational problems:
A pharmacy branch is a health care facility, which must be created on the basis of medical and preventive institutions and operates together with the main pharmacy.

The drugs to pharmacy branches must be supplied only through the pharmacy to which such branches are subordinate.

Only pharmacists, senior pharmacists with appropriate education in the specialty "Pharmacy, industrial pharmacy" can dispense drugs at pharmacy branches.
Note: In addition to the pharmacist, the pharmacy branch must have a pharmacy manager. However, he or she may be replaced by a person with a higher education degree in a particular field of study.
The room of a pharmacy branch must be equipped with cabinets, refrigerator, safe or metal cabinet for storing medications, a place for sanitary treatment of hands, a cabinet for the separate storage of personal and technological clothing, a cabinet for storage of cleaning equipment separately by appointment - it all must be purchased and properly placed.
We needed to solve three important issues to translate the idea into action:
Can a filling station be made a health care facility?

How can a pharmacy branch be tied to a pharmacy?

How to reduce the staff of physician practice specialists to 1 position so that it is economically beneficial for the Client?
You may also like: Fines for Selling Medicines Without a License
Is it possible to open a pharmacy branch on the territory of a filling station?
First of all, we consulted with the Ministry of Health and received confirmation of information about the possibility of issuing a Medical License for the Medical Center outside the filling station, with a doctor's office at the filling station (area of 18 m2).
That is, to open a pharmacy branch, you need to open a medical center. Of course, subject to compliance with all necessary sanitary norms concerning the premises of pharmacies and doctors' offices. It can't be opened directly on the territory of the filling station, but we have found a solution.
The algorithm for opening a medical center and pharmacy branch is as follows:
Registration of an LLC for further licensing;

Registration of all necessary documents for an LLC (a lease agreement, employment agreement with medical workers, etc.);

Obtaining an act of inspection of the sanitary-epidemiological service;

Obtaining a Medical License;

Conclusion of partnership with an already existing pharmacy business.
Since our team has more than 14 years of experience in opening health care facilities, we can find a unique solution to obtain a Medical License even in the most complicated cases. For example, we suggested dividing the address of the establishment into two blocks, one of which, including a therapist's office, was located on the territory of the filling station.
As for mandatory medical personnel, our Client saw his own benefit in hiring a therapist who would work at the filling station, so opening a health care facility and allocating a small area for it at the filling station would fully suit him.
After creating a health care facility, which can be done within about 1 month, you can proceed to the opening of the pharmacy. Here we have noted for the Client several important aspects of the procedure:
It will be necessary to take a responsible approach to the selection and arrangement of premises for a pharmacy, because it must meet the licensing requirements. Otherwise, no existing pharmacy business will be able to conduct activities there;

It is important to develop an agreement with the existing pharmacy beneficial for the Client and monitor the notification of the relevant state authorities and services regarding the opening of the pharmacy branch.
Note: There is also a third option - the Client can open his own pharmacy, which would be fully operational, and would provide the opportunity to operate even several pharmacy branches at different filling stations. However, so far it was not economically profitable for our Client, and he left such an option for the future.
The result of our company's work was a step-by-step guide for our Client on how to implement his business project. Now he is preparing the basis for further action.
We, in turn, are ready to continue to work with such an interesting case, as we can implement it not only in theory but also in practice.
Do you want to get a unique solution for your business? Don't hesitate to contact us! We make the impossible possible, and simple at the same time.
Didn't find an answer to your question?
Everything about obtaining a Pharmacy License.
For corporate Clients we offer development of personalized service packages.
We are ready to help you!
Contact us by mail [email protected] or by filling out the form: