Sample employment contract for work permit for a foreigner in Ukraine
Cost of services:
from 400 USD
When Client is elegible and has all the necessary documents
from 1300 USD
Premium (includes preparation of additional documents)
Negotiable
For large groups of foreign employees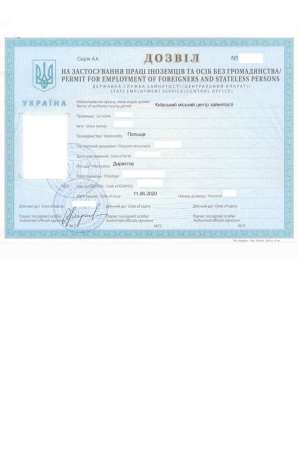 Reviews of our Clients
Daniel Holmes, Citizen of USA
Based on our positive experience of cooperation with Volodymyr Gurlov and his team we can recommend them as a reliable legal advisor on the matters of Ukrainian law...
The document for residency in Ukraine is known as a temporary residence permit (TRP). It is a requirement for foreigners who intend to work temporarily. There are several reasons for obtaining such a permit, including authorization for foreign labor, gig contracts, and employment agreements.
Regarding employers, any legal entity or individual entrepreneur is eligible to hire foreign workers. Highly specialized or well-paid expertise is not always necessary. Presently, Ukrainian laws do not establish specific prerequisites for foreigners concerning education, work experience, health status, gender, etc. However, a significant aspect of their employment involves obtaining a work permit for foreigners from the employment center.
This document has a limited duration, varying depending on the circumstances. Typically, the validity period is up to two years. If an employee is seconded during the term of an international economic agreement (contract) between a Ukrainian and a foreign company, or if a foreign individual is transferred to work in Ukraine, such a permit can be issued for up to three years.
How can a foreign individual obtain a Work Permit?
To achieve this, the individual needs to submit a draft of their employment contract (or agreement), together with a translated copy of their passport, documentation confirming the administrative fee payment, and the relevant application to the employment center situated at the company's location. We suggest consulting our legal professionals to obtain thorough legal assistance during the process of acquiring employment permission for the foreigner. This approach will help you avoid unnecessary complications and errors, save time, and expedite the procedure.
You may also like: New Rules for Obtaining Work Permits in Ukraine in 2023
Distinctive aspects of employment relationships with foreign workers
According to Ukrainian labor legislation, when it's not feasible to establish an open-ended duration for employment relationships, a fixed-term employment contract or agreement is applicable. These documents serve as mutual agreements between the employee and the employer, outlining the terms of work for a specific timeframe.
Consequently, to employ a foreign national and obtain authorization from the employment center, the following points must be specified within the employment contract (agreement):
The commencement date of the employment, which must not precede the issuance date of the permit.
The contract's conclusion date within the validity period of the permit or the conditions for its termination should the authorization be revoked.
The procedure for extending employment relationships in the event of an extension to the acquired work permit from the employment center.
It's worth noting that hiring a foreign individual without obtaining the requisite authorization or acquiring such authorization even a single day prior to employment initiation could lead to an administrative penalty imposed on both the company's leadership and the foreign worker. The migration authority holds the power to adjudicate fines and determine their magnitude. Consequently, it is advisable to adhere to protocols and secure the necessary permissions prior to engaging foreign workers to evade unfavorable repercussions and clashes with the migration authority.
Distinctive aspects of employment agreements with foreigners: Bilingualism and time constraints
Another unique aspect of employment contracts (agreements) with foreign individuals involves their drafting in two languages: Ukrainian and a language understandable to the foreign employee. It's crucial to determine which language holds predominant legal validity.
Our specialists stress the significance for employers to promptly finalize employment agreements with foreign workers. The law sets a 90-day period for this purpose. Equally important is the provision of a copy of the executed agreement to the employment center no later than 10 days from the signing date.
Failure to adhere to these specified timeframes can result in the cancellation of the granted work permit. We strongly recommend adhering to these time limits to ensure compliance with the law and to prevent potential issues in the future.
Gig contracts and special considerations for engaging foreign experts in Ukraine: Advantages and legal aspects
An exceptional means of bringing foreign experts into a company is through gig contracts, which are regarded as civil-law agreements. For foreign nationals who have entered into gig contracts, obtaining a residence permit does not necessitate acquiring a work permit. However, this applies only when the company is a recognized resident of Diia City.
It's noteworthy that the gig economy is gaining momentum globally, and Ukraine is following suit. Furthermore, it's important to recall that Polish citizens currently hold a distinctive status in Ukraine until February 2024. This legal provision grants Poles a unique opportunity for employment without the need for a corresponding permit and for residency without the requirement of obtaining a temporary residence permit.
Legal assistance for foreign entrepreneurs in Ukraine: Ensuring successful employment and business registration
Our team of legal experts diligently monitors legislative changes related to the employment of foreign nationals, especially considering the recent influx of numerous new regulations. We are well-prepared to offer tailored recommendations to our clients that align with their specific circumstances, ensuring effective resolutions for employment matters.
As an illustrative example, we recently supported an Australian citizen engaged in international vehicle trade who sought to expand his business horizons by initiating operations in Ukraine, including the establishment of armored vehicle deliveries.
Given the unique nature of our client's enterprise, we conducted a comprehensive analysis of the situation, meticulously developed requisite corporate documents, and guided throughout the company registration process. Our team meticulously drafted a labor contract that catered to his individual requirements while meticulously adhering to all the essential requirements of Ukrainian legislation.
Through the expertise of our experienced professionals and a well-assembled portfolio of documents, we expedited the acquisition of the work permit within a mere three days, facilitated the seamless application and issuance of a D-type visa, and seamlessly managed the document submission process to the migration service for obtaining the necessary certificate.
We take immense pride in offering foreign entrepreneurs robust legal support aimed at fostering business expansion and ensuring smooth operations within Ukraine. With our extensive experience and comprehensive understanding of Ukrainian legal prerequisites, we confidently and efficiently navigate the complexities of work permit acquisition for foreign nationals, equipping our clients with the essential legal solutions that underpin their aspirations. Don't hesitate to reach out to us today; we're eager to contribute to your business endeavors in Ukraine!
You can explore our service pricing through the following links:
The cost of Work Permits for Foreign Nationals in Ukraine
We are ready to help you!
Contact us by mail [email protected] or by filling out the form: