Obtained an identification number for a foreigner in one day
Cost of services:
5000 UAH
Obtainment of TIN
from 15000 UAH
Get TIN in 1 day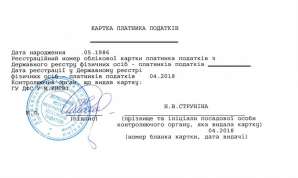 Reviews of our Clients
Daniel Holmes, Citizen of USA
Based on our positive experience of cooperation with Volodymyr Gurlov and his team we can recommend them as a reliable legal advisor on the matters of Ukrainian law...
Obtained a taxpayer's registration card regardless of some complications
Submitted the necessary documents to the State Fiscal Service of Ukraine
Provided a legal support for a draw of an identification code within tight deadlines
A client, a citizen of Azerbaidzhan, who urgently needed to obtain a registration number of the taxpayer's registration card (in one day), retained for our services in November 2018.
The client already had a translation of the passport into the Ukrainian language, certified by a seal of the translation bureau. The client was explained that it was not necessary to put a notary's seal.
In fact, an additional seal from the notary is not required. However, obtaining an identification code on an urgent basis does not necessarily mean that it will be obtained. After all, according to the practice of the State Fiscal Service of Ukraine, it is necessary to check a competence of a translator in the register, which takes additional time. Notarization would considerably speed up the process.
The minimum time for draw of an identification number (with the help of an electronic system of the State Fiscal Service of Ukraine) is 8 hours. That is, if the client contacts us at dinnertime, the time countdown will begin with transfer of the necessary documents (a power of attorney to our lawyers and a notarized translation of a passport). In this case, the taxpayer's registration card will be ready in about a day, rather than day-to-day.
If we submit a power of attorney issued in Ukraine, we must provide a confirmation that the person, who issued the power of attorney, actually came to Ukraine. Such a confirmation is the corresponding mark in a passport. A page with such a mark is advisable to file with translation.
Our notary drew a power of attorney for employees.
Despite the fact that features of the passport certification, the taxpayer's registration card was made within tight deadlines, as requested by the client.
If you urgently need to obtain a document, you should get acquainted with all the nuances in more detail.
Do you need to obtain an identification code for a foreigner? Please, call us at numbe
We are ready to help you!
Contact us by mail [email protected] or by filling out the form: