Got residence permit for a Turkish citizen in Ukraine
Cost of services:
starts at 800 USD
TRP on the basis of work in Ukraine
from 600 USD
Residence permit extension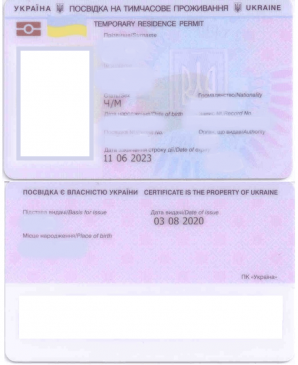 Reviews of our Clients
Daniel Holmes, Citizen of USA
Based on our positive experience of cooperation with Volodymyr Gurlov and his team we can recommend them as a reliable legal advisor on the matters of Ukrainian law...
Residence permit for Turkish citizens in Ukraine
In the spring of 2016, a Turkish citizen contacted our company about legal support and assistance in obtaining a residence permit in Ukraine. As provided for in the current legislation of Ukraine, there is a number of legal grounds for obtaining a temporary or permanent residence permit in our country. Thus, we have started our cooperation with providing legal advice on the grounds for a permanent residence permit obtainment in Ukraine.
The two most suitable grounds for obtaining a temporary residence permit were a work permit and investment into Ukraine's economy in the amount of one hundred thousand (100,000) U.S. dollars and more. Since the latter option required a rather complicated registration procedure at that time, it was decided to obtain a permanent residence permit on the basis of a work permit in Ukraine.
It should be noted that foreign investments into the Ukrainian economy are no longer subject to registration. This makes the abovementioned ground much more attractive for foreign investors now.
Having decided on the legal grounds for getting permanent residence status, we started the document preparation process, which was divided into three main stages.
The first stage involved assisting the foreign citizen in getting a status of a business owner in Ukraine. As his brother already owned the company registered in Ukraine, our lawyers have ensured changes in the LLC membership and made our Client a member of the company.
The second stage was the submission of a package of documents to obtain a work permit in Ukraine. Our lawyers arranged medical examinations, did translation of foreign documents, and helped to get the certificate of no criminal record, as well as other necessary documents. The Client obtained a work permit in just two weeks upon the submission of the package of documents to the relevant authority. He took the permit abroad to get a special visa there, which could be used as a ground for obtaining a permanent residence permit in Ukraine.
When the Client returned to Ukraine with the required visa, our lawyers submitted a package of documents to the State Migration Service of Ukraine and received a permanent residence permit in Ukraine at the earliest possible date. We provided the Client with further legal support and assistance in registering foreigner's residence place in Ukraine.
We are ready to help you!
Contact us by mail [email protected] or by filling out the form: