Procedure for Obtaining an Identification Code for Foreigners in Ukraine
Cost of services:
200 USD
Obtainment of TIN
from 15000 UAH
Get TIN in 1 day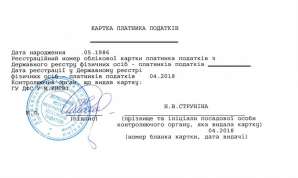 Reviews of our Clients
Daniel Holmes, Citizen of USA
Based on our positive experience of cooperation with Volodymyr Gurlov and his team we can recommend them as a reliable legal advisor on the matters of Ukrainian law...
A Client came to us with a request to obtain TIN in Ukraine in an accelerated mode. Our company usually does not provide such single services - we aim to help foreigners solve complex problems, such as obtaining a Temporary Residence Permit in Ukraine or starting their own business, where obtaining TIN is just one of the stages.
We talked to our Client and found out that he needs a TIN for the purchase of real estate in Kyiv. Our Client essentially lived in two countries due to his occupation, spending part of time in Ukraine and part in the UK. For convenience and as an investment he decided to purchase an apartment in Ukraine. After contacting a real estate realtor, he found out that he would need a TIN to conclude an agreement, and then he contacted us.
Understanding all the risks of buying unproven real estate in Ukraine, we offered our Client full legal support in buying real estate, which would provide him with a safe and comfortable execution of the transaction, to which the Client happily agreed.
You may also like: Real Estate Taxes in Ukraine
Identification code for a foreigner in Ukraine to buy real estate
Our Client has already found an apartment in a new building in one of the Kyiv districts, which suited him territorially and satisfied him in quality of apartments. The real estate developer had already announced the date of commissioning of the first stage of construction, which was a reassuring signal, but, unfortunately, was not a guarantee that the construction will be completed successfully.
Our lawyers have started an inspection of the property, which consists of the following stages:
Checking the real estate developer. At this stage, we check the history of the real estate developer and related companies. It is necessary to check the history of arrests, court proceedings, registration documents of the real estate developer and the availability of construction permits.

Checking the property. At this stage we check the land of the new building, and the rights of the real estate developer to it.

Checking the real estate purchase and sale agreement. If the property and the real estate developer have successfully passed the inspection, we proceed to the verification of the agreement on the transfer of the rights to the property. At the Client's request we can propose amendments to the agreement or develop our own draft of the agreement.
In parallel with the process of checking the apartment, we made preparations for the transaction, which included obtaining a tax identification code for a foreigner and opening an account for him in a Ukrainian bank to pay for the purchase of real estate.
The procedure of obtaining a TIN in Ukraine is simple:
First of all, you need to prepare documents for obtaining a TIN, which include a copy of the foreigner's passport used to enter Ukraine, translated into Ukrainian, with notarial certification of the translation. You will also need a power of attorney for our lawyer;

Then you need to apply to the tax office with a request to issue a TIN for a foreigner. The period of issuing a TIN in Ukraine can be from 1 to 5 business days.

Once a TIN is ready you need to visit the tax authority again in order to get the original identification code. Usually it is done by our lawyer.
Most often the biggest inconvenience is the need to visit government agencies without knowledge of the language, which is difficult and time-consuming. Of course, our Client did not face this problem, because all the work was done by our lawyers, handing the Client a ready-made identification code.
We also organized for the Client a visit to the bank to open an account and conduct the transaction with our reliable partner notary. As a result, the Client could get the apartment within a week after contacting us.
You can find the cost of legal support services for buying real estate in Ukraine here, or contact our experts to prepare an individual offer for you. The cost of legal support includes obtaining a TIN and opening a bank account, as well as other legal services you may need.
Do you need legal assistance in Ukraine? Don't hesitate to contact us! We will help not only to get an identification code, but also solve any of your legal problems quickly and easily.
Didn't find an answer to your question?
Everything about Buying Real Estate in Ukraine for a foreigner here.
Everything about the price and period of obtaining a TIN in Ukraine here.
Everything about obtaining a Temporary Residence Permit in Ukraine here.
We are ready to help you!
Contact us by mail [email protected] or by filling out the form: