Registration of a company for the supply or production of electricity in Ukraine for a foreign entity.
Cost of services:
from 45 000 UAH
Registration as an electricity market participant
from 75 000 UAH
European market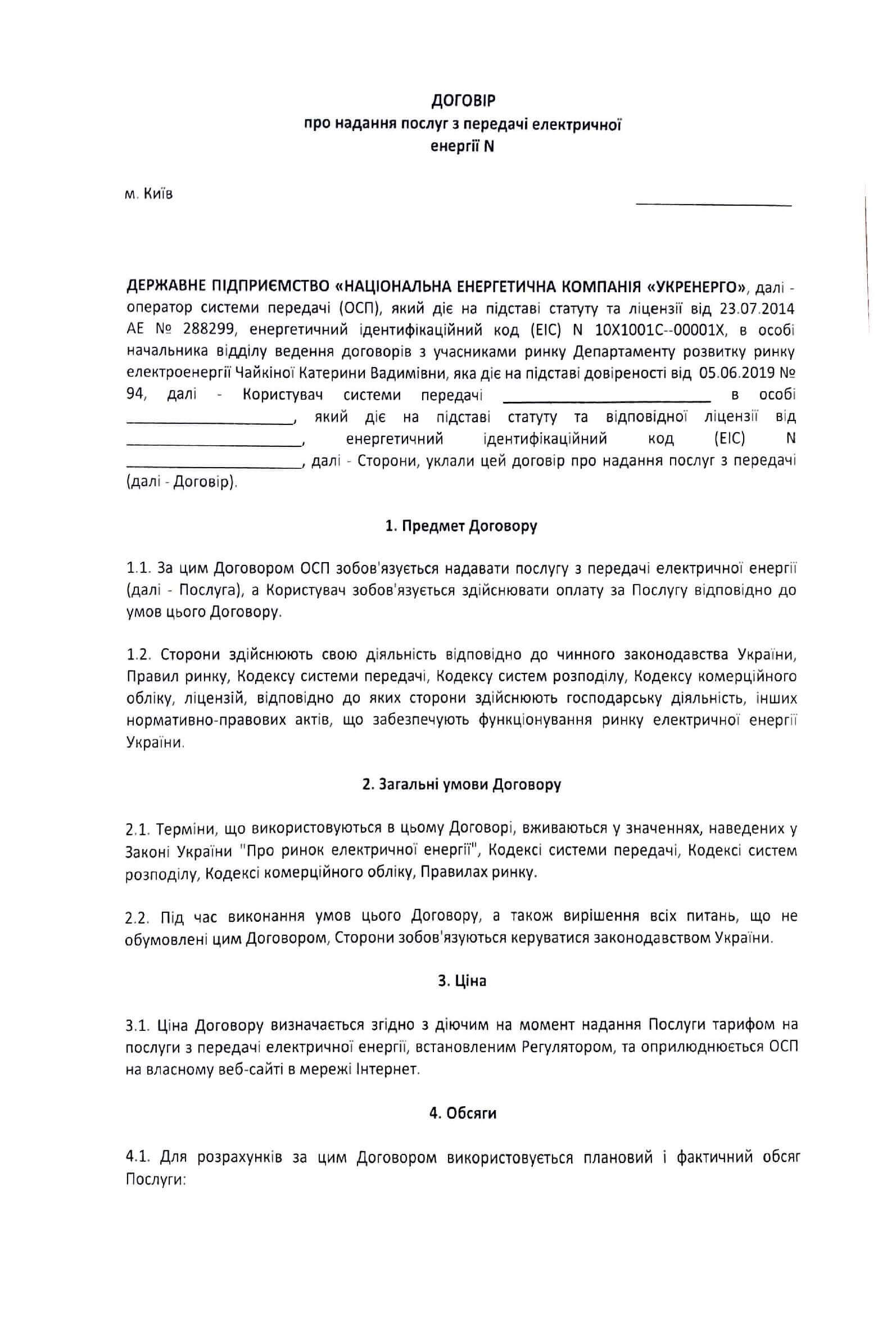 Reviews of our Clients
L. Chervonyuk, LLC "Vitalux"
Vitalux company highly appreciates results of cooperation with Law firm "Pravova dopomoga", can characterize it as a reliable partner and based on personal experience is ready to recommend it to interested persons...
General Manager Stashkevych I.Y., LLC "Trading company" Rud"
We would like to indicate that law firm "Pravova Dopomoga" has become a reliable partner for legal services provision and we can recommend it as a team of qualified professionals who are easy and pleasant to deal with
Partner, Denis Y. Lysenko, Vasil Kisil & Partners
... we would like to express our respect and gratitude for the fruitful cooperation.
... our work on joint projects assured us of your high level of professionalism

General director I.Logvinenko , Bravo Airways
Bravo Airways company expresses its gratitude to law firm "Pravova Dopomoga" for high quality and timely provision of legal services.

Chief ophthalmologist of Ukraine, Oksana Vitovska, All-Ukrainian alliance of ophthalmologists
We would like to express sincere gratitute to the team of Law firm "Pravova dopomoga" and personally to Volodymyr Gurlov for professionalism and purposefulness in your work.
President Tedeev E.S., Ukrainian wrestling association
Ukrainian wrestling association would like to express its sincere appreciation to the team of Law firm "Pravova Dopomoga" for mutually beneficial cooperation
G. Zeynep Kucuk, SANOVEL ILAC SAN. ve TIC. A.S.
Helped with the liquidation of a foreign representative office in Ukraine
General director Skibinskiy V., Yokogawa Electric Ukraine Ltd.
Yokogawa Electric Ukraine Ltd. recommends Vladimir Gurlov and his team of lawyers as a reliable legal partner and advisor for foreign businesses in Ukraine...
Today the energy sphere is of the greatest interest to foreign investors because an investor can quickly create such a business and effectively manage it, receiving a high profit.
The implementation of activities is based on two directions: resale of electric energy within Ukraine or/and direct supplies to Europe.
The electricity market has changed significantly over the last year. Entrepreneurs no longer focus solely on the end consumer as the main direction. The main task now is to buy electricity on auction platforms and resell it to other suppliers, or directly to end consumers.
Today we will focus on the most frequent customer questions and give details on all the nuances of entering the electricity market for foreign investors. How to work in the electricity market of Ukraine if you plan to sell energy abroad - to the EU?
You may also like: How to Obtain International Status for an EIC Code?

How to start an electricity supply business from Ukraine to Europe?
A client recently turned to us for advice on electricity market operations. He wanted to know more about the peculiarities of this sphere of activity and, most importantly, whether it was worthwhile for him to invest in starting a business. It was also agreed that if the client's decision is positive, we will register the company and include it in the electricity market of Ukraine.
First of all, it is necessary to register a legal entity, i.e. LLC under appropriate types of activity, such as supply or trading in electricity. If the documents are properly prepared, registration takes less than 3 days.
This is followed by the process of obtaining a license from the National Energy and Utilities Regulatory Commission (NEURC). For this purpose, our lawyers prepare the relevant documents and engage specialists to develop the site. Experienced lawyers know how to properly develop a website, and what information must be provided in accordance with license requirements. The process of review of documents at the NEURC takes about 2 weeks.
Please note! You can't obtain a license without a website.
The process of inclusion in the Ukrainian electricity market
After obtaining the license, the most important thing begins - the process of inclusion in the market.
To do this, you must first obtain an EIC code of type X - an identifier on the electricity market, a personal number of the market participant, which will be used when entering into any agreement. To do this, our lawyers register the client on the electronic platform and submit an application. It takes 4-5 business days.
The next step is to sign agreements with Ukrenergo, namely the agreement to provide energy transmission services, the agreement to provide dispatcher control services, and the agreement to settle imbalances. At the same time, the company is registered on the MMC platform.
This will allow access to the networks for the transmission of electric power. The procedure takes up to 10 business days.
This stage should be considered the first step in the market inclusion chain. After the conclusion of these agreements, the Ukrenergo website will display information about the LLC as a market participant, and this status will allow it to proceed to the next stage.
Next, it is necessary to conclude an agreement with the Market Operator.
To work with the Market Operator an account with a special mode of use is required, and the stage itself requires the preparation of a certain package of documents for the conclusion of agreements on the day-ahead market and on the intra-day market.
The day-ahead market allows for the purchase of power on the day on which a bid has been generated.
The intra-day market provides for the purchase of electricity for tomorrow.
Only after that access to the special Xtrade platform for the purchase of electricity will be provided.
Please note! The above special account is opened in one of two banks: JSC "Oschadbank" or JSB "Ukrgasbank", according to the legislation.
Accreditation at the Ukrainian Energy Exchange. Concurrently with the procedure of concluding an agreement with the JSC "Market Operator" it is possible to be accredited at the Ukrainian Energy Exchange. This is one of the platforms for the purchase of electric energy. To do this, it is necessary to correctly fill out an application, and a questionnaire and attach certified copies of documents for the participating company to the electronic office. After a few days, the company must be verified online. The head of the company personally undergoes verification by prior arrangement with the head of the Ukrainian Energy Exchange.
You may also like: New European Energy Auction Platform: How Do Ukrainian Electricity Suppliers Work with Europe?
How to buy electricity on the market for further activities?
There are several options:
Buying at Ukrainian Energy Exchange auctions. These auctions take place daily. You analyze the prices and set the bid nomination. You can buy from different sellers and for different periods, for example, for the 1st month or the 3rd. You buy under a bilateral agreement with the seller.
Buying under an OTC bilateral contract from another vendor.
Through the Xtrade platform.
Often clients have additional questions when starting: how do I get to know about this platform? How do I use it? What kind of employees should I find to run my business successfully?
Of course, you need specialists such as an accountant and a lawyer to run your business successfully. You also need to bring in someone who performs the back office function, both technical and documentary, particularly for contracting, platform work, client prospecting, etc.
Our company offers a full range of services using a combination of "lawyer + accountant".
The following actions can be performed through the Xtrade platform:
Buying on the intra-day market. To do this, we put the bid on the platform until 11:30 am today, and at 13:00 we receive information about the price, which was formed on a corresponding day.
Buying on the day-ahead market– 60 minutes before the close of trading (an hour before delivery), you put the bid for today. If you bought more on the intra-day market than you needed and there is a surplus of electricity, you can sell the surplus on the intra-day market.
Clients who work with us for obtaining relevant licenses and registration in the electricity market can also receive instructions for further work in the market, or order services to support work in the market.
What are the responsibilities of the company's owner (director) after obtaining the license and being included in the market?
It is necessary to remember about the necessity of reporting to NEURC - monthly, quarterly, and annually. There are many reports, all of which shall be submitted at a certain time in electronic format.
However, the absence of activity does not deprive you of the obligation to submit reports. There are heavy penalties for non-submission, which will hit even after six months (the amount of penalties is up to UAH 95,000).
When providing the comprehensive support services to a company, we fully assume this obligation.
You may also like: List and forms of Documents for Obtaining an Electricity Supply License
How to start a business and what accounts to open?
Companies actively operating in the market need to open:
current account;
an account with a special use regime;
ESCROW account.
Please note! Money should be credited through the current account of LLC or the authorized capital of LLC.
What is the most profitable type of activity in the electricity market?
Given the situation on the market, it is more profitable to sell electricity under a bilateral contract than to sell to end consumers.
With a bilateral contract, you immediately understand how much you are selling and approximately how much income you get each month.
Contracts with end consumers are a different story. Naturally, they have to provide a plan for the amount of electricity they consume, but they may consume more or less than declared. So you will have imbalances, and you have to join balancing groups.
However, it should be noted that end-user activities are to some extent more stable. After all, they will consume electricity monthly and for a long time, but bilateral contracts may be signed for a lump sum or a short period. Accordingly, this direction is more situational.
You may also like: Penalties in the Electricity Production and Supply Industry: How Not to Lose Your License?
Can one enter the European electricity market?
Yes! Our lawyers prepare the necessary documents to conclude an agreement for participation in cross-border power distribution and register it on the corresponding electronic portal. Specialists will also help with obtaining a special electronic certificate with a high level of protection for the successful use of the platform. Without this certificate, it is impossible to register on the portal, and without the portal, it is impossible for a company to bid in Europe.
At the moment, there are very few companies that have concluded appropriate agreements to enter the European market. This niche is promising and, as you can see, is not actively occupied.
Turning to us, you are guaranteed to get:
All issues solved in one place, including obtaining any licenses or permits for the business;
Ready website and staff training for further work in the electricity market;
Understanding how the market works and what will be beneficial for you.
Please note! We provide legal and accounting services for energy companies. You manage the business, and all the accounting and legal work is done by our specialists.
We aim not just to provide one particular service, but a comprehensive approach to achieving the Client's goals.
If you are intending to supply electric power to Europe from Ukraine or want to become a participant of the electricity market of Ukraine for trading in the domestic market, don't hesitate to contact us.
The cost of obtaining a license in Ukraine.
We are ready to help you!
Contact us by mail [email protected] or by filling out the form: