Structuring foreign business in Ukraine on real examples
Cost of services:
from 1600 USD
Legal support of investment activity in Ukraine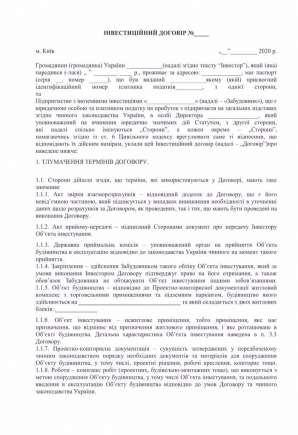 Reviews of our Clients
G. Zeynep Kucuk, SANOVEL ILAC SAN. ve TIC. A.S.
Helped with the liquidation of a foreign representative office in Ukraine
Chief ophthalmologist of Ukraine, Oksana Vitovska, All-Ukrainian alliance of ophthalmologists
We would like to express sincere gratitute to the team of Law firm "Pravova dopomoga" and personally to Volodymyr Gurlov for professionalism and purposefulness in your work.
General Manager Stashkevych I.Y., LLC "Trading company" Rud"
We would like to indicate that law firm "Pravova Dopomoga" has become a reliable partner for legal services provision and we can recommend it as a team of qualified professionals who are easy and pleasant to deal with
General director Skibinskiy V., Yokogawa Electric Ukraine Ltd.
Yokogawa Electric Ukraine Ltd. recommends Vladimir Gurlov and his team of lawyers as a reliable legal partner and advisor for foreign businesses in Ukraine...
Partner, Denis Y. Lysenko, Vasil Kisil & Partners
... we would like to express our respect and gratitude for the fruitful cooperation.
... our work on joint projects assured us of your high level of professionalism

General director I.Logvinenko , Bravo Airways
Bravo Airways company expresses its gratitude to law firm "Pravova Dopomoga" for high quality and timely provision of legal services.

L. Chervonyuk, LLC "Vitalux"
Vitalux company highly appreciates results of cooperation with Law firm "Pravova dopomoga", can characterize it as a reliable partner and based on personal experience is ready to recommend it to interested persons...
President Tedeev E.S., Ukrainian wrestling association
Ukrainian wrestling association would like to express its sincere appreciation to the team of Law firm "Pravova Dopomoga" for mutually beneficial cooperation
In the vast expanses of the Internet one can find a lot of materials about the importance of structuring a business. Many lawyers write about different aspects of structuring, but after reading complex legal texts this phenomenon does not become any clearer.
Are you a foreign or Ukrainian entrepreneur and want to scale your business in Ukraine? Below we will talk about restructuring in a simple way and provide some examples.
Restructuring is an organizational change in your business, driven by one of the four main goals:
business security;
tax optimization;
investment attractiveness;
company control.
Of course, there are other tasks, but first we need to deal with these basic ones. We will cover these issues in more detail below.
Safety of your business in Ukraine and diversification of risks
Your business in Ukraine is considered safe when notorious raiders can not attack and take it away. For our Clients we develop protected legal structures – a fortress with the main tower of the owner (the holding company), the buildings and facilities in accordance with their purpose:
a company, owning non-current assets;
land "bank";
"backup" companies; an importing company, et.
The fortress can only be entered through a fortified gate:
operating companies without significant assets;
special investment campaigns with well-developed internal documents;
legally prepared contracts with counterparties.
No one can just walk in and knock on the door of the main tower. You don't rent rooms in it to strangers.
How it works in practice: one of Ukraine's well-known lending institutions:
the main legal entity (which controlls others);
a separate legal entity for attracting investments (through loans and sale of corporate rights);
a company licensed to provide financial services (an operating company complying with the regulations of the National Bank of Ukraine);
a company owning real estate, which is legally accumulated on the profits of the operating company;
a company investing in FinTech.
How can we help?
We will build a legal "fortress" by:
developing a structuring strategy;
registering the necessary companies;
obtaining permits for their operation;
transferring assets into secure legal units;
reviewing internal documents and contracts.
You will safely and securely develop your business in Ukraine.
You may also like: Will the company's property be taken away if it has a Russian beneficiary?
Tax optimization in Ukraine through restructuring
This is the search for the point of least tax burden in your corporate structure (domestically, globally). The unit which is entitled to pay less tax will receive the main cash flow.
Example (domestic-Ukrainian optimization): having dinner in a restaurant, you will receive two checks (okay, if fiscal): Ukrainian borscht will sell you an individual entrepreneur (the third group of the simplified tax system with a tax rate of 5% of income), and the vodka will be in a separate bill issued on behalf of a limited liability company which has a license to trade in alcohol.
Another example (international optimization): a well-known software producer sells licenses in Ukraine on behalf of the Ukrainian LLC, and pays royalties to the parent company abroad, generating costs in Ukraine (and thus, within the legal limits, reducing profits).
This is possible through a careful and prudent restructuring of the business, if it helps to achieve the same point of the lowest tax burden.
What exactly do we do for our Clients?
We build from scratch or change the structure of your business so that you can legally pay less tax by:
registering companies;
developing bookkeeping;
freeing you from the need to learn Diia. City, CFC, BEPS, Directive 2015/121, as well as to check constant changes in VAT.
You do business, we eliminate tax inefficiencies.
You may also like: How to Withdraw Money from Ukraine? Repatriation Tax
Investment attractiveness of your business in Ukraine after its structuring
If the business has accumulated a dozen LLCs for different projects (without a hierarchical structure), each plant shop was purchased separately by different legal and physical persons, permits are held by one company, and machines and mechanisms of increased danger are owned by another, land is still unregistered (because the local council is dragging its feet on the bump), the director of the trading company is a neighbor (because she took accounting courses), and the beneficiary manages purely conceptually, because "they are all close people", then the investment presentation will be a difficult case. Of course, we exaggerated, but the real situation in the eyes of the investor may not be far from absurd. Though the business is really attractive for investors.
Despite the Ukrainian investment market's young age, investors learn quickly, so they want to see comprehensible legal mechanisms and invest in something real: not in a "shell", but in a company with assets and a real business with turnover.
If an investor is interested in a single unit of your business, it is better if this unit is relatively autonomous and can be adequately evaluated (e.g. by creating an SPV).
In this case we make your business transparent without affecting operational processes :
We set up a corporate structure;
We streamline the accounting system;
We make understandable contracts that you'll be proud to show to investors.
A nicely "packaged" business becomes much more expensive.
Example: a well-known project in the western region of Ukraine offers investors the following scheme for investing in the development of an innovative business park:
A Corporate Investment Fund (CIF) finances a limited liability company that owns a construction/reconstruction project, with private investors willing to invest more than UAH 1.8 million being offered to buy shares in such a CIF.
Smaller investors (approximately UAH 50,000) are offered to buy a stake in a separate limited liability company, which has no assets, but plans to receive dividends from its cooperation with the CIF.
The stake bought in such LLC is transferred to the management of persons connected with the project. It is also assumed that an operator managing the real estate will participate in the structure.
You may also like: How Can A Company Raise Private Financing in Ukraine?
Your control over the business in Ukraine by restructuring
Let's start with an example: the legal department of a well-known global producer of household goods reports directly to the head office in Germany, not to the director of a Ukrainian LLC.
Or another situation: a manufacturer of building materials has a separate legal entity for each line of business, they all have different directors, but report to the regional head, who reports on behalf of the parent company.
A third example: a global truck manufacturer has different legal entities with independent management for distribution, leasing, and retail sales.
The specifics of your business require more freedom for regional managers, or you want to build a vertical structure - we can help you develop a legal basis for your sense of control. Every step of your business will have its own responsible and controlling person within the same company or within a group of companies.
How do we do it?
We'll work on your charters;
We will develop internal policies;
We'll pay attention to job descriptions;
We'll help you properly employ your managers;
We will register a corporate "reorganization".
All these examples show how entrepreneurs may benefit from restructuring business in Ukraine. Of course, it is impossible to consider all options, possibilities, examples and tools in one material on the website.
We have provided the most popular examples and successful cases to demonstrate how it works and why it's worth your attention.

Important! Before starting a business, we can offer such an option as Activity Planning. This is suitable for those entrepreneurs who are not completely sure whether starting a business will be financially beneficial for them. And also for those who have a plan to work in Ukraine, but are not sure exactly which option to start their activity is best suited. If you want to invest your funds in Ukraine for sure - start with a preliminary calculation of the risks and opportunities, choose the best option from our options. And then we will help make it all a reality.
If you want to get an assessment of the need to restructure your business for any of the reasons given - please contact our experts for a personal consultation.
Didn't find an answer to your question?
Everything about foreign business in Ukraine.
Everything about doing business in Ukraine.
We are ready to help you!
Contact us by mail [email protected] or by filling out the form: