Residence permit in Ukraine through participation in a religious organization
Cost of services:
starts at 800 USD
TRP on the basis of work in Ukraine
from 600 USD
Residence permit extension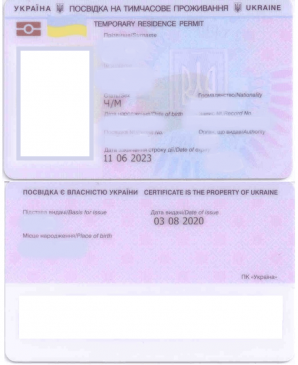 Reviews of our Clients
Daniel Holmes, Citizen of USA
Based on our positive experience of cooperation with Volodymyr Gurlov and his team we can recommend them as a reliable legal advisor on the matters of Ukrainian law...
Over the years of Ukraine's independence, a diverse and dynamic range of religious groups have developed, with the Orthodox Church being the dominant sector. Currently, there are over 120 different denominations and religious groups in the country, including:
More than 60 Christian denominations;
9 Muslim groups;
7 Jewish groups;
Over 10 of oriental origin;
Over 5 (neo)pagan groups and others
In our country, there are about 90 different religious centers, around 370 missions, and almost 90 brotherhoods.
Of course, religious organizations are not limited to the borders of the state. Their activities, if not prohibited by law, usually extend not only to a significant part of the country but also to several continents.
Ukraine has legislative regulations in place for foreign nationals and stateless persons who come to the country for the purpose of:
preaching religious teachings,
performing religious ceremonies,
conducting other canonical activities.
Such individuals have the opportunity to obtain a temporary residence permit in Ukraine based on their activities in a religious organization.
You may also like: Temporary Residence Permit in Ukraine for a Pastor
Procedure for obtaining a temporary residence permit in Ukraine through a religious organization
For this category of individuals, it is mandatory to obtain a long-term D-06 visa, except for citizens of countries that have signed corresponding international agreements (such as Azerbaijan, Armenia, Georgia, Moldova, Uzbekistan, and some others).
In addition to a passport and medical insurance policy covering the entire period of stay, obtaining a residence permit requires approval from the state authorities responsible for registering such a religious organization.
And of course, a letter of recommendation from the religious organization is submitted to the immigration service, outlining the reasons for the foreigner's stay and the organization's obligations towards the foreigner.
Our lawyers have successfully supported and processed documents for the stay of nuns from Poland and Slovenia who were conducting religious activities in one of the Ukrainian Catholic churches. Before turning to us, they had been denied. It is often an extremely complex task for foreigners with minimal knowledge of the Ukrainian language and little familiarity with bureaucratic processes, legislative, and legal requirements to prepare and submit all documents independently.
Our company's specialists prepared a corresponding request to the regional state administration regarding the approval of the stay of foreign citizens in Ukraine for the purpose of conducting religious activities. After receiving a positive response, a petition from the religious organization was developed, and other documents were processed for submission to the migration service. Within a month, all the nuns received a residence permit in Ukraine.
The next step involved helping them register their place of residence. We discovered that the cells in the monastery didn't qualify as residential areas. Without our assistance, they would have been rejected again.
Our team offers a range of services to religious organizations in Ukraine that need help obtaining permits. These services include:
assisting with obtaining certificates through religious organization activities;
monitoring expiration dates;
ensuring timely receipt of documents;
submitting documents for renewing certificates;
canceling temporary certificates for foreign nationals whose religious activities in Ukraine have ended;
obtaining visas and permits for other members of the organization, and more.
Our company's specialists take care of all legal issues, so you can focus on what matters most to you.
If you're interested in obtaining a temporary residence permit, you can find the cost information here.
We are ready to help you!
Contact us by mail [email protected] or by filling out the form: