Residence permit in Ukraine for volunteering for countries with a visa entry procedure
Cost of services:
starts at 800 USD
TRP on the basis of work in Ukraine
from 600 USD
Residence permit extension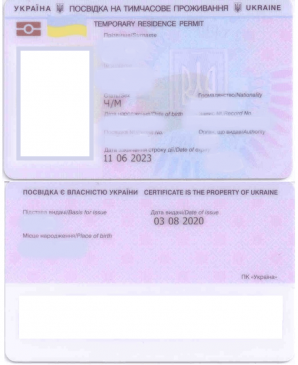 Reviews of our Clients
Daniel Holmes, Citizen of USA
Based on our positive experience of cooperation with Volodymyr Gurlov and his team we can recommend them as a reliable legal advisor on the matters of Ukrainian law...
The issue of obtaining a Temporary Residence Permit for Volunteer Activities in Ukraine is gaining urgency. Today, dozens and hundreds of volunteers come to Ukraine, and some of them intend to stay even after the war. In addition, work in a volunteer organization is a direct basis for obtaining a Residence Permit.
Today, we will elaborate on the procedure, limitations and advantages of the Residence Permit.
You may also like: Residence Permit in Ukraine for Foreign Fighters
Temporary Residence Permit in Ukraine for a volunteer
A citizen of Egypt turned to our company for obtaining a Residence Permit due to his participation in a volunteer program of a Ukrainian organization.
He already had preliminary agreements with a charitable organization ready to cooperate with him. Our specialists have studied the documents of the organization for compliance with the necessary requirements:
The Charter must contain information on the activities related to providing volunteer assistance;
Information about the organization must be published on the official website of the Ministry of Social Policy.
Our law firm cooperates with many organizations, which have appropriate documents for carrying out volunteer activities and organize various programs involving volunteers. In addition, we have extensive experience in establishing charitable organizations for further cooperation with foreign volunteers. Therefore, for those foreigners who do not yet have a proven organization for cooperation, we can offer other options.
The next step for our Client was to get a D-10 visa at the Ukrainian consulate. When preparing the documents, please check the expiration date of your passport - if its validity period is less than a year, and if you don't have at least two blank pages - you must obtain a new passport first.
The visa was issued on the basis of the invitation of the organization, which attracts volunteers to its activities, and a copy of the certificate of state registration of such an organization. In the Client's case, our lawyers prepared documents for getting a visa through the VFS Visa Application Center (including a correctly prepared invitation).
The Client obtained a long-term visa for 90 days. After that he entered Ukraine.
Please note! You must cross the Ukrainian border after the visa starts, because very often foreigners hurry up and do it earlier. But this fact will be the basis for rejection of documents for a Residence Permit - you must enter Ukraine with a valid visa, i.e. after the date indicated on the visa label.
The following documents must be submitted to the migration service:
a passport, including its translation into the Ukrainian language;
documents confirming payment of the administrative services fee and state duty;
health insurance policy for a foreigner for 1 year;
an application of the organization for participation in the volunteer program, to which the foreigner came;
certificate of state registration of the organization.
We help the Client to monitor the progress of consideration of the documents for obtaining the Permit, and we inform in advance where and when he/she can receive the issued document. We also provide information about the procedure and terms of residence registration in Ukraine in advance and help with its implementation.
Due to the outbreak of war in Ukraine, the agencies of the Migration Service temporarily stopped accepting documents for issuing Residence Permits to foreigners. Nevertheless, gradually state agencies are establishing work on providing administrative services to citizens of Ukraine. Services for foreigners are next in line.
Already today you can contact us to prepare your documents to be the first to obtain a Residence Permit in Ukraine, as soon as the State Migration Service starts working.
You can check the cost of a Residence Permit for Ukraine here.
Didn't find an answer to your question?
Everything about the procedure for obtaining a Temporary Residence Permit in Ukraine here.
We are ready to help you!
Contact us by mail [email protected] or by filling out the form: