Business planning for foreign business in Ukraine
Cost of services:
from 1600 USD
Legal support of investment activity in Ukraine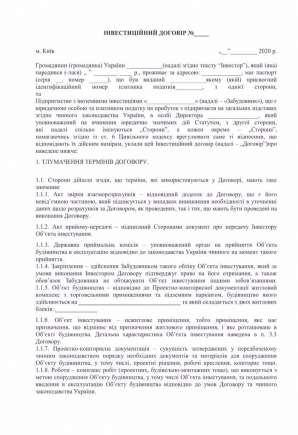 Reviews of our Clients
Partner, Denis Y. Lysenko, Vasil Kisil & Partners
... we would like to express our respect and gratitude for the fruitful cooperation.
... our work on joint projects assured us of your high level of professionalism

President Tedeev E.S., Ukrainian wrestling association
Ukrainian wrestling association would like to express its sincere appreciation to the team of Law firm "Pravova Dopomoga" for mutually beneficial cooperation
General director I.Logvinenko , Bravo Airways
Bravo Airways company expresses its gratitude to law firm "Pravova Dopomoga" for high quality and timely provision of legal services.

General director Skibinskiy V., Yokogawa Electric Ukraine Ltd.
Yokogawa Electric Ukraine Ltd. recommends Vladimir Gurlov and his team of lawyers as a reliable legal partner and advisor for foreign businesses in Ukraine...
General Manager Stashkevych I.Y., LLC "Trading company" Rud"
We would like to indicate that law firm "Pravova Dopomoga" has become a reliable partner for legal services provision and we can recommend it as a team of qualified professionals who are easy and pleasant to deal with
G. Zeynep Kucuk, SANOVEL ILAC SAN. ve TIC. A.S.
Helped with the liquidation of a foreign representative office in Ukraine
L. Chervonyuk, LLC "Vitalux"
Vitalux company highly appreciates results of cooperation with Law firm "Pravova dopomoga", can characterize it as a reliable partner and based on personal experience is ready to recommend it to interested persons...
Chief ophthalmologist of Ukraine, Oksana Vitovska, All-Ukrainian alliance of ophthalmologists
We would like to express sincere gratitute to the team of Law firm "Pravova dopomoga" and personally to Volodymyr Gurlov for professionalism and purposefulness in your work.
Ukraine is steadily striving for an investment boom, the blossoming of classic industries and the emergence of a new generation of businesses. We are already seeing signs of renewal and investor interest in business areas with the highest growth potential.
Buoyed by new challenges, the Ukrainian economic and legal environment will be rapidly transforming, which will require businesses to rethink their planning approaches. As always, in times of change, quality analytics becomes crucial. Further on we will tell what foreign businesses should pay attention to while planning their development in Ukraine and how we can help in this issue.
What a business development plan must take into account in Ukraine
When developing a business plan, we help our Clients to work through the following issues:
what organizational form and corporate structure of the business will be most effective in a particular case (more about structuring here);
the level of tax burden;
how the fixed assets of the business will be recorded;
what sources of funding are allowed by law;
how the business will be protected from unfair competition, raiding;
how employees will be registered (employment, contracts with sole proprietors, GIG-contracts);
what licenses and permits will be required;
At first glance, most questions may seem to be purely legal, but other aspects of future activities will depend on the answer.
Example from our practice: A Client has planned to build a luxury cottage community and asked to develop the legal part of the business plan. The most important thing in such business is to choose the right land plot, which would meet the status of the project, fit the intended purpose and have a transparent history. When we decided on the first step, the question of legal planning for future construction arose. An important aspect was that the developer intended to attract investment in the initial stages of the project.
Lawyer's comment: The construction market of Ukraine offers several investment options permitted by law. For example, mechanisms for raising funds through joint investment institutions can be interesting in terms of taxation, but organizationally relatively complicated, so their advantages can be seen only at scale. The format of selling to investors the property rights to future facilities or entering into preliminary purchase and sale agreements may become simpler under certain conditions. Despite the low level of legal protection for investors and the intention of the legislator to change the rules, these options remain popular among real estate developers.
Based on the results of the analysis, we have decided on the project format: in coordination with the notary, we have developed a complex scheme under which investors will be able to register their title to the commissioned facilities, as well as to transfer the land plots underneath the houses. In its turn, the management company of the cottage town shall be in charge of the maintenance of the infrastructure of the cottage town, which also undertakes the functions of the construction client and infrastructure issues.
Then there is the issue of organizing cooperation with designers, contractors and other participants in the construction and obtaining permits. In this general description we will skip the matters of registering employees, setting up accounting, registration of necessary business entities, which we also do for our Clients.
After developing a detailed legal plan, the project team conducted an economic analysis and began preparing marketing materials and attracting investors.
Why was it important to develop the legal aspects first? Because they directly affect, at the very least, the implementation time and costs of the project, as well as the interest of investors to finance the idea.
You may also like: HR Accounting for Foreign Business in Ukraine
The legal path must be consistent with the business goals in Ukraine
It is no news that a businessman should know the purpose of his project, have economic calculations and prospects. The legal aspects are usually given less attention, which may cause inconvenience in the future. We always check with our clients about their business goals, even if the Client already has a preliminary vision of the legal scheme.
A few examples from our experience:
If an IT startup wants to focus on foreign markets and attract foreign investors, its founders should think about incorporation in jurisdictions closer to customers. In this case, in Ukraine you can focus only on hiring employees and settling relationships with local counterparties. Before active expansion one should also make sure that intellectual property rights are legally protected;
The Client has planned to work in Ukraine through a foreign representative office, but from the specifics of planned activities we see that it is necessary to register a subsidiary company in the form of LLC in Ukraine (if, for example, the plant needs a permit to operate, which cannot be issued to the representative office), whether it is necessary to build a corporate structure with several functional elements (if there is a risk of raider attacks, for example);
Or vice versa, if the Client wants to start with cautious attempts to work on the Ukrainian market (has time and resources to undergo appropriate registration), then you can initially limit the work of the representative office of a foreign company in Ukraine;
The Client wants to buy a production facility and is offered to buy a share in the company with non-transparent corporate history, while under certain conditions it is safer to buy only real estate.
Please note! If you plan to buy an existing Ukrainian business, the first step should be a legal audit.
How we will help: understanding the nuances of different businesses and having powerful analytics, our company always recommends the most optimal legal route. We practice a commercial approach to legal matters and develop quality business plans for our clients.
We can also reduce formal client involvement in atypical activities by offering business process outsourcing. The company handles the core business, and outsources the secondary tasks to us: legal services, accounting and personnel accounting, licenses, permits, access to specialized venues and exchanges. In this way the business minimizes legal risks, while concentrating on primary tasks.
Business planning is a guarantee that you will not lose extra money and time for business development in Ukraine. You at the start will understand the risks, the legal aspects of such a business in Ukraine, the possible obstacles or vice versa – profit.
We offer a range of services, according to which you can choose exactly the direction that suits you:
Starting a foreign business in Ukraine.
Legal support of investments and investment projects in Ukraine.
Business legal support in Ukraine.
Or contact our specialists to form a personal offer for solving your legal problems. We make it easy and convenient.
We are ready to help you!
Contact us by mail [email protected] or by filling out the form: