How to indicate the profession correctly in the draft of employment agreement for the employment of Ukrainian citizens with the foreign employers
Cost of services:
from 24 000 UAH
Lisence with our partner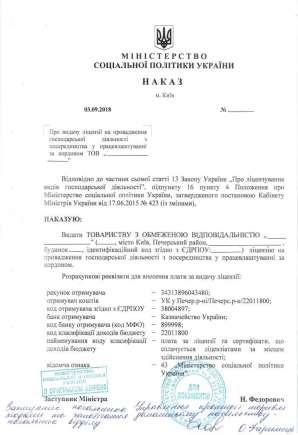 Reviews of our Clients
G. Zeynep Kucuk, SANOVEL ILAC SAN. ve TIC. A.S.
Helped with the liquidation of a foreign representative office in Ukraine
General Manager Stashkevych I.Y., LLC "Trading company" Rud"
We would like to indicate that law firm "Pravova Dopomoga" has become a reliable partner for legal services provision and we can recommend it as a team of qualified professionals who are easy and pleasant to deal with
Chief ophthalmologist of Ukraine, Oksana Vitovska, All-Ukrainian alliance of ophthalmologists
We would like to express sincere gratitute to the team of Law firm "Pravova dopomoga" and personally to Volodymyr Gurlov for professionalism and purposefulness in your work.
Partner, Denis Y. Lysenko, Vasil Kisil & Partners
... we would like to express our respect and gratitude for the fruitful cooperation.
... our work on joint projects assured us of your high level of professionalism

General director I.Logvinenko , Bravo Airways
Bravo Airways company expresses its gratitude to law firm "Pravova Dopomoga" for high quality and timely provision of legal services.

President Tedeev E.S., Ukrainian wrestling association
Ukrainian wrestling association would like to express its sincere appreciation to the team of Law firm "Pravova Dopomoga" for mutually beneficial cooperation
L. Chervonyuk, LLC "Vitalux"
Vitalux company highly appreciates results of cooperation with Law firm "Pravova dopomoga", can characterize it as a reliable partner and based on personal experience is ready to recommend it to interested persons...
General director Skibinskiy V., Yokogawa Electric Ukraine Ltd.
Yokogawa Electric Ukraine Ltd. recommends Vladimir Gurlov and his team of lawyers as a reliable legal partner and advisor for foreign businesses in Ukraine...
The trend to work abroad will probably never disappear. After all, behind it is the desire to receive decent wages for one's work and interest in the quality of life abroad.
Representatives of common occupations, such as, for example, an accountant or a doctor, usually do not have problems in defining their occupation in the process of filling out the documents necessary to complete an employment contract. But what are representatives of non-standard occupations supposed to do?
Today, I would like to share my practice on the correct execution of drafts of employment contracts for the most common and at the same time non-standard occupations and how to correctly indicate these in the draft of a labor contract.
This material will be useful for anyone who wishes to carry out activities related to the mediation of employment abroad, since all these aspects should be taken into account when drawing up foreign economic contracts.
Related article: Helped to draft a foreign economic contract for an employment agency
What to remember first?
When agreeing on a draft labor contract with a foreign partner, one should keep in mind an important nuance: the occupation of the employee to be hired must be present in the Dictionary of Occupational Titles of Ukraine, and the foreign partner's type of activity must be corresponding.
Let's look at some examples.
Picking fruits and vegetables
Such activity as, for example, strawberry picking, is perhaps the most popular type of seasonal work. We look it up in the above dictionary. If you hope to find the occupation of a fruit picker listed in there, don't put your hopes up. The same is the case for a vegetable picker. There is just a "vegetable grower" and a "fruit grower" listed.
If the employee is entrusted with the function of not only collecting vegetables, but also performing some kind of complex agricultural. work, then as an option, you can specify them as "a farm machinery all-inclusive service worker". It sounds more respectable than just a vegetable/fruit/berry picker, just to name a few.
Therewith, a foreign employer should carry out a corresponding type of activity: agricultural production and things like that. This type of activity should be indicated in the registration document of the foreign employer - an extract from the trade, court or other register.
Dancers
This category is quite popular among both employers and those who want to go abroad for employment.
In the dictionary, there is an "artist" and an "ensemble artist" listed. Accordingly, the types of activity the foreign partner carries out must be related to the area of culture.
A Laborer
Persons who perform several related functions fall into this category. For example, those who unload a certain amount of goods, sort it, keep the facilities clean.
According to the dictionary of occupations, the most suitable tittle for it is "an unskilled worker". As for the types of activities of a foreign partner, in this case, any of the options that will at least to some extent reflect the activities of the employee is suitable.
Related article: Our lawyers helped to get an employment agency license for a client with the foreign counterpart in Czech Republic
A Construction worker
This may surprise someone, but there is no "construction worker " occupation listed in the dictionary of occupational titles. But there is "a civil engineer", "a construction technician", "a construction manager", as well as painters, stucco worker, facers, just to name a few. It is necessary to pick the option that will most fully reflect the activities of the employee. A foreign partner's activities must be related to construction.
What to do if the question arises about the wording of the occupation title?
It is on the basis of the above principle that the most suitable titles of occupations are selected and then indicated in the employment contract between the potential employee and the foreign employer.
If you need help in finding employment or drawing up a contract for employment in the areas of IT, crewing, sports or any other category, you can contact our specialists to get help on this.
We are ready to help you!
Contact us by mail [email protected] or by filling out the form: