Crypto Companies: Licensing Requirements in Different Countries
Cost of services:
from 500 USD
Choice of jurisdiction
from 2000 USD
Business relocation
from 500 USD
Bank account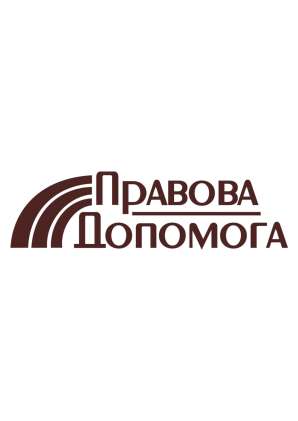 Reviews of our Clients
General director Skibinskiy V., Yokogawa Electric Ukraine Ltd.
Yokogawa Electric Ukraine Ltd. recommends Vladimir Gurlov and his team of lawyers as a reliable legal partner and advisor for foreign businesses in Ukraine...
Chief ophthalmologist of Ukraine, Oksana Vitovska, All-Ukrainian alliance of ophthalmologists
We would like to express sincere gratitute to the team of Law firm "Pravova dopomoga" and personally to Volodymyr Gurlov for professionalism and purposefulness in your work.
General Manager Stashkevych I.Y., LLC "Trading company" Rud"
We would like to indicate that law firm "Pravova Dopomoga" has become a reliable partner for legal services provision and we can recommend it as a team of qualified professionals who are easy and pleasant to deal with
L. Chervonyuk, LLC "Vitalux"
Vitalux company highly appreciates results of cooperation with Law firm "Pravova dopomoga", can characterize it as a reliable partner and based on personal experience is ready to recommend it to interested persons...
General director I.Logvinenko , Bravo Airways
Bravo Airways company expresses its gratitude to law firm "Pravova Dopomoga" for high quality and timely provision of legal services.

G. Zeynep Kucuk, SANOVEL ILAC SAN. ve TIC. A.S.
Helped with the liquidation of a foreign representative office in Ukraine
President Tedeev E.S., Ukrainian wrestling association
Ukrainian wrestling association would like to express its sincere appreciation to the team of Law firm "Pravova Dopomoga" for mutually beneficial cooperation
Partner, Denis Y. Lysenko, Vasil Kisil & Partners
... we would like to express our respect and gratitude for the fruitful cooperation.
... our work on joint projects assured us of your high level of professionalism

A cryptocurrency license is an official authorization that allows companies to conduct business activities involving virtual assets. With this license, companies can:
exchange virtual currency for traditional fiat currency;
trade different types of cryptocurrencies;
store digital assets for clients;
transfer cryptocurrencies between wallets;
list tokens;
issue their own digital currencies.
The process of obtaining a cryptocurrency license can be complex and varies depending on the laws and regulations of each country.
Companies seeking a license must meet specific requirements regarding:
the size and liquidity of its capital;
the organizational and legal form of the business;
the beneficiaries and founders of the company, its legal address, and its cryptocurrency account.
Companies engaged in cryptocurrency trading must also comply with identity verification procedures for their clients, as mandated by the KYC and AML policies established by the law.
If you're planning to set up a cryptocurrency company abroad and obtain a license, it's important to start by selecting the right jurisdiction. Our company can provide information on the most suitable jurisdictions for obtaining a cryptocurrency license around the world.
Of course, your choice of jurisdiction will also depend on various factors, such as your personal circumstances. We can help you make an informed and safe choice, and we can even assist with registering your cryptocurrency company overseas.
You may also like: Where can Ukrainian Entrepreneurs Register a Cryptocurrency Company?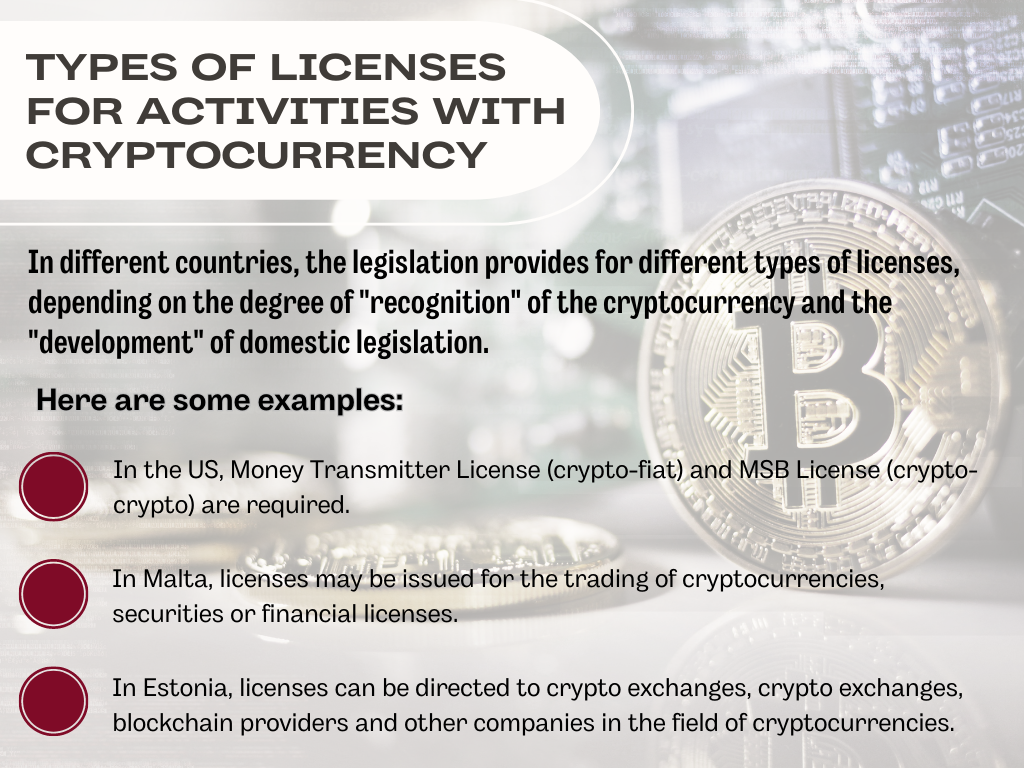 When is a license required for a cryptocurrency company?
The need for a license usually depends on the legal requirements of a particular country.
For example, in Malta, Cyprus, and Andorra, it depends on whose cryptocurrency is being used in the business:
If the company is using its own cryptocurrency (i.e. owned by shareholders), a license is not required.
If the company is using cryptocurrency owned by third parties (i.e. investors), a license is needed.
If a license is not required, then the company can be registered as a regular business without any special procedures.
If a license is needed, then it's important to carefully consider the organizational and legal form of the company. For example, in Cyprus, it may be worthwhile to consider an AIF-LNP (Alternative Investment Fund with limited number of persons).
In Estonia, all companies involved in any cryptocurrency activity are currently required to obtain licenses. According to their legislation, any "service for the exchange of virtual assets" must be licensed.
In Gibraltar, operations for the exchange of crypto-fiat and fiat-crypto do not require licensing.
Types of licenses for crypto activities
Different countries have different types of licenses depending on the level of recognition of cryptocurrencies and the development of internal legislation. For example:
In the US, licenses are divided into Money Transmitter License (for crypto-fiat transactions) and MSB (Money Service Business) License (for crypto-crypto transactions), depending on the type of operations planned.
In Malta, licenses may be for trading cryptocurrency, trading securities, or financial licenses (if cryptocurrency is recognized as a payment instrument), depending on the legal qualification (nature) of the cryptocurrency under the legislation of certain countries.
In Estonia, licenses may be issued for crypto exchanges, blockchain providers, companies that accept crypto payments, miners, and investment funds, depending on the type of activity of the company.
You may also like: Unlocking Banking for Crypto Companies: Where and How to Open an Account
Is it necessary to immediately get a license for activities with crypto?
In general, each company decides for itself whether it needs to obtain a license depending on the type of activity it engages in.
However, if a company that requires licensing begins its operations without obtaining one, it may run into problems with banks or payment systems.
There have been cases where banks or payment systems allowed account opening to attract customers, waited for funds to be deposited, and then blocked the account and demanded that the customer obtain a license. If obtaining a license is impossible or expensive, large fees (up to 30,000 euros) were charged for the ability to unblock the account and withdraw funds to another financial institution.
To avoid such situations, it is recommended to:
Either obtain a license (and bear all associated expenses) if the chosen jurisdiction requires licensing for the type of activity being carried out.
Or to choose a country with a clear regulatory framework in advance that recognizes cryptocurrency and crypto operations and does not require licensing.
Our company will help you first determine which option is right for you, and then help bring it to life.
Our services include:
Choosing a jurisdiction to register your company for cryptocurrency trading
Determining if a license will be required (depending on the country where the company is registered)
Consulting on licensing requirements and supporting the licensing process
Negotiating with banks on the company's requirements and planning the business structure to meet those requirements
Assisting with opening accounts and setting up cryptocurrency deposits
Structuring business financing and profit withdrawal
The cost of registering a company abroad can be found here.
The cost of obtaining a license for a crypto company will depend on the jurisdiction you choose.
Want to start your business safely and thoughtfully? Don't hesitate to contact us!
We are ready to help you!
Contact us by mail [email protected] or by filling out the form: