Security services for the restricted access facilities: what is the right way to register them officially?
Cost of services:
10000 UAH
Basic cost of a security license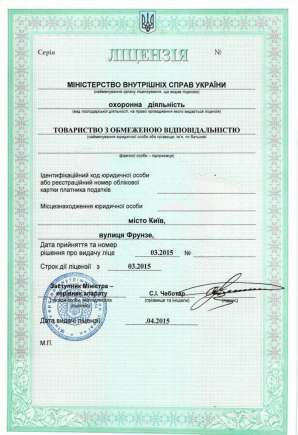 Reviews of our Clients
Director M. Kasyan , LLC "Security company "Hermes Security"
The services were provided in timely manner and we got the license for what we are grateful to our partner....
Director A. Berezko, LLC "Security agency "Bezpeka"
We enjoyed cooperation with the law firm "Pravova dopomoga" and would like to recommend this firm as a reliable partner in the field of security activities licensing ...
Director M. Naumenko, LLC "Respect MRG"
During our first conversation with Volodymyr Gurlov we understood that unlike other companies their team is professional, competent, attentive and treat Clients with respect and patience...
Director Danko Petro Pavlovych, Quick response forse "Tiger" LLC
Quick response forse "Tiger" LLC expresses gratitude to Law firm «Pravova dopomoga» for long-term cooperation, which brings only positive results.
Director Melnyk O.V., LLC "SECURITY COMPANY "SICH"
... Lawyers of the legal firm "PRAVOVA DOPOMOGA" provided legal help in seeking a specialist in organizing protection measures and obtaining the necessary license within tight deadline.
Our company receives requests from enterprises and individuals who want to provide protection for restricted access facilities. As a rule, they are interested in the following questions:
What are the regulations for this kind of activity?
What permits do you need to get?
Can this kind of protection be provided by a private security company?
Today we will try to answer all of these questions and clarify the possibility to conduct such activities.
Related article: Public formations for the protection of public order and the state border: special aspects of registration
What is "a restricted access facility"?
The legislation does not define the term "a restricted access facility". It is common to refer to any facility of a particular strategic importance to the state or in which that, which is a source of increased danger, is stored, as a restricted access facility.
According to Art. 15 of the Law of Ukraine "On State Protection of State Authorities of Ukraine and Officials", the facilities maintain an appropriate mode of passage, drive-through, transfer and transportation of things. Obviously, it is because of the need to maintain a certain level of access the name " a restricted access facility" has taken root.
Types of restricted access facilities. The Cabinet of Ministers of Ukraine has established a list of categories of facilities that must be guarded by security police. They can be called typical restricted access facilities. In total, there are currently eighteen categories, which include:
Facilities of strategic importance to the economy and security of the state;
especially important facilities of the electric power industry;
facilities where departmental weapons are stored;
facilities in which state agencies are located (according to the proposals / appeals of their chairmen);
and others.
Related article: License conditions for security activities will be amended
Protection of restricted access facilities
In general, restricted access facilities should be guarded by security police - a special structure of the National Police of Ukraine. In cases stipulated by law, certain facilities must be guarded by the State Guard Administration, the Security Service of Ukraine, the authorized body for state border protection, etc.
However, lately, requests for the protection of special-purpose facilities by private security services have been increasing. Therefore, we are going to consider how practical this is and what is needed for this.



Restricted access facilities and their protection by private security services
If the facility does not fall under the list of the facilities that must be guarded by the National Police, the State Guard Administration or other militarized state structures, the administration of this facility may conclude an agreement with private security services.
But first, to do this it is necessary to conduct a tender, under the terms of which private security agencies that want to protect such facilities must comply with the requirements stated in the tender documentation.
Important! The security of each particular facility may have different requirements for the security service. In particular, regarding:
the number of security personnel;
their experience in this field;
special security equipment;
vehicles for quick response, etc.
Related article: We have obtained the licenses for five private security firms with the same security specialist
Sometimes a certificate of experience in the implementation of a similar contract is required. A certificate form is attached immediately to the tender documentation, where you must also indicate the address of the facility under protection (what exactly was protected).
Since the facilities are significantly different from each other, there is no single set of requirements for those wishing to win a tender. For example, on September 17, 2019, an auction will begin to protect the Memorial to the victims of totalitarianism and political repression in Kharkov. This tender is conducted by the municipal enterprise "KP "Ritual" of the Kharkiv City Council and among the requirements, only the ones for personnel and experience of the security service on similar projects are listed.
The only invariable condition for the provision of security services for both natural persons and for facilities is the availability of a license to carry out security activities, since such activities in Ukraine are to be licensed.
Without this license available, you should not even hope for admission to the protection of any facilities at all. You can learn about the process of obtaining this license and its stages on our website, on the services page or in the "Useful Information" section.
If you need more information on this issue, or help in obtaining a license and winning a tender, you can contact thespecialists of our company.
We are ready to help you!
Contact us by mail

[email protected]

or by filling out the form:
We are ready to help you!
Contact us by mail [email protected] or by filling out the form: