Private protective services: the latest amendments in legal regulation in Ukraine
Cost of services:
from 6000 UAH
Basic cost of a security license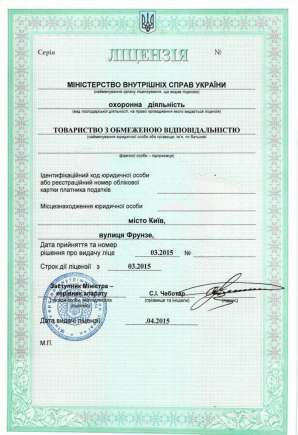 Reviews of our Clients
Director M. Kasyan , LLC "Security company "Hermes Security"
The services were provided in timely manner and we got the license for what we are grateful to our partner....
Director A. Berezko, LLC "Security agency "Bezpeka"
We enjoyed cooperation with the law firm "Pravova dopomoga" and would like to recommend this firm as a reliable partner in the field of security activities licensing ...
Director M. Naumenko, LLC "Respect MRG"
During our first conversation with Volodymyr Gurlov we understood that unlike other companies their team is professional, competent, attentive and treat Clients with respect and patience...
Director Danko Petro Pavlovych, Quick response forse "Tiger" LLC
Quick response forse "Tiger" LLC expresses gratitude to Law firm «Pravova dopomoga» for long-term cooperation, which brings only positive results.
Director Melnyk O.V., LLC "SECURITY COMPANY "SICH"
... Lawyers of the legal firm "PRAVOVA DOPOMOGA" provided legal help in seeking a specialist in organizing protection measures and obtaining the necessary license within tight deadline.
All security guards will be officially authorized to seize offenders, search belongings of individuals, vehicles, check documents, seize belongings and documents that are means or objects of offences.

The procedure of applying physical force and trained dogs will be regulated more specifically. Also license terms and terms of license for private protective services revocation will be amended which will formally make them equal with divisions of the State Protective Service of the Ministry of Internal Affairs.

These and other important amendments in the field of private protection that are of great significance to those who use the services are stipulated by the law "On protective services" which was adopted by the Verkhovna Rada on the 9th of February 2012 with Presidents proposals taken into consideration. As of today protective services are regulated by License requirements approved by the Order number 505 of the Ministry of Internal Affairs dated 01.12.2009 and Procedure of control over compliance with them approved by the Order number 76 of the Ministry of Internal Affairs dated 25.02.2011. These documents mostly regulate obligations of persons that provide protective services and requirements set for them. The adopted law will not only define obligations but also rights of security guards and will significantly amend the procedure of control over their activities.

Thus, set requirements for use of physical force measures and trained dogs will be of special importance for security guards and those who use their services. As before guard can use physical force and special means (firearms are still not included) but from now on opportunities for their use are extended in comparison with stipulations of the resolution number 706 of the Cabinet of Ministers of Ukraine dated 07.09.1993 which provides general procedure of special means usage.

From now on special means will be allowed to use not only against an offender who is trying to run away but also for any other offender that trespassed the secured object as well as to terminate animals that threaten guards. At the same time seizure of an offender will not be considered administrative and a seized person is required to be passed to law enforcement bodies immediately.

Some cases are stipulated in which use of special means is possible without warning (during sudden attack or armed attack). There is a prohibition set on use of special means against pregnant women, pensioners, incapacitated persons and persons under age except cases when their attack may threaten life. Use of dogs is allowed only for detection of intrusions onto objects under protection and persons who illegally stay on them (so use of dogs to catch an offender is prohibited).

All these important regulations that are related to protection services were previously absent in legislation which on the one hand limited lawful opportunities to abuse authority. However we still cannot state that private security guards were equated with State Protective Service. Even though the law is applied to everyone who provides protective services despite forms of ownership the divisions of the State Protective Service are still allowed to use firearms in accordance with the resolution of the Cabinet of Ministers of Ukraine number 615 dated 10.08.1993 which is a significant advantage. There may be no equality without amendment of the mentioned resolution.

Another important aspect includes amendments related to revocation of license for private protective services. In particular from now on you may lose your license if you entered into physical conflict with guards of other protective entities; conceal facts of a crime; caused obstacles for law enforcement bodies or other state authorities; purchased or used property which has a purpose to be used by military units or law enforcement bodies. At the same time if revocation of license occurred based on these grounds a new license will be possible to obtain not sooner than in a year. The document also includes a list of 11 cases when it is possible to suspend license. These grounds include violation of procedure of usage of physical force, special means, trained dogs, etc.

Generally the Law "On protective services" significantly specifies and improves legal regulation of protective services. Of course all the issues could not be solved at once. Moreover a number of its provisions (for example list of special means) must be more detailed on bylaw level. But some steps towards defining specificity of protective service activities were made.

The material has been prepared by experts of our law firm.
We are ready to help you!
Contact us by mail [email protected] or by filling out the form: