Opening of online microfinance lending institution: where to start?
Cost of services:
from 300 USD
Consultation
from 8000 USD
Standard (no guarantee of a positive result)
from 10500 USD
Premium (with a guaranteed positive result)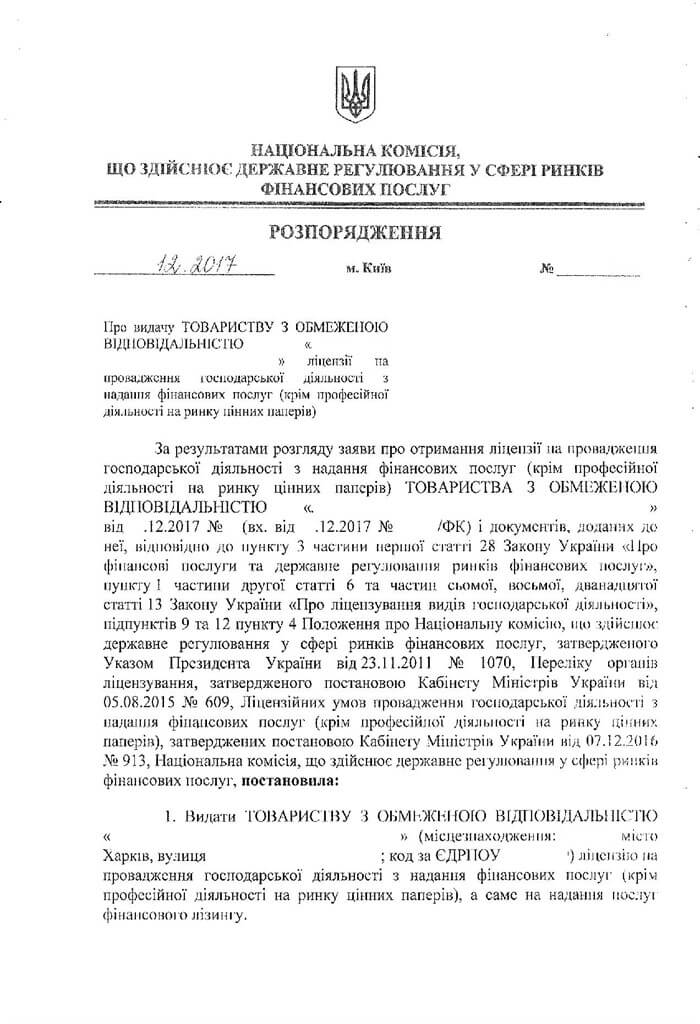 Reviews of our Clients
L. Chervonyuk, LLC "Vitalux"
Vitalux company highly appreciates results of cooperation with Law firm "Pravova dopomoga", can characterize it as a reliable partner and based on personal experience is ready to recommend it to interested persons...
Partner, Denis Y. Lysenko, Vasil Kisil & Partners
... we would like to express our respect and gratitude for the fruitful cooperation.
... our work on joint projects assured us of your high level of professionalism

General director I.Logvinenko , Bravo Airways
Bravo Airways company expresses its gratitude to law firm "Pravova Dopomoga" for high quality and timely provision of legal services.

G. Zeynep Kucuk, SANOVEL ILAC SAN. ve TIC. A.S.
Helped with the liquidation of a foreign representative office in Ukraine
General director Skibinskiy V., Yokogawa Electric Ukraine Ltd.
Yokogawa Electric Ukraine Ltd. recommends Vladimir Gurlov and his team of lawyers as a reliable legal partner and advisor for foreign businesses in Ukraine...
President Tedeev E.S., Ukrainian wrestling association
Ukrainian wrestling association would like to express its sincere appreciation to the team of Law firm "Pravova Dopomoga" for mutually beneficial cooperation
Chief ophthalmologist of Ukraine, Oksana Vitovska, All-Ukrainian alliance of ophthalmologists
We would like to express sincere gratitute to the team of Law firm "Pravova dopomoga" and personally to Volodymyr Gurlov for professionalism and purposefulness in your work.
General Manager Stashkevych I.Y., LLC "Trading company" Rud"
We would like to indicate that law firm "Pravova Dopomoga" has become a reliable partner for legal services provision and we can recommend it as a team of qualified professionals who are easy and pleasant to deal with
Day after day, an increasing number of businessmen who are related to the financial services market are thinking about the opening of their own credit business. Activities on granting of credits online are particularly interesting for today.
Such activity does not have a specially regulated legal field, and therefore creates a room for manipulation by regulatory authorities. But despite this, it already occupies about 4% of the entire Ukrainian market for the provision of services.
This material will be useful to the companies that understand the full potential of entering the Internet market and want to join it without unnecessary risks and expenses.
We will consider the main points of the functioning of this kind of economic activity and the problem points that may arise with online credit companies.
Related article: The difference between financial licenses: how to choose a license for your business?
What are the steps required to establish an online micro-credit institution?
When starting this business from scratch, you will need to go through three mandatory steps.
Registration. Conducting any activity in the Internet, including the provision of financial services, is possible only after the registration of a business entity and the selection of the optimum tax system.

Most problems begin as early as at this stage, since you need to choose the right direction of activity of the financial institution from the very beginning, and for this you need to have experience in this area.
Addition to the Register. When it comes to a financial (credit) company, then its full-fledged work, even when done online, is possible only after entering the relevant data in the register of financial institutions.
Related article: Entering the register of financial institutions in ukraine: our practical experience.
Obtaining a license. The next step in legalization is to obtain a license to give out loans, including on the terms of a financial loan.
As practice shows, the agency responsible for entering companies in the register and issuing permits has its own specific procedure of licensing.
Specific licensing conditions include the company having the necessary software that will create the conditions for the proper functioning of the credit institution. Indeed, in modern realities, most of them apply various latest methods for calculating the credit worthiness, for example, the so-called "credit scoring". But despite this state of affairs in the financial services market, the licensing agency has its own archaic requirements that not every businessman knows, let alone a lawyer.
As for the general licensing requirements for such an institution, they are exactly the same as for a regular financial institution, which receives a license to give out loans, including on a financial loan basis. Namely:
the presence of the required amount of funds on the balance sheet; the authorized capital of a legal entity;
compliance with the educational and personnel requirements of the chief accountant and the head of a financial institution;
the availability of financial statements and an audit report;
The availability of premises, a website, software and hardware;
the availability of internal documentation and standard service contracts
other documents, depending on the selected amount and types of financial activities.
If you want to prepare a package of documents for obtaining a license through your own effort, you can do this using our checklist.
Article on the topic: Requirements of the national commission for the state regulation of financial services markets to a financial company's website during obtainment of a license
What are the practical peculiarities of the functioning of the online credit business?
In carrying out activities to provide loans online, there are certain specific features that appear as early as at the stage of immediate activity.
For example, the agreements that online lenders sign are significantly different from the agreements that are usually signed by financial institutions and that require a licensing authority.
Such things happen due to the fact that the economic activity done on the Internet and the provision of loans online have functional differences, therefore, it needs additional protection of the lender and compliance with the laws of other areas.
Whether such an agreement complies with licensing requirements and how to formulate it correctly, our lawyers can help to figure that out.
Advertising and popularization on the Internet takes a separate place in the activities of institutions providing online loans. After all, most of these online services are widely known and care about their business reputation. To further protect your own brand, it is advisable to register it in the manner prescribed by law.
An equally important issue in carrying out activities is the process of passing planned and unscheduled inspections of state bodies. Moreover, in the past, such institutions often attracted interest in their activities among state bodies.
In addition, the financial services market will soon face significant changes and reforms: the so-called SPLIT. Therefore, if you have a chance to get a license now, you should use it, since it is difficult to predict how the situation will develop during the reform period.
Related topic: Why is it so important to apply in advance for legal assistance during the license inspection?
Our lawyers can help you at any stage of the registration or functioning of a financial institution and provide advice on the safety of online lending activities.
We are ready to help you!
Contact us by mail [email protected] or by filling out the form: