Ways of company liquidation in Ukraine
Cost of services:
from 1000 USD
Liquidation of the company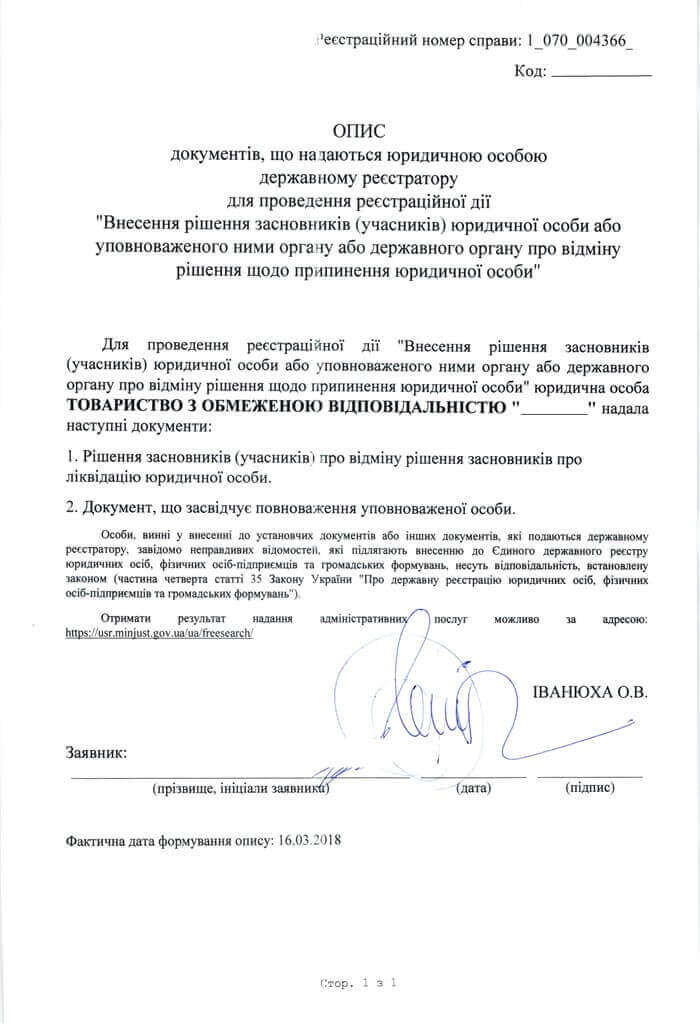 Reviews of our Clients
General director I.Logvinenko , Bravo Airways
Bravo Airways company expresses its gratitude to law firm "Pravova Dopomoga" for high quality and timely provision of legal services.

G. Zeynep Kucuk, SANOVEL ILAC SAN. ve TIC. A.S.
Helped with the liquidation of a foreign representative office in Ukraine
General Manager Stashkevych I.Y., LLC "Trading company" Rud"
We would like to indicate that law firm "Pravova Dopomoga" has become a reliable partner for legal services provision and we can recommend it as a team of qualified professionals who are easy and pleasant to deal with
President Tedeev E.S., Ukrainian wrestling association
Ukrainian wrestling association would like to express its sincere appreciation to the team of Law firm "Pravova Dopomoga" for mutually beneficial cooperation
General director Skibinskiy V., Yokogawa Electric Ukraine Ltd.
Yokogawa Electric Ukraine Ltd. recommends Vladimir Gurlov and his team of lawyers as a reliable legal partner and advisor for foreign businesses in Ukraine...
Partner, Denis Y. Lysenko, Vasil Kisil & Partners
... we would like to express our respect and gratitude for the fruitful cooperation.
... our work on joint projects assured us of your high level of professionalism

Chief ophthalmologist of Ukraine, Oksana Vitovska, All-Ukrainian alliance of ophthalmologists
We would like to express sincere gratitute to the team of Law firm "Pravova dopomoga" and personally to Volodymyr Gurlov for professionalism and purposefulness in your work.
L. Chervonyuk, LLC "Vitalux"
Vitalux company highly appreciates results of cooperation with Law firm "Pravova dopomoga", can characterize it as a reliable partner and based on personal experience is ready to recommend it to interested persons...
The issue of company liquidation in Ukraine continues to be a pressing concern. Conducting business amidst war's circumstances is not always viable. Numerous individuals have even departed Ukraine entirely, and when it comes to the company that remains here, they simply desire to put it out of mind. Someone must file zero reports, and bring all proceedings to a close. Let's examine how this can be achieved based on the circumstances at hand.
Dissolution Based on LLC Members' Resolution
According to Article 30 of the Ukrainian Law "On Limited Liability Companies and Additional Liability Companies," the decision to dissolve an LLC falls within the authority of the general participants' assembly. Furthermore, as outlined in Article 34 of the same law, this resolution requires no less than ¾ of the votes.
In this piece, we discussed how to go about this process when all participants or some of them are not in the country.
This is perhaps the lengthiest path, consisting of numerous steps. First and foremost, it is necessary to correctly draft the minutes of the general meeting, and appoint a liquidation committee or a liquidator. You can familiarize yourself with certain specifics and formalities here.
Upon submitting the documents to the registrar for entry into the Unified State Register (USR), information is entered indicating that the legal entity is in the process of termination, and the legal entity itself begins to await and prepare for tax audits. It should be noted that the actual audit process can be awaited for more than a year, if not several years. Following the tax audit, similar inspections by other state bodies, particularly those related to social security, need to be undergone. Documents are to be transferred to the archive, a certificate of document transfer should be obtained from the archive, and only after these steps, the removal from the USR registration is finalized. More accurately, a note will be made that the legal entity is suspended.
Reorganization of LLC in Ukraine
Let's not view reorganization as a method of liquidation, since the cause-and-effect relationship here is quite different. Initially, the need arises to split the company into two separate entities, merge with another business, and so forth. This is when the existing legal entity effectively ceases to exist.
Liquidation of LLC through Bankruptcy
This process can be set in motion by either a creditor or the debtor company through legal proceedings. Of course, where there's a legal process involved, things don't move as swiftly as desired. It's also important to comprehend that the bankruptcy procedure involves the seizure of the company's assets. However, one advantage is the potential for debt forgiveness, which is why some companies still opt for this route.
Alternative Dissolution of LLC
We've discussed this approach on multiple occasions, and yes, it's not liquidation in the full sense of the term. Debts of the company won't be written off, if they exist, and the company won't be removed from the register of legal entities. However, corporate rights and managerial control over the company are transferred to another individual or individuals, and the existing participants and management no longer have any connection to it.
You may also like: Alternative Dissolution of LLC: Procedure, Timelines, and Costs
However, the main advantage is speed. Just a few days, and the company is gone. This can be done remotely, without the need to personally visit a notary or registrar. You can grant power of attorney to trusted individuals. The procedure is conducted in two stages, taking 2-3 working days. Then, you need to wait a few more days for the extract from the Unified State Register (USR) as confirmation. Nevertheless, the updated information will already be in the register on the third working day after the document signing.
The first stage involves signing documents with a notary and submitting the share transfer agreement for registration. The following day, the composition of participants will already be changed in the register. Then, documents are submitted for all other changes: change of director, company name, address, contact details, and so on.
Check out the cost of liquidation of an LLC with us here.
Our employees can act as these authorized individuals, guiding the entire turnkey alternative dissolution procedure: from finding a buyer and arranging notarized signatures to conducting registration activities. We are always ready to collaborate with you!
You may also like:
Liquidation of a Charitable Foundation in Ukraine
We are ready to help you!
Contact us by mail [email protected] or by filling out the form: